How to Print a Mac Snow Leopard Pages Document
How to Print a Mac Snow Leopard Pages Document
After you have created, formatted, and spellchecked your Pages document, you may want to print it. You can print your Pages document on real paper, of course, but don't forget that you can also save a tree by creating an electronic, PDF-format document instead of a printout.
2

Choose how many copies to print.

Click in the Copies field and enter the number of copies you need.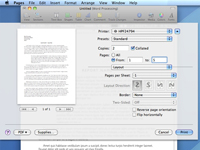 3

Select the pages to print.

To print the entire document, select All. To print a range of selected pages, select the From radio button and enter the starting and ending pages.
4

Click the Print button.

Your document is sent to your printer.