How to Create a Spreadsheet in Mac Snow Leopard
How to Create a Spreadsheet in Mac Snow Leopard
Numbers is the application included with Mac OS X Snow Leopard that lets you create and use spreadsheets, which organize and calculate numbers by using a grid system of rows and columns. Numbers ships with a selection of templates that you can modify quickly to create a new spreadsheet. (For example, after a few modifications, you can easily use the Budget, Loan Comparison, and Mortgage templates to create your own spreadsheets!)
Spreadsheets are wonderful tools for making decisions and comparisons because they let you "plug in" different numbers — such as interest rates or your monthly insurance premium — and instantly see the results.
To create a spreadsheet project file, follow these steps: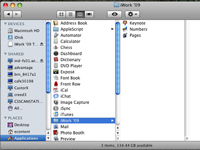 1

Open your Applications folder and double-click the iWork 09 folder.

The applications stored in your iWork 09 folder display.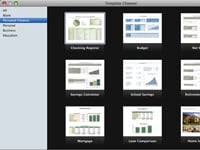 3

Click the type of document you want to create in the list to the left.

The document thumbnails on the right are updated with templates that match your choice.
4

Choose a template.

Click the template that most closely matches your needs.