How to Align Cell Text in Snow Leopard's Numbers Application
How to Align Cell Text in Snow Leopard's Numbers Application
In Mac OS X Snow Leopard you use the Numbers program to create spreadsheets. After you have data filled into the columns and cells, you can change the alignment of text in the selected cells. (The default alignment for text is flush left.) To change alignment, follow these steps: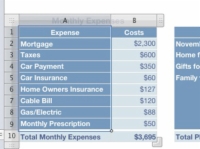 1

Select the cells, rows, or columns you want to format.

You can use the scroll bars to move around in your spreadsheet.