How to Add Stickies in Mac OS X Snow Leopard
How to Add Stickies in Mac OS X Snow Leopard
Stickies is a special type of application window that remains on your Desktop as long as the Stickies application is running. You can use Stickies for anything that a real-world sticky note can handle, including reminders, a quick note to yourself, or even Today's Dilbert cartoon.
A Sticky can contain data pasted from the Clipboard, or you can type directly into the Stickies application window. Sticky windows can include graphics and different fonts and colors. You can even locate specific text from somewhere in your vast collection of Stickies by using the Find command within the Stickies application. Just press Command+F while the Stickies menu is active to display the Stickies Find dialog.
Follow these steps to stick your way to success: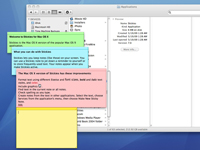 1

Open your Applications folder and run the Stickies application.

The text cursor is already idling in the new window.
2

Type text in the window or press Command+V to paste the contents of the Clipboard into the window.

You can also import the contents of an existing file into a Sticky. Just click File and then choose Import Text to display a standard Open dialog.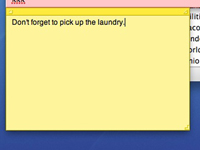 3

(Optional) Add text formatting, change text font, and change font color from the Font menu.

From the Note menu, you can also choose to make the Sticky translucent. (No pressing reason; they just look cool.)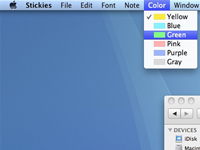 4

(Optional) Click the Color menu and choose the appropriate hue for your Stickie.

You don't have to change the color, but why not?