How to Create a Basic Excel Chart
How to Create a Basic Excel Chart
When you have a lot of numeric data on a Microsoft Excel worksheet, using a chart can help make more sense out of the numbers. Excel offers various chart types, each suited for a different type of data analysis.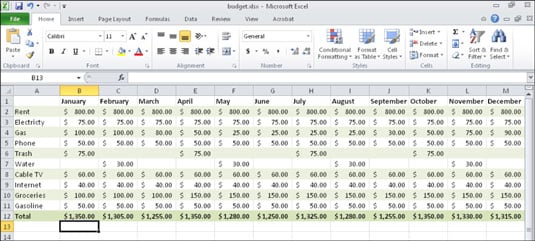 To create a chart, follow these steps:
Select the data to include on the chart. Include any cells that contain text labels that should be in the chart, too.

You may need to select a range of cells that don't touch each other (noncontiguous) for Step 1. If so, hold down the Ctrl key while you select the cells you want.

On the Insert tab, click a chart type. (Use the buttons in the Charts group.)

A menu opens showing the chart subtypes.

Click the subtype you want.

A new chart is created and placed on the current sheet as a floating object.
After you create the chart, you can
Resize it. Drag one of the corners of its frame, or one of the selection handles on a side (represented by several dots).

Move it. Drag any part of its frame except a corner or a side selection handle.

Place it on its own tab. Choose Design→Move Chart. Then in the Move Chart dialog box, click New Sheet and then click OK.
If the chart isn't what you expected data-wise, try one of these techniques:
Delete the chart and try again, selecting different ranges.

Change how the data is plotted by choosing Design→Data→Switch Row/Column.

Choose Design→Data→Select Data to redefine what cells are used to make the chart.
When a chart is selected, the Ribbon has an extra set of Chart Tools tabs: Design, Layout, and Format. They disappear when you select something other than the chart and reappear when you reselect it.