Record a Voice Note on Evernote for Mac
Record a Voice Note on Evernote for Mac
Sometimes, you're on the go and don't have time to type or tap and fix notes in Evernote for Mac, particularly with the "help" of autocorrection. You spend more time fighting your keyboard than getting stuff done. If you're hurrying to your next location, recording voice notes is the perfect way to catch your thoughts before they flit off into oblivion.
If you want to add notes or text to any of your recordings, you can do that, too. After you create your recording, just click in the note area and begin typing. Best of all, you can add the text from any device, not just desktop computers or laptops.
1

Choose File→New Audio Note.

An untitled audio note opens in your default notebook, but you can change the notebook at any time.
2

Add a title and text (optional)

You should always add a title to your audio recording to identify it, but adding text to the note is optional.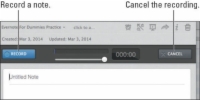 3

Click the Record button when you're ready to start recording your first voice note.

While the recording is taking place, the blue Record button turns into a red Save button.
4

When you finish, click Save.

The recording is inserted as an audio note. Click Play to play it back. Click Done to save the note.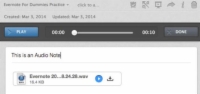 5

Click Play to determine whether your recording is a keeper.

Take the time to review your recording. If you like what you hear, you're done. If you want to take another crack at it, go to the next couple of steps.
6

(Optional) Press Delete.

After you have saved a recording, the audio file is added to the note. You can click anywhere inside the note and press the Delete or backspace button on your keyboard to delete the audio file. The note remains, however.
7

To rerecord your note, click the Record Audio icon, which looks like a microphone.

The icon is on the toolbar just above the notes.