How to Register for a Free Evernote Account
How to Register for a Free Evernote Account
It's a good idea to start with a free Evernote account so that you can see just how powerful Evernote is at even the most basic level.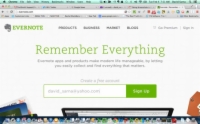 The Evernote home screen appears.
2

Enter your e-mail address in the text box, and click Sign Up.

A new screen invites you to register.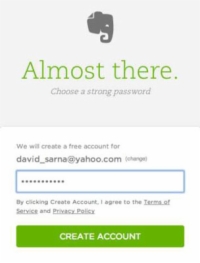 3

If you don't want to use your e-mail address as your account name, click Change, and follow the onscreen instructions.

Evernote checks username availability as you type. If the username is available, the word Available appears below the Username field. Usernames are not case-sensitive.

Finally, you're taken to the Almost There password-entry screen.
4

Type a password.

Your password must be between 6 and 64 characters long and may contain letters, numbers, and punctuation but not other symbols. Spaces are not permitted.

Try choosing a strong password. You will end up keeping lots of useful information in Evernote, and you'll want to protect it with a password that's not easy for someone else to guess.

After you enter your password, the license agreement appears.
5

Click Agree.

Do one of the following, depending on your computer platform.

Mac: Drag the Evernote icon to the Applications folder, and click Open when you see a message warning that the application has downloaded from the Internet.

Windows PC: If the Evernote executable file doesn't start installing itself after download, click it to begin installation.
6

Click Run to run the installation.

It will install.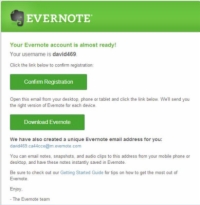 7

Click Create Account.

A confirmation screen appears, listing your Evernote e-mail address and asking you to confirm that you want to create the account.

If you don't already have the Evernote software, you can click Download Evernote in this screen to download the software.
8

Click Confirm Registration.

Evernote sends an e-mail to the address you supplied in Step 2.

Save the e-mail in a permanent folder in your e-mail program so you can conveniently open it in all your web browsers and on all your devices.
9

Click the link in the confirmation e-mail to confirm your identity.

When you click the link, you see the welcome screen. Your registration is complete, and you can continue to use Evernote on the web or download an app to use.

When activation is complete, you can click the link shown to go online, or you can go to the Evernote software on your computer. In either event, you need to log in.
10

Enter your username and password.

(Optional) Check the Remember Me for a Week box if you don't want to reenter your password on this computer.

Never check this box when you're working on a public computer.