Evernote: How to Export from a PC
Evernote: How to Export from a PC
You can export a single note, a notebook, or all your notes from Evernote. The process is the same for each item after you select what you want to export.
1

Highlight the note or notes you want to export.

If you want to export a notebook, highlight the desired notebook. You can also right-click the note or notebook to see a contextual menu of choices.
2

To export a note, choose File→Export.

To export a notebook, choose Export Notes from Notebook Name or from All Notebooks. If you right-clicked, choose Export Notes from the contextual menu.

This step archives all your notes from that particular notebook or (in the case of All Notebooks) all your notes.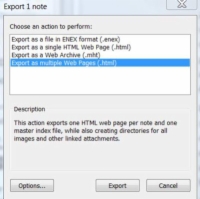 3

Change the format, if desired, and click Export.

This figure shows the Windows version of the dialog box for exporting notes. The next figure in Step 4 shows the different settings you can choose to export or ignore.

You have four options for saving your archive. Export As a File in ENEX Format (see the nearby sidebar) archives your information in a single file without links (.enex).

Export As a Single HTML Web Page archives your information as a single web page (.html).

Export As a Web Archive saves your information as a web archive and separates your notes but keeps them in a single file (.mht).

Export As Multiple Web Pages exports the selected note or notes as multiple web pages (.html).

Clicking the Options button lets you control what to export. The default is to export them. When you're exporting as a web archive or multiple web pages, you have more control of what's exported. Attributes that can be exported include note title, created date, updated date, author, location, tags, and source URL.

Unless you have a reason not to, such as a need to import to another program, you may as well export a note with all its attributes.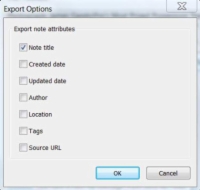 4

Select a destination for saving the file.

These are the Windows export options.

Give the file a name that will be easy for you to remember.
5

Click Save.

Evernote does the rest and lets you know when the task is complete.