The Dragon Go! App for iPhone and iPad
The Dragon Go! App for iPhone and iPad
If you like using Dragon Search, you'll love using Dragon Go! Nuance created this free downloadable app for use with the iPhone 3GS,iPhone 5, iPhone 4, iPod touch (3rd generation), iPod touch (4th generation), and iPad. (You must have iOS 4.0 or later.) It's also available for Android devices too.
Dragon Go! makes searching with your mobile device almost too easy. If you haven't tried any of the other NaturallySpeaking mobile apps, this is the one to start with. You don't need any other Nuance software on your PC, and there is absolutely no software to train. You can use this app to find entertainment and shopping venues, or you can use it to find something serious and important.
To get started, do the following:
1
To learn more about
Dragon Go!
, download and install the app.
Synch it as you would any other iPad app.
2

Launch Dragon Go! by tapping the icon from your home screen.

You're asked if you would like to use your current location with this app.

Nuance asks this question so that it has permission to use your personal location to search for things in your area and get driving directions.
3

If you agree, click OK.

After you click OK, you're asked to select the region in which you live and are asked to accept the end user license agreement.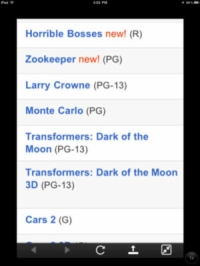 5

To start a new search, tap the record button that is displayed on the screen.

In this example, say, "New movies, near me." The addition of the phrase "near me" tells Dragon Go! to search theaters based on your location. A search is returned that shows your local movie theaters and the movies playing.

To get a closer look at the movies, pull your fingers apart to enlarge the screen, as shown in, and then sweep your finger left to see the movie times. If they are available, you can buy tickets online.

The searches are enhanced with the use of the Dragon Search Carousel. But in Dragon Go! you will also be directed to searches in the following search engines:

Fandango.com: A popular search engine that searches movies by location and provides the capability to purchase tickets online for each show time.

Milo.com: A search engine of major retailers that can be searched by location to find the exact product you are looking for in your neighborhood.

Yelp.com: Here you can find reviews from your neighbors about local businesses and public services.

Of course, you can also use the other existing Carousel choices: YouTube, iTunes, Google, Wikipedia, and Twitter Search.

If you want to share what you've found with friends, all you have to do is tap the "up arrow icon" and choose one of the icons for sharing.