How to Use the Salesforce.com Service Cloud Chatter Feed
How to Use the Salesforce.com Service Cloud Chatter Feed
If you don't see the Chatter feed on your Salesforce.com Home page, it's not turned on for your organization. Contact your administrator to turn it on for you. If you are the administrator, you can enable Chatter by following these simple steps:
1

At the top right next to your name, click Setup.

This takes you to the Setup menu.
2

Under Build, click Customize and then click Chatter.

Assuming Chatter is not enabled, only Settings will appear between Chatter and Files Connect.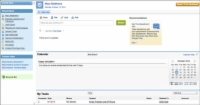 4

Click the Edit button, click the Enable check box, and then click Save.

Once you click the Enable check box, many more settings appear on the page. Don't worry about these additional settings for now.

When Chatter is enabled for your organization, your Chatter feed appears in the center of the Home page.

Now you and your team have access to Chatter, a way to communicate and collaborate with other members of your team or organization. Here you can add a status, post an important link, or upload files and documents to get your team involved in projects and tasks.

Even if you love Chatter and want it everywhere possible, sometimes it takes up too much screen real estate (especially in instances of those long back-and-forth posts between coworkers). If you want to hide the feed from your view to reduce excessive scrolling, simply click the Hide Feed link above the Post link.