How to Create Personal Email Templates in Salesforce.com
How to Create Personal Email Templates in Salesforce.com
It's easy to create and send email templates in Salesforce.com Service Cloud. Instead of copying and pasting certain sentences and phrases, create your own personal templates to improve your productivity. To create a personal email template, follow these steps:
1

Click your username at the top right and choose My Settings→Email→Email Templates.

The Email Templates page appears with a Folder drop‐down.
2

Choose My Personal Email Templates from the drop‐down and click the New Template button.

Step 1 of the template wizard appears, presenting you with four options for template types.
3

Choose the type of email template that suits your needs and click Next.

The next step of the template wizard appears, showing a different page depending on your template selection.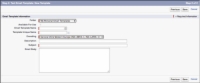 4

If you selected a text template in Step 3, you'll have to fill out some information, as shown, and then click Save.

Make sure you click the Available for Use check box. You don't have to click it right away if you're creating lots of templates, but you won't be able to actually use the template until you do.

The Text Email Template page appears, where you can preview and test the email template. Optionally, you can attach a file to your template in the Attachments related list.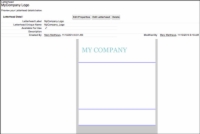 5

If you selected an HTML template in Step 3, you'll first have to create a letterhead or select a previously created one.

On the Letterhead Properties page, you can customize your letterhead's look and feel.

If you're creating a letterhead from scratch, go to the Documents tab and create a new Document there, uploading an image file of your company's logo. You can use this on all your letterheads to make them look official. Fancy!
6

Create the HTML template by using your letterhead, and adding the email content, including subject header, and copying and pasting merge fields in the content.

You can only use merge fields from one object per email template. So if that's the case, you can only bring in fields from the case; otherwise, the merge fields won't populate in your email.
7

When you're done, you can preview the template to make sure the merge fields are working and click Next.

Step 4 of the wizard appears.
8

Create a text version of the same email template for those customers who can't or don't want to receive HTML in their emails.

Use the Copy Text from HTML version to speed this up if the text is similar or identical.
9

Click Save.

The HTML Template detail page appears, with a preview.