How to Confirm Your E-Mail Address in a New YouTube Account
How to Confirm Your E-Mail Address in a New YouTube Account
When you register for a YouTube account, YouTube wants to confirm that the e-mail address you entered is valid and active. Confirming your e-mail address ensures that YouTube can identify you through your e-mail address and can contact you if there are any issues with your account.
After you complete the Sign Up procedure, YouTube sends an e-mail titled "YouTube Service" to your account. The e-mail welcomes you to the YouTube community and offers some highlights of the YouTube experience.
YouTube informs you that you must confirm your e-mail address before you can upload a video or comment on a video. Here's how:
1

Click the blue Upload text link in the second paragraph.

This takes you to the YouTube e-mail confirmation page.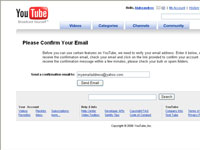 2

Enter your e-mail address in the Send a Confirmation E-mail To: field.

Be sure to type it correctly and with no extra spaces.
3

Click Send Email.

Away it goes, back to YouTube.
4

Return to your e-mail Inbox and open the e-mail from YouTube titled "YouTube Email Confirmation."

This usually arrives instantly after signing up, but it may take a few minutes.
5

Click the blue Click Here text link.

This takes you to YouTube's video upload page, but you don't need to upload a video now if you don't want to. Your e-mail address is confirmed.