You may already be familiar with the concept of discoverability — helping YouTube get your content in front of the right viewers through recommendations and search so that they watch your content rather than somebody else's. Though watch time is a critical part of YouTube's recommendation engine, a video's metadata — its title, description, and tags — plays an important role in getting the video found in the first place.

Video search engine optimization (video SEO, for short) is all about telling YouTube something about your video. For traditional web SEO, search engines such as Google, Bing, and Yahoo! would analyze the content on your site, figure out what was important, and then offer up your content to the most relevant searchers. Over time, these search engines factored in elements such as links, sharing, and clicks to determine how popular particular content ended up being on the web.

YouTube doesn't work like web SEO because it can't (yet) watch your content to determine what your video is about. Instead, it has to rely on your metadata and how the community reacts by way of watch time, social media shares, and embedded links for the video on external sites.

It's a lot easier to get your video SEO house in order upfront rather than deal with it after you've published all your content.

What exactly is meant by optimization in search engine optimization? Optimization is about intelligently and systematically putting together a proper description of your video so that
YouTube understands what your content is about in order to better offer your video to the most appropriate searchers
Search engines such as Google, Bing, and Yahoo! understand your content and are thus in a position to add your videos to search engine results pages along with web content
Viewers are more likely to click on your content versus other search results offered
These are the goals you want to achieve.
SEO tips for YouTube video titles
The video title is the most important piece of metadata that you create. As important as the title is to YouTube and the major search engines, you have to also ensure that it works for people. The trouble is that it can't look as though you're trying too hard to grab folks' attention.

Exaggerated, inaccurate titles, such as "You won't believe what happens to the 12 kittens in this video," may generate more clicks, but the search engines won't bite and they will likely ignore your content. Also avoid "breathless" wording such as "most epic" or "blow your mind."

Strike a balance between attracting humans and attracting search engines when you create and optimize a title for a video.

Your title appears in many places:
On the Watch page under the actual video
In a YouTube search
In Google, Bing, and Yahoo! searches
As part of a playlist
Under YouTube recommended videos
Selecting a title isn't complicated, but you must be somewhat methodical.

Though you can use 100 characters in a video title, only 70 characters show up in search results on a desktop computer, though some mobile devices show only about 40, so you have to make the characters count. Titles on recommended videos are further truncated. You can create a longer title, but it's visible only on the Watch page. The goal of video SEO is to attract viewers to the video in the first place. Limiting the title is no good either because it may impair search algorithm matching.

Use the following approach to pick a title for your YouTube video:
Determine the keywords. These are the important words that people search for. Make sure they're part of your video content as well as the other metadata associated with your video, such as the Tag and Description fields. If you work for Acme Electric and you're marketing the new Z500 convection oven, your keywords would include Acme Electric, Z500, and convection oven.
Add a descriptive phrase to the title. Your keywords alone may not be enough. Determine why your viewers would be searching for your product or your video. They may want installation instructions or product reviews, for example. Terms such as "how to install" and "product review" aid you in both search and views.
Move branding keywords to the end of the title. Viewers will search for your brands, but they need to see the descriptive information first.
If your YouTube video is part of a series, include an episode number at the end of the title. Even if your videos are part of a playlist, your viewers may end up searching separately, so make it easy and logical for them to find another episode.
Include title keywords in the tag and description metadata.
Before you even upload anything to YouTube, it's good practice to rename the video file itself to a title that accurately represents its content. YouTube keeps the original reference file title on the video no matter how many times you end up changing the title.
SEO tips for YouTube video descriptions
You should make good use of the 5,000-character field that YouTube provides for describing your video. It's a great place to add details about not only your video but also your channel, along with links for other videos, subscriptions, other channels, and websites. In other words, it's a goldmine for both metadata and user guidance. The viewers who care about your video will read the description, so make it worth their while.
A well-constructed YouTube Description field.
The YouTube video description should
Explain in greater detail what your video and your channel are about.
Extend the viewer's experience by providing additional detail around what is shown in the video. For example, if you have a video on cooking, the Description field is a great place to include a copy of the recipe.
Trigger the viewer to do something. That might include watching another video, making a purchase, supporting your cause, and more.
Entice people to view. The first couple of lines of the description show up in search results, so you have to write compelling — and relevant — content so that the user somehow takes the next step of clicking and viewing. That's also true on the Watch page, where the first couple of sentences appear under the video, compelling the viewer (you hope!) to watch.
Aid in discovery. A great description should include hundreds of keywords that help with search. Be sure to use ones that are relevant to the video.
The Description field isn't the place for a transcript of your video. Be clear and concise, but make it interesting enough that people will want to read it.

Always consider what information is visible in search results by being well aware of which devices your audience is using to search. The first few lines of the description show up on a desktop search, whereas no description data is currently exposed in a mobile device search.

Two older terms from marketing and advertising are still quite relevant to today's YouTube Description field: above the fold and below the fold. When people used to receive folded letters or advertisements, they often first looked at the top, which was "above the fold." If the content was compelling, they'd read the rest of it "below the fold." When viewers watch your video, they also see the first part of its description. If the description is compelling, they click the Show More link to see what's below the fold. Make what's above the fold in the video description count.

The Description field should contain enough shortlinks to answer any questions your viewers might have about your video, your channel, and your business. The About page of your channel should contain links that complement your channel. It's okay to repeat some of these links in the video description as well. The shortlinks in the description field can point to
Your YouTube channel
Other videos
Social media sites such as Facebook, Twitter, LinkedIn, Pinterest, or Instagram
A website
A landing page
Include only one link in the first paragraph if you want viewers to ultimately end up somewhere else. Include all relevant social links or product page links in the second or lower paragraphs of the description.

Don't create a fully customized Description field for each video. Put together a consistent framework or template that includes some repeatable information, such as subscription information, social media links, programming schedule, and contact information. Customize only the data in your framework that relates to the video itself. Keep everything else consistent. Your audience will appreciate the consistent layout of your field as well.

Everyone hates email spam — unsolicited advertisements filled with overdone and repeated buzzwords. If the description sounds at all "spammy," you'll provoke a negative reaction. Instead, try to be informative by using a lot of descriptive words and appropriate shortlinks.
SEO tips for tags in your YouTube video
Tags are special descriptive keywords or short phrases that indicate what your video is about. They are used by search engines to help potential viewers discover your video. Tags also play an important role in helping YouTube make related video recommendations. (Your Description field also has keywords, but tags are used by YouTube to help categorize your video.)

YouTube imposes a limit of 500 characters for the entire Tag field. A tag can contain one or more words, but each individual tag cannot be more than 30 characters long.

Without wading too deeply into the math, you may end up with room for 10 to 30 tags. Use as many as you can.

What's the best approach to creating tags for your YouTube videos?
Think broadly. Everyone searches differently — some use broad terms like oven, whereas others use Acme Electric Z500 convection oven. Use both.
Choose synonyms. Though you may use oven only in the description and video, it's okay to use the word stove in your tags.
Add an action tag. Sure, people may search for video about the "Acme Electric Z500 convection oven." Think about terms that are relevant, such as product review, how to install, and how to clean. Pick one around the video content.
Combine and break up keywords. Language and people are imprecise, so take that into account and use both keywords, as in cook top and
Tags can be modified. Just be sure that they reflect the essence of the content.

Don't use tons of irrelevant keywords to attract viewers and improve your search rankings. This will actually hurt your search rankings as YouTube will think it's spam. Plus viewers may overlook your video if they can't find it.
SEO tips for YouTube thumbnails
Thumbnails are visual snapshots of your video, similar to a poster for a movie. They have a tremendous impact on a video's view rate, so choose a good one. Thumbnails by default are chosen by YouTube — three optional frames from the beginning, middle, and end of your video. You can, however, create a custom thumbnail for each video using Photoshop or any other photo editing program.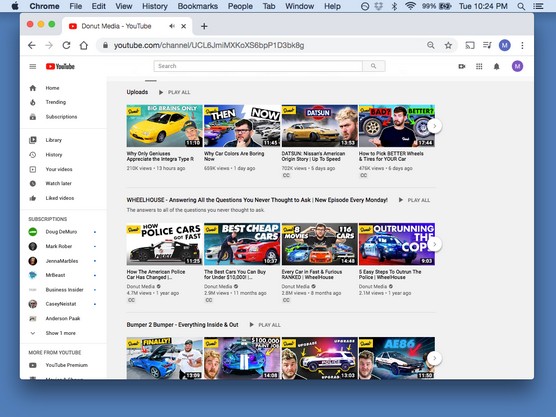 Effective YouTube video thumbnails.
If you decide to create custom thumbnails, choose a thumbnail that's illustrative of the content in the video. Thumbnails show up in the following areas:
Channel page
Watch page
Playlists
Recommended videos
Channel guide
Subscriber feed
YouTube search
Web search
Mobile display
Mobile search
Keep the following key considerations in mind when deciding on a custom thumbnail:
Incorporate boldness: You're competing for viewers, so you need to stand out among the many other thumbnails across YouTube and the web. Color contrast and image quality and visual layout matter.
Add personification: Show the close-up view of faces, if possible. Viewers click on faces more than anything else.
Strive for accuracy: The thumbnail has to relate to the content of the video. Don't use the thumbnail as a way to trick viewers into checking out your video.
Meet the technical specifications: The image must be 1280x720 pixels and no larger than 2MB.
Add branding: Viewers may not look at your thumbnail for more than a few seconds; adding branding is a great way to quickly let people know who you are. Plus, consistently branding your videos creates a cohesive look across your channel.
Want to learn more? Check out these tips to improve your YouTube search rankings.
About This Article
This article is from the book:
This article can be found in the category: