You may wonder why music is even necessary in a YouTube video that isn't destined to sell a pop singer's latest album. Music determines a lot about the perception of your message because viewers make split-second, subconscious judgments about the content of your YouTube video depending on the type of music you choose.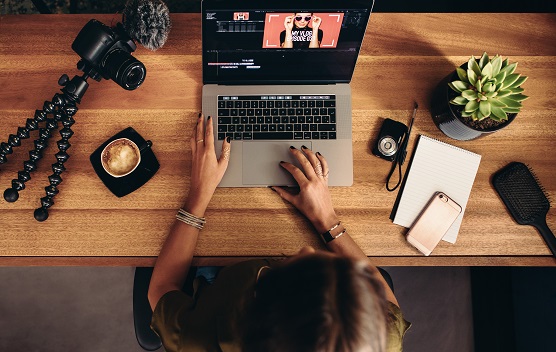 ©Shutterstock/Jacob Lund

In contrast to music videos, the music in your marketing video is meant to complement the message you're trying to convey. Music isn't the focus of a video — it's there simply to add color.

You must understand the difference between music you pay royalties to use and royalty-free music. Most of the music you hear on the radio or buy online is copyrighted and can be used in videos only if you pay royalties to its record label — often an expensive strategy because you must pay for every use of a copyrighted music track. Record labels sometimes even charge more, depending on how many views your video attracts. And, "borrowing" music and hoping that you won't get caught is not an option. Videos containing copyrighted music can be detected and banned automatically from sites such as YouTube.

Check out this article to learn more about YouTube and copyright.

The easiest way to save time and expense is to use only royalty-free music tracks — they're sold specifically for use in YouTube videos or presentations. After you pay a fixed price per song, you can usually use it however you want, as long as you stay within the boundaries specified by the music publishing contract. For example, some royalty-free tracks may be available for use in online videos but not in TV commercials. To choose music for your YouTube video, follow these steps:
Determine which emotion you want to convey.For example, you may want viewers to feel happy, sad, or uplifted — or neutral.
Watch a rough edit of your YouTube video several times.Or, if you're still in the planning stage, simply review the video's storyline in your mind. Do you need fast, aggressive cuts? Are your graphics clean and simple or more elaborate and flowery? The music you choose must match the video's storyline, aesthetic value, and editing style.
Choose an appropriate genre.You may want to use a rock-and-roll track or a country track, for example, or perhaps electronic music more closely suits your style.
Set the mood.The mood of the music you choose has to match the emotion you want to convey. To judge, determine how the music makes you feel when you listen to it. If it matches the emotion you chose in Step 1, you're on the right track.
Control the pace of the video by controlling its musical tempo.A song's tempo refers to its speed or pace. The pace of the video also has to fit the emotion you're trying to convey and the overall storyline. For example, should viewers be relaxed or breathless after watching your video? Choose a tempo between these two extremes that creates the impression you want.
Search for a song.After you choose the genre, mood, and tempo of the music in your video, search for a song. (You'll find out more about music to purchase in the following sections. Or, if you're truly talented, compose one yourself.) You'll likely stick with royalty-free music.
Drop in the music.After you finish creating the video, you can drop the music into your editing timeline and edit the piece to mirror the pacing of the footage.
Adding built-in music to your YouTube video in editing tools
Many video editing software programs royalty-free song tracks, such as in these two examples:
Apple Final Cut Pro X: Has over 1,300 royalty-free sound effects and music tracks
Vegas Movie Studio: Contains 400 royalty-free music soundtracks
Some of the songs you can use from video editing software are so popular and overused (because they're free) that you risk triggering unwanted reactions from your audience. For example, a YouTuber once complained that his video reminded him of a late-night TV ad containing questionable content. It turned out that his video editor had used a free, built-in music track that's often chosen by these low-cost advertisers.
Incorporating stock music libraries
If you have only a small budget and you want to sound different from the standard music libraries that come with many editing programs, you can find a good selection of royalty-free stock music to download online. This list describes some good options:
PremiumBeat: This one has a huge selection of audio tracks and sound effects. These folks, who work closely with composers from around the world, are selective, so it's easier to search the libraries for what you need.
Audiojungle: It's less expensive than Shockwave-Sound, the major player in the stock music and sound effects derby, but its selection isn't as large. Songs cost between $10 and $20 apiece.
Audioblocks: A subscription-based, royalty free library, Audioblocks has a great selection of sound effects, music, and handy looped tracks for easy editing.
If you want to use an iconic song such as Nirvana's "Smells Like Teen Spirit" and you have a limited budget or limited time to secure the rights, you can often find inexpensive but similar-sounding songs on stock music sites.
If you can't find a song that matches the length of your video, don't worry: Viewers don't focus on songs — songs simply enhance the pacing and mood. Therefore, a repetitive song, or looping a song to fit the length of the video, usually works well.
Putting music in your YouTube video
After you have selected your music, it's time to insert it in your YouTube video.

The mechanical aspect of this task is easy to complete. Follow these steps in your editing software:
Gather all the music you want to use into one folder on your computer.Using one folder helps you find files easily and helps you back them up after editing. If you store your music on a CD, import the necessary tracks to your computer first by using a program such as iTunes.
Import the music files into your video editing software.Most editing programs can process MP3 files and most other commonly used music file formats.
Add an additional audio track to your editing project.Certain simpler programs, such as iMovie, have predetermined tracks for background music.
Drag-and-drop your music piece to the new audio track. Then shift its position until it fits the timing you want.
Watch the part of the video that now has background music in context.Fine-tune the timing of the music, if necessary.
If you aren't sure which piece of music will work best with your YouTube video, simply import into your editing program multiple music tracks that you're considering. Drop one after the other on the audio timeline, watching the video with every piece of music, to quickly find which track you like best.
Adding emotional impact to your YouTube Video
The main purpose of your music selection is to enhance the emotional impact of your video. Even the specific way in which you use music in your edit affects the video's emotional impact. Try these simple tricks to give your music more emotional impact:
Work with the volume level. Music in a video shouldn't always play at the same volume level. It should be softer and drop into the background whenever it supports dialogue or a voiceover narration, and it should be fairly loud when it stands on its own and drives home an emotional point. Most editing programs let you change the volume of a particular track over time. Dramatically increasing the volume of the music track in a key video scene adds quite a powerful effect — Hollywood movies and TV shows do it all the time.
Determine the proper timing. A music track doesn't have to start at its beginning when you insert it in your video. Match the music to the video's visual content. Most musical selections have hooks — particularly remarkable and recognizable parts. For example, the hook of Beethoven's Fifth Symphony is the famous "Ta-ta-ta-daaa." Try to match musical hooks with important moments in the video.
Cutting your YouTube video to music
When you have a piece of music that matches well the emotional purpose of your video, fine-tune your edit to maximize the effect of the music. For example, you can extend a scene slightly to fit the most dramatic moment with a remarkable hook in the music.

Most editing programs let you lock your music tracks to avoid their being affected by other changes in your video. Follow these steps:
Put your musical piece on its own audio track.
Time the music so that the music begins exactly where you want.
Lock the music track.Most editing programs use a tiny Padlock icon to indicate locking.
Watch the video and determine how to adapt the timing to best fit the music.For example, cut or extend certain shots slightly.
Make your editing changes.
Unlock the audio track.
Precisely matching cuts in a video with beats in the music can create quite a pleasing effect because the picture and music then seem to move in perfect harmony. Avoid overdoing it, though, because an exact match can quickly bore viewers. The best approach is to match a couple of cuts with the music and then purposely skip the next few cuts before matching again. Alternating makes the final product less predictable and maintains viewer interest.
Cutting your music to your YouTube video
You may not want to alter an edit just to better fit the music. In this case, cut the music to match your video instead.

Another important reason to cut music is to omit parts that may not fit well with the visual side of your video. For example, the piece of music you selected may have a bridge section that has a slightly different mood from the rest of the track, which can be distracting in a video. Eliminate the unwanted section by cutting precisely at the end of the previous part and at the end of the bridge section.

Almost all video editing programs let you cut audio tracks, which is good enough for completing the basic editing of your music tracks, such as cutting off to the millisecond any unwanted intros or endings.

An alternative is to cut your music tracks in advance by using an audio program such as Garage Band or Pro Tools. They let you edit audio precisely, and they provide a wealth of audio effects to help you enhance your music tracks for video use.

Want to learn more? Check out our YouTube Channels Cheat Sheet.
About This Article
This article is from the book:
This article can be found in the category: