Coming up with a mission for your YouTube channel is important, as is defining your audience and planning how your channel could best serve your target audience's needs, but at some point you have to define the content that brings it all together. Well, there's no time like the present, so get ready to tackle that task and develop your YouTube Channel content strategy.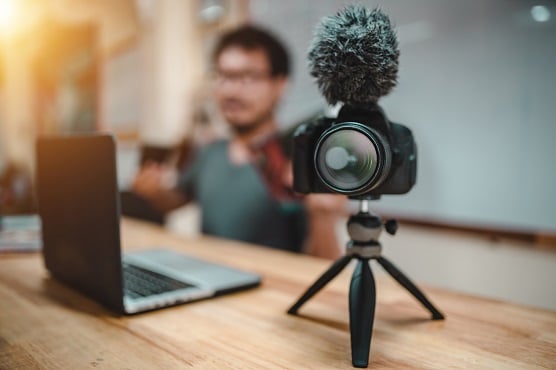 ©Shutterstock/Sutipond Somnam
Recognizing that YouTube content includes video and more
When establishing a content strategy plan, consider these factors that influence how your audience discovers your content and what action viewers take as a result of watching:
Video: The channel trailer is the first video visitors see when viewing your YouTube channel. This is where you need to captivate your new viewers and get them to subscribe to your channel. It is important to make a compelling channel trailer to drive subscriptions; you never know where a new subscriber is coming from. Viewers can click your channel icon from any of your videos' watch pages and jump to your channel.
Intros and outros: Create consistent intro and outro styles for your videos. Think of intros and outros as what you see at the beginning and end of your favorite television show. In the first five seconds, a viewer should know that this is one of your videos; this consistency can be something as simple as the way you say hello and greet your viewers or as complex as an animated logo. Outros should be similar across your channel as well — a goodbye ritual or recommendations for what they should watch next from your channel, and maybe end screens. (End screens are screen overlays that allow you to direct your viewers to another video or playlist, ask them to subscribe, visit other YouTube channels, or visit an approved website.)
Metadata: Metadata are the words you use to describe your video —the video title, your keyword tags, and the video description, for example. The more specific and precise your metadata, the better. The goal is to help viewers find the exact content they are looking for. Keep in mind that, if you stuff non-relevant keywords into your metadata, it's not going to help anyone. You'll only end up losing viewers when they realize the content you're showing them is not what they wanted.

Metadata is important for discovery and YouTube Search. Viewers can also find more information about the video or links back to your website if they want more information.

Thumbnails: Thumbnails need to be descriptive of the content that viewers can find in your video. Make custom thumbnails to help viewers discover your content above the rest, and don't hesitate to update thumbnails whenever a video's performance is lacking. You can change a video's thumbnail at any time — it doesn't have to be a new video.
End screens: An end screen is the best way to keep a viewer engaged after watching your video. If your video is longer than 25 seconds, you can customize an interactive screen where viewers can click on videos you want to promote, subscribe to your YouTube channel, and more. You can even reference the end screen when you're shooting the video, to encourage viewers to take action.
Links: Use clickable links in your video description to drive viewers to a specific location on the web or somewhere within YouTube.
Your planning process should consider the viewer who wants more information from a specific video. Providing links in the video description or end screens is a helpful way to give the audience more information when they want it.
Looking at content formats for your YouTube channel
If you've been mulling over jumping into the YouTube world for a while, you've probably spent a lot of time wrestling with how to produce all that content you need to keep your channel fresh and active. With YouTube, you have several options for your content strategy:
Creation: Regularly produce your own content. You can certainly build a channel without a stitch of your own content, but if you're going to stand out, your viewers need to see your genuine stuff.
Curation: Mine the YouTube universe for content that complements your YouTube channel, and organize it in a logical way, using sections and playlists for the viewer.

Think of curation in terms of what a museum does: Collect all this great art (content), and then pull it together into a themed exhibit. The YouTube playlist serves as the museum's exhibit. That's why museums place French Impressionist paintings together: It's all about the viewer/visitor experience. Would you want to see an impressionist painting together with contemporary pottery? Probably not.
Channel owners generally love having their videos included in playlists, because it helps promote their channels and attracts viewers to watch their content. Done right, your curation favor will be returned many times over.
Collaboration: You don't have to do everything yourself! Team up with other channel owners and create joint content. It's a popular and effective way to grow an audience and gain subscribers. A YouTube video can be associated with only one channel, so your collaboration planning should take into account content that you'll own (create) and content that you'll help share (collaborate).
Here are some examples of different types of content you can add to your channel:
Episodic content: The idea here is to have reoccurring content that creates a series or a body of work on a specific topic. This is great content to produce for your channel because it's highly attractive to channel subscribers. Subscribers can choose to be notified every time you release a video.
Short- and long-form content: Creating a mixture of short- and long-form content can help you understand the sweet spot for your viewers. YouTube Analytics helps you plan your channel better by identifying the optimal total runtime for your videos. If you're creating 10-minute videos with short watch times, consider making an alternative video cut that is shorter to see whether watch times improve.
Create new edits, and recycle footage: Don't be afraid to think outside the box when it comes to content creation. Reuse video outtakes, behind-the-scenes shots, and additional footage (called B-roll) to make new edits. Recycle your content when it makes sense for your viewers.
Playlists: Reengage viewers with old videos in new playlists. Highlight videos that are still relevant on your channel page and in new playlists. You can include your playlist updates in your custom channel sections to update your fans.
Plan for mobile: Mobile viewership accounts for 70 percent of global YouTube video consumption. Make your content easy to consume on mobile devices. Easy-to-see thumbnails and text onscreen are important for your mobile audience. Shorter titles are easier to read and understand on mobile as well. You can use YouTube Analytics to check your channel traffic sources and understand what percentage of views are from mobile.
Just because viewers are watching video on their mobile phones doesn't mean that they want shorter clips. Create both long- and short-form content whenever you can, and watch your channel analytics closely to develop a strategy that is right for your audience.
Curation recycling for your YouTube Channel
A multichannel network (MCN) aggregates many similarly themed YouTube channels and personalities and then makes them available in one place. Frequently, they help promote their managed channels' content on a single primary channel. To see what this means, check out Tastemade, which is a great example of an MCN curating its channels' content — it groups videos from different channels into a unified theme and makes it much easier for viewers to watch them.

You don't have to own or be affiliated with a YouTube video to include it in your own channel playlist lineup. If you really like hunting down recipes, for example, you can collect and curate them from your audience. There are no limits to what you can curate, although some content will resonate better with your audience.

Create sections and playlists on your channel that include videos from other creators. As long as it makes sense for your channel to include outside content, curating content is an excellent way to expand your channel's appeal and keep it active even if you aren't creating unique content.

Adidas, for example, has a ton of channels. Company leaders made a conscious decision to link many of its subchannels to sections and playlists on its primary channel. Adidas has also subscribed to its own channels, to highlight even more of its content. Doing so encourages cross-promotion of its other assets and channels.

Ready to launch your YouTube channel? This guide will talk you through the process.
About This Article
This article is from the book:
This article can be found in the category: