YouTube
The ever-present video sharing platform, Youtube has got what you want to see, whether that's cute kittens or political commentary. Discover the tips you need to make the most of your latest post.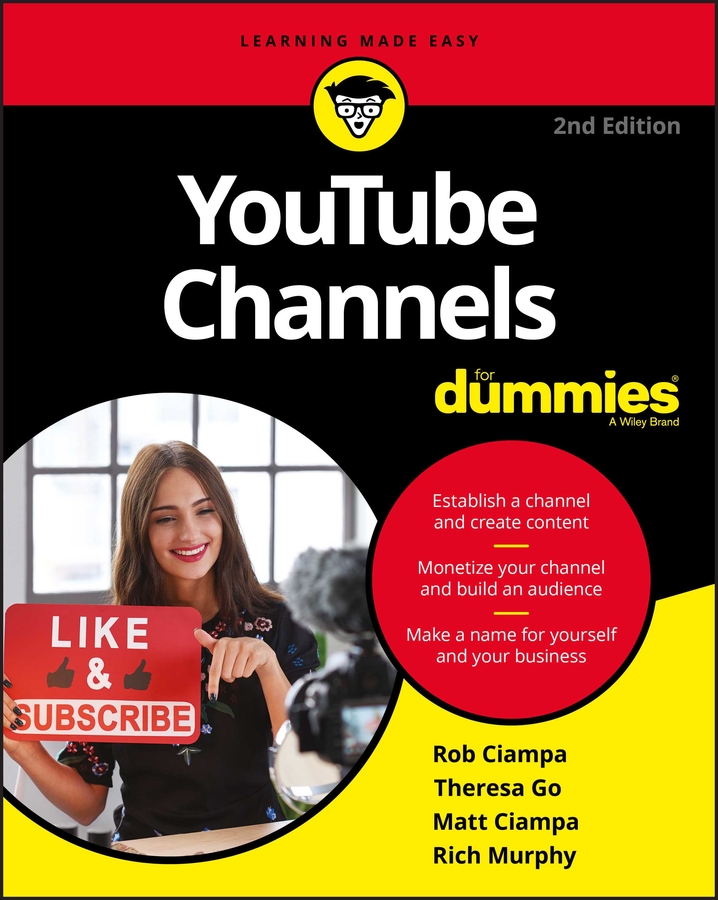 YouTube
YouTube Channels For Dummies
Published 09-01-2020
Create a YouTube channel that draws subscribers with top-notch content
YouTube has the eyes and ears of two billion monthly users. YouTube Channels for Dummies, 2nd Edition offers proven steps to attracting a chunk of those billions to your personal or business channel.
This updated guide offers insight from a quartet of YouTube channel content creators, managers, marketers, and analysts as they share the secrets of creating great content, building an audience, and interacting with your viewers. The book includes information on:
· Setting up a channel
· Creating videos that attract viewers
· Putting together a video studio
· Editing your final product
· Reaching your target audience
· Interacting with your fans
· Building a profitable business
· Tips on copyright law
Written for both the budding YouTube creator and the business professional seeking to boost their company's profile on the popular social networking site, YouTube Channels for Dummies allows its readers to access the over two billion active YouTube users who log on each day.
Learn how to create a channel, build a YouTube following, and get insight on content creation, planning, and marketing from established YouTube creators.
Explore Book
YouTube
Making YouTube Videos
Published 10-01-2019
Everything kids need to create and star in their own video!
YouTube has won the hearts, minds, and eyes of kids around the globe. Young people everywhere are making their mark on this popular platform—some of them even gaining massive followings, worldwide recognition, and the paychecks that come along with it. While lots of youngsters are happy to be spectators, others are hungry to create and star in YouTube content of their own—and this book shows them how.
Written for kids in a language they can understand, this book helps budding filmmakers and producers create their own videos—no matter the subject. It offers creators the insight on how to plan and shoot quality videos, install and use video editing tools, and post the final product to YouTube.
Apply tricks that pro filmmakers use for better shots, lighting, and sound

Edit your video, add transitions, insert a soundtrack, and spice things up with effects

Shoot and share your video gaming exploits
Share finished videos with family, friends, and the world
For any kid interested in joining the YouTube revolution, this book is the perfect place to start!
Explore Book
YouTube
YouTube Marketing For Dummies
Published 02-12-2019
Advice from a YouTube insider on how to creative effective campaigns
YouTube is the top destination for online video. With over a billion viewers around the globe, it's also valuable real estate for marketers looking to get their message out. YouTube Marketing For Dummies shares insight from a former YouTube employee who helped large and small businesses create effective marketing campaigns.
Inside, you'll discover proven game plans for buying advertising, launching a content marketing campaign, building a branded channel and community, and evaluating the results of your work. Plus, you'll find trusted, proven ways to get the most bang for your buck from the internet's #1 destination for video content.
Create a plan that fits your business needs
Launch an ad campaign
Find video creation strategies
Launch a branded channel
Are you ready to identify, launch, and measure a YouTube marketing campaign? Everything you need is a page away!
Explore Book