Diagnosing Your Health Symptoms For Dummies Cheat Sheet (UK Edition)
Diagnosing Your Health Symptoms For Dummies Cheat Sheet (UK Edition)
Whether you're concerned about a cough or anxious about lumps and bumps, this family health Cheat Sheet gives you the basic information you need for making informed decisions about your health up front.
Gathering Basic Equipment for Your First Aid Cabinet
Minor – and sometimes more serious – injuries or accidents can happen anywhere, but particularly at home – for example, when chopping the veggies, doing the gardening or during DIY projects. Illnesses such as coughs, colds and tummy upsets can strike any time, too. Being prepared is therefore a good idea, so keep the following basic medical equipment at hand in your home – but out of the reach of children:
Anti-allergy medicines such as antihistamines

Anti-diarrhoea tablets

Painkillers and medication for fever and inflammation, (such as paracetamol, ibuprofen and aspirin

Plasters, bandages, gauze, tape, tweezers

Sunscreen

Thermometer
Finding Your Way around Your Body
When you develop a new health problem in a particular area of your body, it can help to know which structures are beneath your skin. The following diagrams give you some clues.
Areas of the human body
Certain areas of your body have special names, which are worth knowing about, particularly if you want to read up about your symptoms or want to tell your doctor on the phone where your problem is located.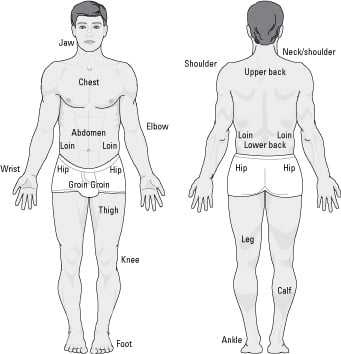 Bones in your body
Humans have over 200 bones in their bodies – but you don't need to know about every one of them. This diagram shows you where to locate and identify the larger ones.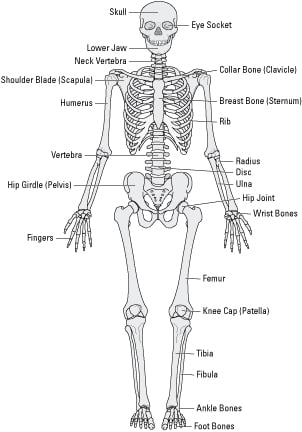 Human body organs
In some cases, health symptoms may be caused by damaged or diseased underlying organs. This diagram helps you find out where your organs are inside your body.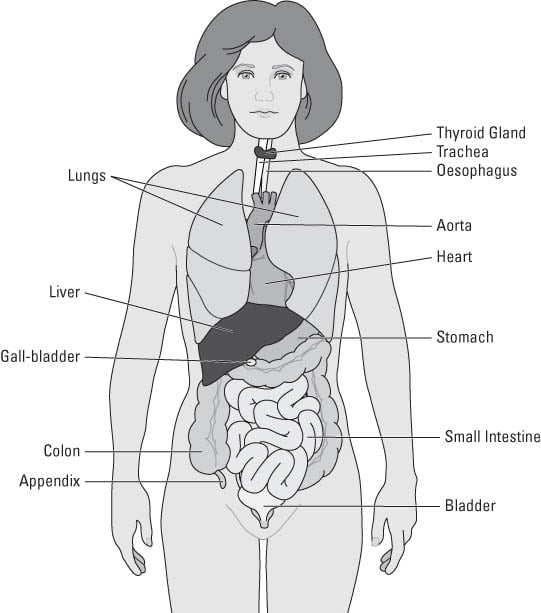 Keeping an Eye on Normal Values for Vital Signs
Assessing breathing rate, checking a pulse and measuring temperature can help you to decide whether you or someone else may be more seriously ill than you think. To help you decide whether an observation is abnormal, check the normal ranges in this table. These are different for adults, children and babies.
Normal Values in Adults and Children


| Observation | Adult | Child | Baby |
| --- | --- | --- | --- |
| Breathing rate (breaths per minute) | 12–20 | 20–40 | 30–60 |
| Resting heart rate (beats per minute) | 60–90 | 90–110 | 110–140 |
| Temperature* (in degrees Celsius/Fahrenheit) | 36.5–37.2/97.7–99.9 | 36.5–37.2/97.7–99.9 | 36.5–37.2/97.7–99.9 |
* Note that armpit temperature is 0.2–0.3 degrees Celsius (32.4–32.5 degrees Fahrenheit) lower than those taken from the mouth (shown in the table). A body temperature above 38 degrees Celsius (100.4 degrees Fahrenheit) indicates fever.
Knowing the Ten Commandments for Self-Diagnosis
Making an assessment and initial diagnosis of your health symptoms with the aim of forming a sensible 'management plan' often comes down to basic principles. Bear the following 'commandments' in mind when dealing with your medical problems:
Acquire some basic first aid skills.

Appreciate the limitations of self-diagnosis.

Check reliable websites on the Internet for additional information.

Choose medical services wisely.

Try to think of any obvious causes that may be responsible for your health problem.

Know your way around your body.

Look for additional clues to help when self-diagnosing.

Remember that children aren't small adults as regards medical symptoms.

Self-treat when appropriate.

Understand that mental problems can cause physical symptoms.
Making a Note of Useful UK Telephone Numbers for Health Emergencies
Having access to the right help at the right time can make all the difference to effectively managing your health symptoms. Don't waste time hunting around for phone numbers when you most need them – keep a list of contacts handy by your phone. Print out this list:
NHS Direct: 0845 4647; www.nhsdirect.nhs.uk
NHS24 (Scotland): 0845 4242424; www.nhs24.com
Your GP surgery: ___________________________
Your dentist: ___________________________
Your local hospital: __________________________
Ambulance/Police/Fire: 999
Alcoholics Anonymous: 0845 7697555
BackCare Helpline: 0845 1302704
ChildLine: 0800 1111
Cruse Bereavement Counselling: 0844 4779400
The Patients Association: 0845 6084455
The Samaritans: 0845 7909090