Surgery Books
Surgeons — the mechanics of the human body — can take a look "under the hood" to fix (and improve) the parts that make us tick. We explain how they do it, whether it's right for you, and what to expect from the process.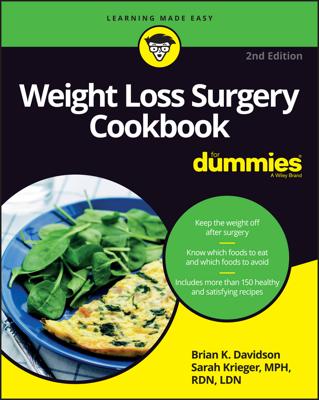 Weight Loss Surgery
Weight Loss Surgery Cookbook For Dummies
Get empowered to safely keep the weight off after surgery If you're reading this, odds are you have made the very important decision to improve your health by undergoing weight loss surgery. Hats off to you—it's no small feat and could very well have saved your life! While your surgeon provided you with the tool to assist you in losing weight, making that tool work is up to you—and that's where this sensitive and authoritative guide comes in. In Weight Loss Surgery Cookbook For Dummies, 2nd Edition you'll find the fail-safe, easy-to-follow guidance you need to make smart, informed choices as you adopt a healthy eating regimen to your lifestyle. Packed with 100 plus delicious recipes, healthy recommendations, the latest information on grasping the ingredients in your food, expert tips on meal planning and shopping, and so much more, you'll find everything you need to safely keep those pounds coming off post-surgery. Successfully navigate a post-surgery lifestyle Get the lowdown on the latest dietary guidelines Know which foods to buy and how to prepare them Stay on track with meal planning, setting up your kitchen, and more Losing those initial pounds through surgery is just the first step—and this book helps you make the lifelong lifestyle changes needed to maintain your weight without sacrificing the pleasure of eating delicious food.
Explore Book
Buy On Amazon
Cosmetic Surgery
Cosmetic Surgery For Dummies
Cosmetic surgery is one of today's hottest topics. From daytime talk shows and popular magazines to conversations at the salon, it seems that almost everyone has had it, is thinking about it, or knows someone who is getting it. Statistics show more and more women—and men—are having cosmetic surgery. And with all the options now available, it's important to be fully informed before you make any decisions about having a procedure. Now, Cosmetic Surgery For Dummies is here to guide you through today's top procedures, candidly addressing both the benefits and the risks. R. Merrel Olesen, MD, the medical director of the La Jolla Cosmetic Surgery Centre, and Marie B.V. Olesen, a nationally known cosmetic surgery consultant, give you the tools you need to: Decide if surgery is right for you Find a qualified surgeon Set realistic expectations Evaluate the costs Enhance your recovery and results This plain-English guide shows you how to take advantage of all the advances in cosmetic surgery while avoiding the pitfalls that could compromise your safety or the quality of your result. From implants to liposuction to Botox, you'll understand the right questions to ask your doctor, how to prepare for surgery (both physically and financially), and the best ways to influence the healing process. You'll also: Discover the latest surgery techniques and medications Understand the different surgeon specializations Sort through the various non-surgical facial treatments Evaluate your post-op care options Cope with complications Deal with family, friends, and coworkers before and after surgery Complete with lists of questions to ask before surgery and top Web sites for cosmetic surgery information, Cosmetic Surgery For Dummies is a practical, friendly guide that will help you say hello to a new you!
Explore Book
Buy On Amazon