Personal Care & Style Books
Look and feel your best, from your teeth to your toenails. Do your hair and makeup, boost your metabolism, fight allergies, and more.
Personal Care & Style
Books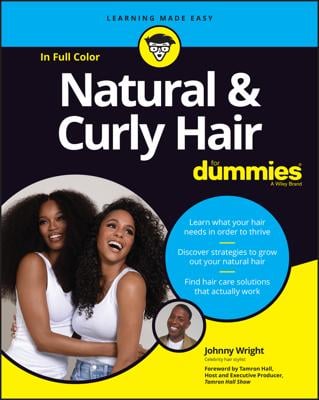 Personal Care & Style
Natural & Curly Hair For Dummies
The complete how-to guide on all things textured hair Natural & Curly Hair For Dummies offers you step-by-step direction and accurate information to manage and style your hair. Celebrity hairstylist Johnny Wright is here to help you ditch the chemicals and love your textured locks. You'll learn to tame frizz, keep your hair moisturized and looking luscious. With the right tricks, tips, and advice you can get a halo of soft, healthy curls just the way you want them. Plus, you'll find out how Johnny maintains the hair health of his most notable clients like Queen Latifah, Tamron Hall, Kerry Washington, and Michelle Obama. This book offers simple and useful scalp and hair guidance for Black and Latin hair care maintenance including styling tips to properly take care of your natural hair. Learn how natural and curly hair works, including hair porosity & hair elasticity Deal with breakage, dryness, dandruff, shedding, tangles, and frizz Discover techniques on coloring and bleaching natural hair Learn which ingredients and products will help keep your unique hair texture and type healthy and looking its best Master toddler, child, and teen styles and care—for adoptive parents, parents of biracial children, and caregivers With full-color photographs throughout, Natural & Curly Hair For Dummies will give you the skills you need to bring out the born-with-it beauty in that amazing ethnic hair!
Explore Book
Buy On Amazon
Hair & Skin Care
Haircutting For Dummies
Your short cut to stylish home hairdressing Ever wondered if you could hack it at cutting your friends' and family's hair, or could even make it as a full-blown stylist? If you've got a little creative spark—a love of crafting or painting or a talent for home makeovers—and an obsessive yen to redo the dos you see around you, it's more than likely you can make the cut. The new edition of Haircutting For Dummies shows you how to draw out your inner artist and bring your ideas to glorious life on the heads of your nearest and dearest—and will help shave dollars off your beauty budget into the bargain! In a free-spirited, chatty style, master stylist and social media corporate beauty consultant Jeryl E. Spear sits you down for a comprehensive snip-and-tell overview of how to reproduce the latest short, medium, and long hairstyles, as well as fancying things up with cutting-edge techniques like slicing, notching, and layering. Jeryl also provides a drawerful of tips on the tools you'll need to get started. Get a grip on men's and women's styles Set up shop at home Choose your tools and keep them sharp Take the first steps to embracing a beauty career Packed with detailed illustrations and model shots to guide your work, this book has everything you need to begin the creative work of making everyone you know—and the world—a smarter, more beautiful place!
Explore Book
Buy On Amazon