Determining Where Your Waistline Fits within Your Figure
Determining Where Your Waistline Fits within Your Figure
Women often are said to be either short-waisted or long-waisted. To figure out where your waist falls within your overall physique — your "waistedness" — follow these simple steps:
Measure the distance between your armpit and your waist.

Measure the distance between your waist and the bottom of your bum.

Compare the measurements.

If the two measurements aren't equal, you're either short- or long-waisted: If the first measurement is shorter, you're short-waisted. If the second measurement is shorter, you're long-waisted.
The right fashion for short-waisted women
Maintaining balance is one important key to flattering your figure and dressing for your body type. If you're short-waisted, you're going to look out of balance with a top half that appears smaller than your bottom half. Finding ways to make your top half look proportionate to your bottom half, by making your waist appear longer, helps you achieve balance.
Try a top with vertical lines. These lines give the illusion that your top half is longer than it is. The stripes can be as subtle as a pinstripe blouse — anything that keeps the eye moving up and down right over your waist works.

Wear tops that you can leave untucked. This is another way of hiding where your waist actually is.

A deep V-neck draws the focus upwards and away from your waist (this is a little tip that works for everyone — not just short-waisted women).

A short-waisted (left) and a long-waisted (right) woman.
Avoid dresses with a waistband. If you do need a belt, choose a narrow one that's in the same color as your outfit to minimize the attention to the waist area.

If you wear prints, limit it to your top and make sure your top ends by your hips. This hides your true waistline, and the break between the pattern and the solid bottom make your waist seem longer than it really is.
What you don't want to do is draw attention directly to your middle, like the left-hand model in the following illustration. The wide belt at the waist accentuates the short waist, making the top half look out of proportion with the bottom half. The tunic top, on the other hand, elongates the waistline and makes the body look balanced.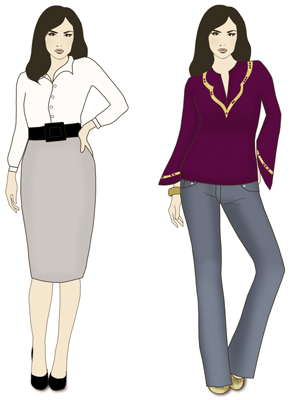 A don't (left) and a do (right) for short-waisted women.
Fitting fashion for long-waisted women
The problem that long-waisted women have is that their body type makes their legs seem shorter. If you're a long-waisted woman, you need to use your clothes to add length to your bottom half:
Choose dresses that have an A-line or an empire waist. These styles make your waist appear higher than it is, thus making your legs appear longer too.

Choose shirts that cover your waist. The short, stomach-baring shirts are a problem for long-waisted women. When these types of shirts were the trend, it became difficult for long-waisted women to find tops that didn't look like they'd shrunk in the dryer. (By the way, anyone over the age of 12 should avoid this trend at all costs. No adult women should ever wear stomach-bearing tops. And, no, it doesn't matter if you spend every day at the gym!)

Choose pants that are at your natural waistline or a bit above. You definitely want to avoid hip huggers because they make your legs look even shorter.

Never feel as though you're not "in" if you aren't wearing what are supposedly the current trends. Even the fashion industry makes mistakes. You don't have to follow its lead! Not all trends work with all body types, and you don't want to be a fashion victim. Better to stick with your own style and wear clothes that flatter you.

Opt for short jackets. The bolero style, for example, can be very elegant on a long-waisted woman.

Wear heels. They add length to your legs.

To heighten the effect of longer legs, make sure your shoes match your bottom. If you're wearing a skirt or dress, matching hosiery also adds to that effect, as does a wide belt that matches the color of your bottom.
Whatever you do, avoid styles and cuts that make your legs look shorter. Low-waisted jeans with a shorter top only accentuate your long waist, cut you in the middle, and make your legs look shorter. High-waisted pants, on the other hand, will elongate your legs, and raise the appearance of your natural.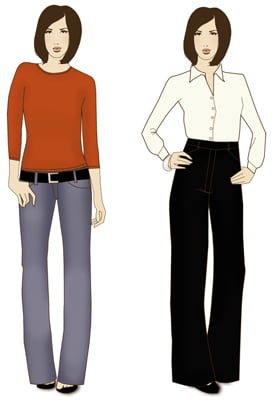 A don't (left) and a do (right) for long-waisted women.