How to Use the Maps App on Apple Watch
How to Use the Maps App on Apple Watch
Apple Maps — or simply Maps — is one of the built-in Apple Watch apps. It allows you to get directions from your current location to a destination of your choosing — with the app calculating the best route.
You should see — and feel — the turn-by-turn navigation instructions to guide you along the way, and you can always search for nearby businesses, such as a restaurant or a gas station, simply by asking Siri for it.
To use the Maps app on your Apple Watch, follow these steps:
1

Press the Digital Crown button to go to the Home screen.

You should see Maps app on the Home Screen.
2

Tap Maps.

This launches the Maps app. An overhead map of your current location appears on the Apple Watch screen, and you can swipe in a given direction to move the map around or you can twist the Digital Crown button if you want to see nearby streets or businesses.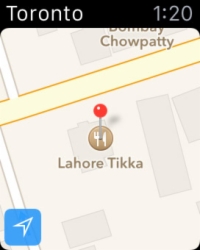 3

Tap the blue icon in the lower left of the screen to return to your current location.

This re-centers the map to your specific location. You can also zoom in and out by twisting the Digital Crown button.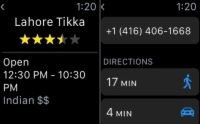 5

Tap the blue word Done in the top right of the screen when you're finished.

The next time you do a search in Maps, you should also see your last searched addresses below the Dictation tab.

A firm press on the screen uses Apple Watch's Digital Touch feature. If the location is a business, you can tap it on the map to bring up information, such as the address and phone number (which you can call), hours of operation and if it's open at that exact moment, and its star rating (average user rating out of five stars — via Yelp). You should also see an estimate on how long it might take to get there by foot or by car.
6

Upon landing on a searched destination in the Maps app, you should see the time to the desired location by car or by foot — so you can tap which mode of transportation you're using — and you should also see the destination as a pushpin on a map at the bottom of the screen.

Addresses in Messages, Email, Calendar, and other apps are be highlighted in blue and underlined, which means they're tappable. Tap the address, such as 123 Yonge St., and it launches that address in the Maps app for you. Neat, huh?
7

Tap Start to map your route.

And you're off! Now follow the instructions as you make your way to your destination. If you need to turn right, a steady series of a dozen taps are felt on your wrist at the intersection you're approaching. To turn left, you should feel three pairs of two taps. Of course, you can also look down at your screen for visual cues (on foot and not while driving of course!).

As you can with all other built-in apps, use Siri to access Maps information whenever you like. Either raise your wrist and say "Hey, Siri," followed by something like "Show me 5 Main Street in Beverly, Kansas" to see it on a map or "Hey, Siri, give me directions to the Golden Gate Bridge." You can also press the Digital Crown button to activate Siri.