Wearables Books
The only thing cooler than a new gadget is one that you can wear on your wrist. Check out our articles on the different kinds of wearables.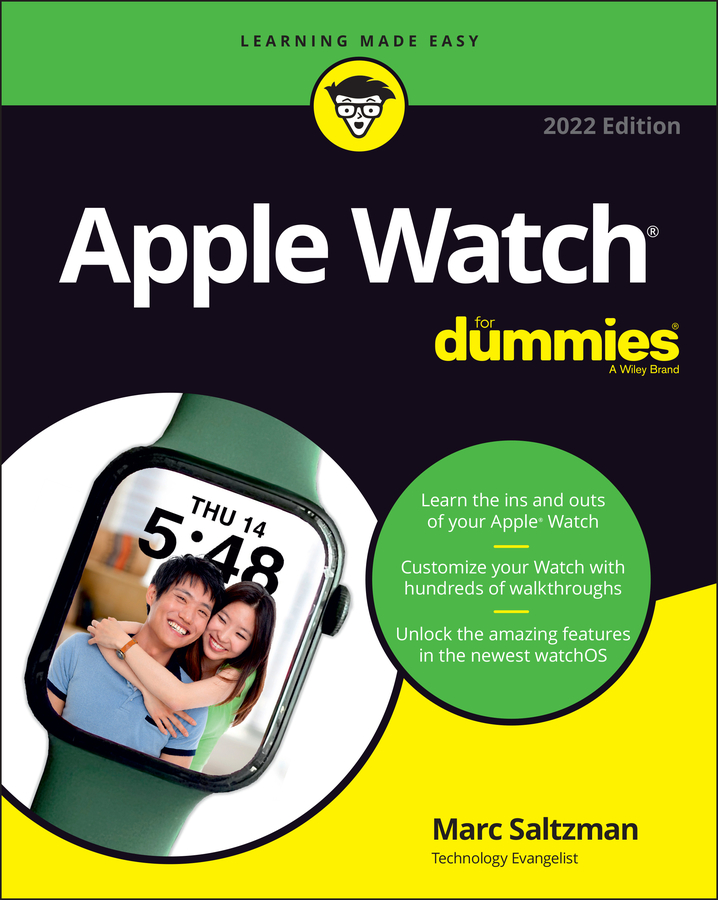 Apple Watches
Apple Watch For Dummies
Published 01-06-2022
Make your Apple Watch your new best friend! From accessing messages to getting quick directions, the latest smart watches do a whole lot more than just tell time. And the latest version of the Apple Watch is one of the most powerful iterations of these handy devices you can own. In Apple Watch For Dummies, you'll get step-by-step guidance on how to use all the best features of the Apple Watch. You'll learn how to make payments with a flick of your wrist using Apple Pay, keep track of your activity and sleep, monitor your heart health in real time, and even turn your watch into a digital walkie-talkie. This easy-to-read guide will also show you how to: Stay in touch by sending and receiving text messages and emails with your Apple Watch Track your fitness and sleep with Apple Watch, and have it monitor your health and even detect a sudden fall Learn how to stream Apple Music playlists and podcasts to wireless headphones Customize your watch face to look exactly the way you want it to look, from retro-chic to futuristic fun Apple Watch For Dummies is a must-read resource for Apple enthusiasts everywhere. Whether you're an Apple Watch newbie or you've been using one since they first came out and just need a refresher, this book has everything you need to get the most out of one of the coolest pieces of wearable tech on the market today.
Explore Book
Buy On Amazon
Apple Watches
Apple Watch For Seniors For Dummies
Published 12-21-2021
Hey, Siri! How do I get up to speed with this amazing watch? If you're a proud owner of an Apple Watch, you're in luck. These handy little devices can change the way you keep track of your health, stay in touch with friends and family, and even get around. It's got apps for just about everything you can think of! But how do you go about getting acquainted with such a powerful tool? With Apple Watch For Seniors For Dummies, of course. This book will walk you through the aspects of owning and using an Apple Watch you'll apply in your daily life, from taking it out of the box for the very first time to counting the calories you burned on your latest walk. This super-simple guide shows you how to: Connect your Apple Watch to your other devices, like a Mac computer or an iPhone Send messages to—and receive messages from—friends and relatives by email, text, or voice Make your watch look exactly the way you want it to with custom Apple Watch faces Whether you just got an Apple Watch as a gift or you've had one for a while and you're looking to unlock even more cool features and capabilities, Apple Watch For Seniors For Dummies is your from-scratch guide to getting the most out of one of the most functional smartwatches on the market today.
Explore Book
Buy On Amazon
Fitbit
Fitbit For Dummies
Published 07-11-2019
Take a complete tour of the Fitbit ecosystem From Fitbit features to the Fitbit app to the social features of Fitbit.com, this approachable book covers everything you need to know to get the most out of your Fitbit wristband or watch. Whether you're a fitness newcomer, a regular walker, or a long-time exerciser, your Fitbit is a powerful device that can tell you much more than how many steps you take each day. This book offers easy-to-follow, step-by-step instructions for tracking all that data and getting the most out of your Fitbit investment. Go beyond steps to track sleep, heart rate, weight, and more Set up your health and fitness goals — then go for them! Connect to third-party apps such as Strava and Weight Watchers Stay motivated by sharing your activities with friends It's one thing to simply wear your Fitbit, but it's quite another to use your Fitbit to reach your personal health goals. Whether that goal is to get fit, lose weight, eat better, or reduce stress, your Fitbit has settings and features that can help you get there. And this book shows you how!
Explore Book
Buy On Amazon