Apple Watch comes in a few sizes and configurations. For Series 1, Series 2, and Series 3 watches, you have a choice of a screen that's either 38 millimeters (about 1.5 inches) or 42 millimeters (roughly 1.65 inches).

For Apple Watch Series 6 and Apple Watch SE (a less expensive model introduced in 2020), sizes measure 40 mm (1.57 inches) or 44 mm (1.73 inches), but the watches have narrower bezels (borders) than their predecessors.

Apple Watch Series 7 (2021) and Apple Watch Series 8 (2022), has two sizes: 41 mm (1.61 inches) and 45 mm (1.77 inches). These watches introduced thinner bezels than all Apple Watches to date; therefore, the watch face is virtually all screen.

And finally, Apple introduced Apple Watch Ultra in 2022, featuring a super durable smartwatch with a larger 49mm case size, and other bells and whistles.

You measure your screen from the top to the bottom, not diagonally — similar to how most screens in consumer electronics are measured (such as those on smartphones and tablets).

Although you likely bought a watch before buying this book, note that a few versions of Apple Watch are available today (the latest Apple Watch Series 8, is shown in the image below), and you can purchase a few accessories to customize your watch.

For a more extensive discussion of the Apple Watch collections, or for ways to persuade a friend or co-worker that they need an Apple Watch, visit the Apple Watch website.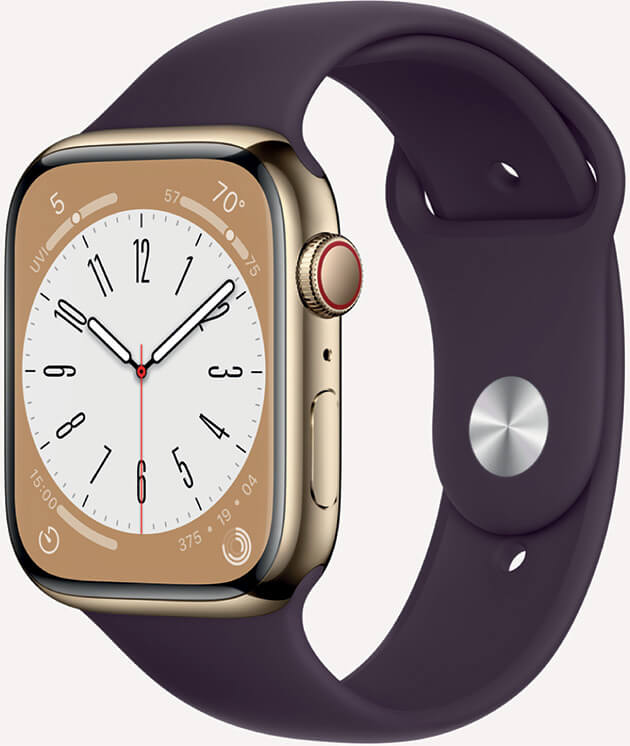 ©John Wiley & Sons, Inc.
The newest Series 8 Apple Watch
Excluding the various bands you can buy from Apple, the six Apple Watch options are
Apple Watch Series 8: The latest Apple Watch model (as of this writing) features the same design as the Apple Watch Series 7 (2021) but adds a new temperature sensor system (for insights into women's health), "crash detection" (through motion sensors and microphone), and a low-power mode that can squeeze up to 36 hours on one charge (with iPhone nearby).
Apple Watch Series 7: This 2021 model adds a bigger and tougher screen than its predecessors, faster wireless charging, all-new colors, an optional QWERTY keyboard for typing, and more. Choice of materials include aluminum, stainless steel, and titanium.
Apple Watch SE: Much like the less expensive iPhone SE, Apple Watch SE — updated in the Fall of 2022 — is meant to give you premium features at a more affordable price. It includes a great-looking Retina display, new dual-core processor for faster performance, advanced sensors to track your movement, sleep, crash detection (2022 model), and more.
Apple Watch Ultra: Introduced in the Fall of 2022, this larger (49mm) Apple Watch is designed for sporty and outdoorsy types, featuring a more ruggedized body (titanium case), precision dual-frequency GPS, one extra (and customizable) action button, crash detection, and up to 36 hours of battery life. This watch also has three specialized bands for athletes and adventurers.
Apple Watch Nike+: Ideal for fitness types who like the Nike brand, this special edition Apple Watch (and special loop band) was designed to be your running partner. The watch synchronizes with the Nike Run Club app and Nike Training Club app. You can now add exclusive Nike watch faces to this edition of Apple Watch.
Apple Watch Hermès: A partnership between Apple and Hermès, this fashion-centric watch includes bold, colorful (and extra-long wraparound) leather bands and an exclusive new watch face.
You also have a ton of choice when it comes to materials you want in an Apple Watch and what style of band to choose. With Apple Watch Series 6, you can go with aluminum, stainless steel, titanium, or ceramic.

Apple Watch Series 7 and Apple Watch Series 8 introduced five aluminum case finishes, along with a range of new band colors and styles. See the images below. The super-durable Apple Watch Ultra is made with titanium and supports three specialized bands.

In the fall of 2019, Apple also announced Apple Watch Studio, a website that lets you choose a case and pair any band.
About This Article
This article can be found in the category: