As you may or may not know, Apple Music is a monthly subscription service from Apple that lets you listen to more than 45 million songs. Unlike paying for and downloading individual songs or albums from iTunes, Apple Music is a streaming service, so all the songs are stored on Apple's servers in the "cloud" for you to access from your device (as if they were stored locally). Neat, huh? Instead of "owning" the music, you're essentially renting the songs, if you will, with your monthly fee.

In other words, it's not an "a la carte" model, but rather a buffet-style "all-you-can-eat" approach, giving you unlimited access to many songs, with your one monthly fee. To use this feature, you must have an Internet connection. There is an option to download some Apple Music tracks to an iPhone, iPad, Mac, or PC in the event you know you'll be without the Internet for a while.

Another part of Apple Music is an Apple Radio feature, which might introduce you to new songs through curated playlists you can stream on-demand.

Simply open the Music app on your Apple Watch and scroll up, then tap Library. You can also use Siri to play any song in the Apple Music catalog and listen to custom stations.
How to play music from your Apple Watch
Not all smartwatches let you store music on your wrist, so you do need a nearby smartphone, but Apple Watch does indeed offer this feature. After all, sometimes, you might not have or want your phone with you, such as when you go out for a jog for a few minutes. If that's the case, why shouldn't you listen to your favorite high-energy music to keep you pumped up?

This convenience comes with two limitations:
Sound: As stated before, Apple Watch has no headphone jack. You need a pair of Bluetooth headphones wirelessly paired with your smartwatch if you want hear anything stored on it.
Space: Although you have some storage allocated for many songs, this space is considerably smaller than what your iPhone, iPad, and computer have. Specifically, you've got up to 2 gigabytes of internal storage on Apple Watch dedicated to music and podcasts, which is the equivalent of about 500 songs (at roughly 4 megabytes each).
If you accept these caveats, follow these steps to transfer music to your Apple Watch from an iPhone:
Connect your Apple Watch to your PC or Mac via its USB charger. Use the special magnetic charger that shipped with your Apple Watch.
On your iPhone, open the Apple Watch app.
Under My Watch, scroll down and tap Music. You have to scroll down a bit after the Music screen opens because of its many settings, shown in Figure 9-8, along with apps installed on your Apple Watch.
You will see Heavy Rotation already listed under the Automatically Add section. This synchronizes the playlists and albums you're listening to with Apple Watch.
To add new albums and playlists, press the orange + icon, next to the words "Add Music."
Now you can search through music on your iPhone using the search window or by browsing through sections. The section will include Artists, Albums, Genres, and Compilations. You should also see custom-made playlists you've already created on your iPhone or iTunes (such as "Awesome Driving Tunes," or "Reggae Mix").
Select what you want to transfer. Based on which selection you make by tapping on what music to sync over, the relevant songs are transferred to your Apple Watch. You should see the words Sync Pending and then Synced. Keep in mind that the more songs you synchronize, the longer it takes to copy them to Apple Watch.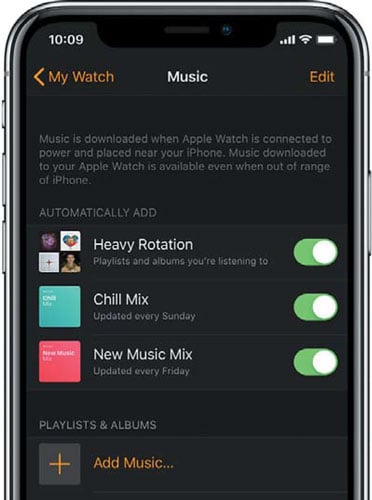 Sync music between your iPhone and Apple Watch.

Don't worry about transferring too many tunes over to Apple Watch because Apple won't let you go over your allotted storage of 2 gigabytes (or about 400 to 450 songs).

Have songs stored on your Apple Watch? To listen to music on your Apple Watch rather than your iPhone, follow these steps:
In the Music app, scroll up through your album art and select Library. Here you should see options on where to play your music from.
Tap Device and you should see you're able to toggle between your devices. The screen says: "Choose a music source to play from: iPhone or Apple Watch."
Select Apple Watch, as shown in the following figure. After you tap Apple Watch, the screen should say "Pair a Bluetooth headset to listen to music on your Apple Watch."
Tap Settings and then choose a paired device from the list; pick the one you've got with you. Now you're ready to rock, roll, dance, swing, or relax.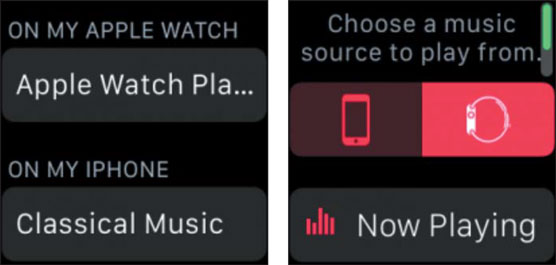 You need to select Apple Watch as your music source to hear music when your iPhone isn't around.
How to remove music from your Apple Watch
If you've grown tired of some songs on your Apple Watch, here's how to remove them:
On your iPhone, open the Apple Watch app, then tap the My Watch tab at the bottom left of the screen.
Scroll to Music and tap it, then tap Edit in the upper-right corner. You only see Edit if you have music synced to your watch.
Under Playlists & Albums, tap the red minus icon next to any music that you want to remove, then tap Delete. You can also turn off any automatically added playlists that you don't want on your watch from this screen.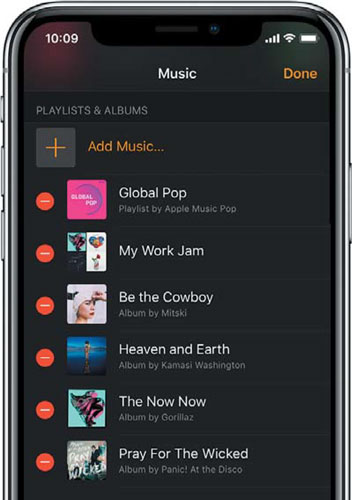 It's just as easy to take songs off your Apple Watch as it is to add them, but both require your iPhone.
About This Article
This article can be found in the category: