Did you know you can send people money through your Apple device? Called Apple Pay Cash, this easy-to-use technology is designed for person-to-person payments. It's essentially a version of Apple Pay that lets you send or receive money right in the Messages app, or by asking Siri.

You can use the cards you already have in Wallet to send money, split a bill at a restaurant, or chip in on a gift for a coworker. The following figure shows this wonder in action.
Available in the U.S. only, Apple Pay Cash lets you send or receive money via the Messages app.
Apple Pay Cash requirements
Here's what you need to get going:
United States residency. You also need to be 18 years of age.
A compatible device with iOS 11.2 and later or watchOS 4.2 and later.
Two-factor authentication for your Apple ID, which requires both a password and one-time code sent to your iPhone to confirm it's really you.
Connection (sign in) to iCloud with your Apple ID on any device that you want to use to send or receive money.
An eligible credit or debit card in Wallet.
Agreement with the Terms and Conditions, something required the first time that you try to send or receive money.
Verification of your identity (you may be asked this).
Now, right from your iPhone, iPad, or Apple Watch, friends can securely send and receive money. Just be aware that Apple Cash is for personal use only and not for any business-related activities, such as paying business expenses or paying employees, per Apple.
How to set up Apple Pay Cash in Wallet
If you're setting up Apple Pay Cash for the very first time, you'll need to use any supported device that allows you to sign in to iCloud with your Apple ID. To do so:
Tap Settings→Wallet & Apple Pay.
Tap the Apple Pay Cash card, then follow the onscreen instructions.
To enable Apple Pay Cash on Apple Watch, open the Apple Watch app on iPhone, then tap My Watch→Wallet & Apple Pay.
Now tap the Apple Pay Cash toggle so it turns green and says "Enable sending and receiving money in Message on Apple Watch."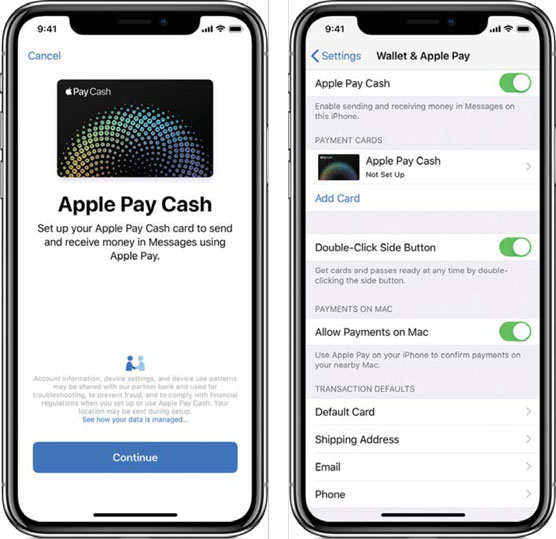 A look at setting up Apple Pay Cash on iPhone (left) and enabling Apple Watch support (right).

If you turn off Apple Pay Cash for any one device, such as on an iPad, you can still use Apple Pay Cash on other devices where you're signed in with your Apple ID, such as on an iPhone or Apple Watch.

Apple confirms there is no fee to use Apple Pay Cash with a debit card. If you send money using a credit card, though, there's a standard three percent credit card fee on the amount.

If someone sends you money via Apple Cash, it's automatically kept on your Apple Pay Cash card. You'll see your new Apple Pay Cash card in your Wallet, and you can use the money to send to someone; to make purchases using Apple Pay in stores, within apps, and on the web; or to transfer it from Apple Pay Cash to your bank account.
Use Apple Watch to send cash to friends
Once you're all set up, it's super easy to send cash to someone through your Apple Watch!
Open the Messages app. This may require you to press Digital Crown to see all your apps.
Start a new conversation or tap to open an existing one.
Scroll down, then tap Apple Pay.
Choose an amount by turning the Digital Crown. To enter an exact amount, tap the dollar amount, tap after the decimal, then turn the Digital Crown.
Tap Pay. To review the payment information or cancel, scroll down. Your money in Apple Pay Cash will be used to pay first.
To send the payment, double-press the side button.
To cancel a payment after sending, tap the payment to see its details, then check the Status field and tap Cancel Payment.
You can use Siri to send money! Say something like, "Apple Pay 50 dollars to Steve for movie tickets" or "Send 25 dollars to Susan."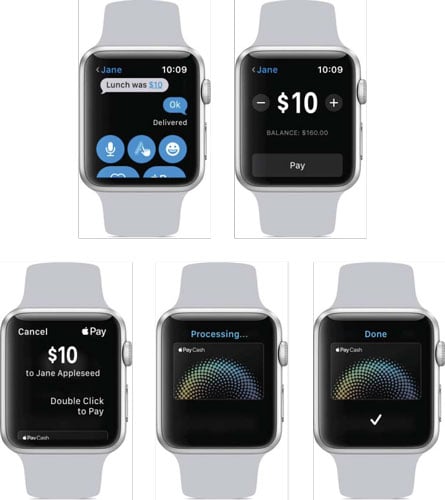 Sending money to someone through Apple Watch is super easy, fast, and secure.
About This Article
This article can be found in the category: