Apple Watch previously required you to have an iPhone to set up and use the wristwatch (even with the cellular model). This isn't the case any longer, with the introduction of watchOS 7, the operating system that debuted in the fall of 2020. Also new with watchOS 7 are a couple of features specific for families.
Family Setup: Setting up Apple Watch for family members
With a new feature called Family Setup, it's now possible for family members to use Apple Watch's features — such as sending and receiving messages and calls, and sharing their location with you — even if they don't own an iPhone.

After you set up a watch for a family member, such as a child, you can use your iPhone to manage some of the watch's capabilities.

To get going with Family Setup, you need:
An Apple Watch Series 4 or later, GPS + Cellular model, or Apple Watch SE with cellular. Apple says a cellular plan (typically $10/month) isn't required to set up an Apple Watch for a family member, but it's necessary for some features.
Apple Watch watchOS 7 or later.
An iPhone 6S or later with iOS 14 (or later) for the setup process.
Your Apple ID and one for the family member who will use the Apple Watch. Note two-factor authentication must be turned on. (This is when you not only need a password to log in but also a one-time code sent to one of your Apple devices, which you also need to type, to confirm it's really you.)
Ready to get going? Here are the steps to using Family Setup as the parent/guardian:
Put the Apple Watch on your wrist and turn it on by pressing and holding the side button. The Apple logo appears. If your Apple Watch isn't new, perform a factory reset on the watch (Settings→General→Reset→Erase All Content and Settings).
Hold the watch close to your iPhone. Your phone's screen has a message that reads: "Use your iPhone to set up this Apple Watch."
Tap Continue.
Pair the watch with your iPhone by following the prompts to hold the iPhone over the Apple Watch screen (so that your iPhone's camera can see the animation).
Tap Set Up Apple Watch and after you agree to the terms and conditions, choose a text size for the Apple Watch and a passcode.

Apple Watch now lets you set up a watch for someone in the family that doesn't have an iPhone. But a parent or guardian first needs an iPhone to initiate Family Setup in the Watch app.

Pick a family member who will use this Apple Watch. You should see the family member's name, face, and age. If not, tap Add New Family Member and enter their Apple ID and password. If you like, enable "Ask to Buy" if you want to give permission for any app downloads or purchases made on the Apple Watch.
Set up cellular and Wi-Fi. This is where you can add your Apple Watch to your mobile phone plan if your cellular provider supports it or you might be able to use a different carrier altogether. If that's the case, leave this part for later. But be sure to choose whether to share your current Wi-Fi network with the Apple Watch.
Evaluate other features. On the next few screens you can enable or disable various Apple Watch features. This includes Location Services (for the Find People app), Siri, Apple Cash Family, Messages in iCloud, Health Data, Emergency SOS, Emergency Contacts, Medical ID, Activity, Workout Route Tracking, and Photos.
Set up shared contacts and Schooltime. You're asked to set up the approved contacts available on Apple Watch to call or message (such as family, friends, or a trusted neighbor.) For this, enable Contacts in iCloud (on iPhone, go to Settings→[your name]→iCloud and double-check Contacts is turned on. Select people here.
Apple has set some restrictions to kids using Apple Watch. For one, high and low heart rate notifications are only available for users 13 and older, and fall detection is available for users 18 and older.

Other health and wellness features not supported in Family Setup: irregular heart rhythm notifications, ECG, Cycle Tracking, Sleep, Blood Oxygen, Podcasts, Remote, News, Home, and Shortcuts.

Apple Cash Family is available to users under the age of 18, allowing them to make purchases (and send and receive money) in the Messages app via Apple Pay (United States only). But Apple Pay using a credit, debit, or transit card in the Wallet app isn't available with Family Setup.
Enabling Schooltime on a family member's Apple Watch
Introduced in watchOS 7, Schooltime—as the name suggests—was designed to limit the use of Apple Watch during specific hours of the day. See the following figure on what setting up Schooltime looks like on the iPhone's Watch app (and watch itself).

To set a Schooltime schedule:
Open the Watch app on iPhone. Tap All Watches, and then select the name of your child's watch.
Tap Done, select Schooltime, and tap Edit Schedule.
Choose the days and times when you want Schooltime to be activated (such as weekdays between 8am and 3pm).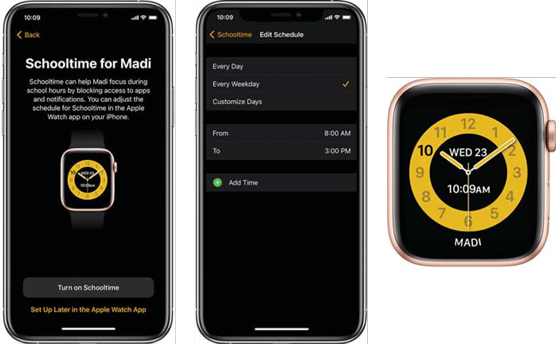 Introduced in watchOS 7 and the Family Setup option, the Schooltime features lets you set specific dates you don't want the child to access Apple Watch.
Additional notes:
If you want to set up more than one schedule in a day (such as a morning routine and an afternoon one), open the Watch app on your iPhone, tap the information ("i") button, Schooltime, and Edit Schedule.
If needed, the student could exit Schooltime anytime by turning the Digital Crown, and then tapping Exit to confirm. The starting and ending times of all temporary Schooltime exits are reported in the Watch app on iPhone. Parents can see this by opening the Watch app, tap the child's Apple Watch (under All Watches), and then select Schooltime.
About This Article
This article can be found in the category: