If you're like most people, you won't have time to go over everything Apple Watch has to offer. It's estimated that most people only use about 10 percent of what their gadgets can do — until someone shows them what they're missing. You can be in the know by learning about these Apple Watch features.
Activity
Many smartwatches and fitness bands can report on your performance while working out, but Apple Watch is always calculating what you're doing — or not doing.

The innovative Activity app and its three rings — for Move, Exercise, and Stand — does a stellar job of giving you an idea of your overall physical activity.

Press the Digital Crown button or lift your wrist and say "Hey, Siri: Activity," and then take a gander at your progress:
The reddish-pink Move ring shows how many calories you've burned by moving around during the day.
The lime green Exercise ring is for minutes of brisk or intense activity you've completed that day.
The baby blue Stand ring gives you a visual indication of how often you've stood up after sitting or reclining.
Your goal is to complete each ring each day. The more solid each ring is, the better you're doing. Plus, you can swipe around inside the app for a numerical look at your performance.

You can also change your goals per day in case they're too ambitious for your lifestyle, or you can bump them up for an added challenge. The companion Activity app for iPhone shows you additional information, including a historical look at your Activity levels. Plus, every Monday, you should receive a summary report on your Apple Watch about your activity and goals. And there's the Trends feature, too, for an even deeper look at your activity history (synced with iPhone).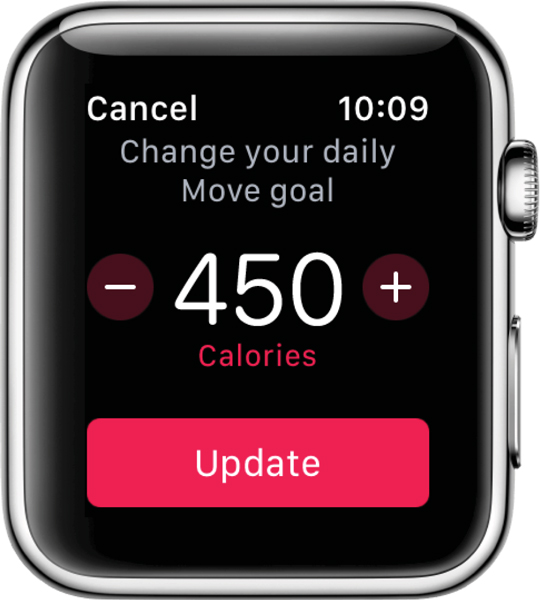 You can change your daily goals depending on how ambitious you are.
Apple Pay
Using your watch to buy things at retail establishments is incredibly convenient. Even if you don't have your iPhone around, you can wave your wrist over one of those contactless terminals at the checkout counter or at an Apple Pay-compatible vending machine and the transaction is completed — securely.

To buy something using Apple Pay on your Apple Watch, follow these steps:
Double-tap the side button on Apple Watch, which opens Apple Pay. Apple Pay uses your default card in the Wallet app, but you can change it to something else if you like.
Hold the watch up to the contactless terminal and you should hear a tone and feel a slight vibration — both of which confirm the payment has been made. That's all there is to it. Apple Pay uses near field communication (NFC) technology inside of Apple Watch to make the digital handshake with the retailer's contactless terminal.
Apple Pay is supported by many banks and financial institutions as well as many thousands of retailers. But remember, you need to set up Apple Pay first on your iPhone if you haven't done so already.
Hotel Key
Free apps such as Marriott Bonvoy let you tap your watch on your hotel door to gain entrance. No more fumbling for the key card or having it demagnetized because you had it in your pocket with your smartphone.

If you've got the free app installed, tell someone at the check-in desk at a Marriott, Sheraton, Westin, W Hotel, Meridien, St. Regis, Element, or Aloft. Keep in mind that support for Apple Watch likely won't be available at all of these hotels and resorts or rolled out at the same time.

In the near future, expect many similar apps to let you into your car — instead of needing a large key fob — or to enter public transit stations, including bus depots and train terminals. Perhaps soon, Apple Watch will let you walk through your front door at home (with Wi-Fi smart deadbolts) or into your office by tapping your wrist on a card reader.
Walkie-Talkie
In case you haven't given it a shot yet, Walkie-Talkie is a fun way for two Apple Watch wearers to communicate between themselves. As you might expect, Walkie-Talkie lets you quickly chat with someone, wrist to wrist, using your voice.
Use the Walkie-Talkie feature to contact another Apple Watch wearer instantly. And it's fun!
To get going, you and the person you'd like to talk with need to set up the FaceTime app on your iPhone. This app enables you to make and receive FaceTime audio calls.
To use the Walkie-Talkie app on your Apple Watch, follow these steps:
Open the Walkie-Talkie app (it's yellow and black) on your Apple Watch.
Press the yellow + sign and choose a contact. Wait for your friend to accept the invitation. The contact card remains gray and reads "invited" until your friend accepts.
After your friend accepts, his or her contact card turns yellow. You and your friend can now talk instantly.
Touch and hold the talk button, and then say something. Now your friend can hear your voice and talk with you instantly.
To talk over Walkie-Talkie, touch and hold the talk button, then say something; when you're done, let go. Your friend instantly hears what you said. To change the volume, turn the Digital Crown.
Apple Watch has Wi-Fi or cellular support on some models, but that doesn't mean you can surf the web; Apple Watch doesn't come with a web browser; it uses Wi-Fi only to move or sync data between it and your iPhone. That's probably not a bad thing, given the fact Wi-Fi eats up valuable battery life pretty quickly. Also remember that Walkie-Talkie requires that both people be running watchOS 5 or greater.
Music playback
Many people who exercise rely on music to help keep them entertained and motivated. You might not want to bring a large iPhone with you on a jog or run, but thankfully, Apple lets you sync some music to Apple Watch — up to 2 gigabytes, or about 500 songs.

To sync music to your Apple Watch, follow these steps:
Connect your Apple Watch to your PC or Mac via its USB charger. Use the magnetic charger that shipped with your Apple Watch.
On your iPhone, open the Apple Watch app.
Under My Watch, scroll down and tap Music, followed by Synced Playlist. Decide what you'd like to transfer over to your watch: My Top Rated, Recently Added, Recently Played, Top 25 Most Played, or Purchased tracks.
Tap to select one of these options. Unplug the Apple Watch from the computer when the sync is complete.
After you have songs stored on your Apple Watch, follow these steps:
Open the Music app and press and hold the screen (Force Touch) to launch a couple options. You see options for Shuffle, Repeat, AirPlay, and Device.
Tap Device and then select Apple Watch rather than iPhone. You're prompted to pair a Bluetooth-enabled headset or headphones to hear the music. The Apple Watch screen shows you what's playing on your watch or iPhone.
Apple Watch also acts as a remote control for an Apple TV connected to a TV or for playing music on an iPhone or iPad.
Maps
Because Apple Watch is always on your wrist, it's a conveniently placed screen for getting directions. Apple Watch can give you turn-by-turn directions by tapping into your nearby iPhone's GPS chip, and you should see the overhead map on your watch, including a blue dot for your location, a red pushpin for the destination, and the path to take to get there quickly. Apple Watch gently vibrates to tell you when it's time to turn left or right. Some Apple Watch models have an integrated compass, too, for even more accurate directions.

To use the Maps app on your Apple Watch, follow these steps:
Press the Digital Crown button to go to the Home screen.
Tap the Maps app. You can also raise your wrist and say "Hey, Siri: Maps." Either action opens the Maps app. An overhead map of your current location appears on the Apple Watch screen, and you can swipe in any given direction to move the map around, or you can twist the Digital Crown button if you want to see nearby streets or businesses.
Press and hold the screen and then speak an address or business name. If you make a mistake, tap Clear. If you're happy with what you requested, continue to the next step.
Tap Start to begin the turn-by-turn directions. You now see and feel when it's time to turn left or right when nearing an intersection — whether you're on foot or in a vehicle. Your iPhone also shows you information if you want to peek at a bigger screen (safely) or hand it to a passenger.
Digital Touch
Many smartwatches on the market offer similar features, such as seeing who's calling or texting, calculating fitness information, or getting directions to a destination. But Apple Watch offers a few unique watch-to-watch communication options — collectively referred to as Digital Touch. Here are three examples of them:
Sketch: Draw something with your finger, and the person you're sending it to sees it animate on his or her Apple Watch.
Tap: Send gentle (and even customizable) taps to someone to let that person know you're thinking about him or her.
Heartbeat: Your built-in heart rate monitor is captured and sent to someone special so that person can feel it on his or her wrist.
To send a heartbeat with your Apple Watch, follow these steps:
Open the Messages app and tap someone. Start a new message or reply to an existing conversation.
Tap the blue and white icon that looks like two fingers on a heart. You see a black screen, ready for your fingers. And you can tap the top-right corner to change colors.
Press and hold your fingers on the screen and you'll feel it pulse. When you feel the pulsations stop, you can lift your fingers up and your heartbeat is sent to the recipient.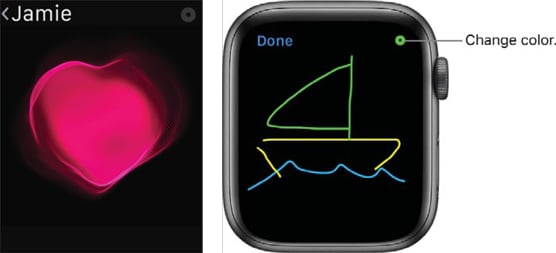 Want to tell a special someone you're thinking about them? A romantic way to do it is to send your heartbeat (left) — but they'll need an Apple Watch to feel it! Also, here's what a sketch looks like on an Apple Watch (right). Okay, so no one will mistake you for Leonardo da Vinci, but it's fun nonetheless.
Siri
Because Apple Watch was designed for quick interactions and to get information wherever and whenever you need it most, the best way to interact with your watch is by your voice. Providing you're in a place where you can talk freely, speaking into your watch's microphone is a fast, accurate, and convenient method for getting what you want when you want it.

If you recall, you can use Siri in two ways on Apple Watch:
Digital Crown: Press the Digital Crown button and wait to see the little bars jumping up and down near the bottom of your screen. This confirms Siri is "listening" to you.
Voice activation: Raise your wrist and say "Hey Siri," followed by your command or question. Or you can go into and change the Settings of Apple Watch to enable simply raising your wrist to activate your personal assistant.
For both of these options, you should get what you need within a second or two, but remember, you need your iPhone nearby because your request is quickly sent to Apple's servers to process it.

Siri can help you with virtually any task, including some of the following, which are tied to various apps and online content:
"What time is it in Milan?"
"Read me my messages."
"Text Susan that I'll be five minutes late."
"Call Dad."
"Show me my email."
"When is my next appointment?"
"Open the Activity app" or "Open the Workout app."
"Where is the closest gas station?"
"What song is playing?"
"Play jazz."
"What's the weather going to be like tomorrow?"
"How are the Cubs doing?"
"Set an alarm for 6 a.m."
Watches and watch faces
Most companies that release a smartwatch have one or two models, but Apple Watch is available in multiple sizes, several materials (aluminum, stainless steel, and 18-karat gold), in multiple case colors, and with various band colors, materials, and styles to choose from.

Clearly, Apple has thought this through!

Even with all the options, the user experience will be similar between all the versions because features, interfaces, and apps are the same for all of them.

The following is a quick summary of the five current options (at the time of writing):
Apple Watch Series 3: Although not the newest Apple Watch available, this model was the first to offer either a GPS chip — to accurately capture location information — or a GPS and cellular option.
Apple Watch Series 6: At the time of writing, this is the latest Apple Watch, which debuted in the fall of 2020. Along with new band materials and styles, it added an even better "always on" screen, blood-oxygen monitor, always-on altimeter, and more.
Apple Watch SE: Much like the less expensive iPhone SE, Apple Watch SE is meant to give you premium features at a more affordable price. It includes a great-looking Retina display, advanced sensors to track your movement and sleep, and more.
Apple Watch Nike+: Ideal for fitness types who like the Nike brand, this special edition Apple Watch Series 4 (and special loop band) was designed to be your running partner and synchronizes with the Nike Run Club app and Nike Training Club app.
Apple Watch Hermès: A partnership between Apple and Hermès, this fashion-centric watch includes bold, colorful (and extra-long wraparound) leather bands and an exclusive watch face.
Check out more information on the Apple Watch collections and some accessories.

And once you've got an Apple Watch on your wrist, you've got several watch faces to choose from, all of which can be personalized to your liking. Here are just a few choices:
Astronomy: An out-of-this-world view of our solar system
Chronograph: Like an analog stopwatch
Color: Classic analog face with customizable colors
Gradient: Bright and bold colors that change throughout the day
Mickey or Minnie Mouse: A classic returns — and in animation
Modular Compact: Bold digital watch face with lots of options
Motion: Animated objects, such as butterflies and flowers
Numerals Mono: A stylish hybrid of digital and analog time
Simple: A minimalistic but stylish analog watch
Solar Dial: Based on your location and time of day, you can see the sun's position
Utility: Analog watch with optional calendar reminders and more
X-Large: Large digital font for viewing at a distance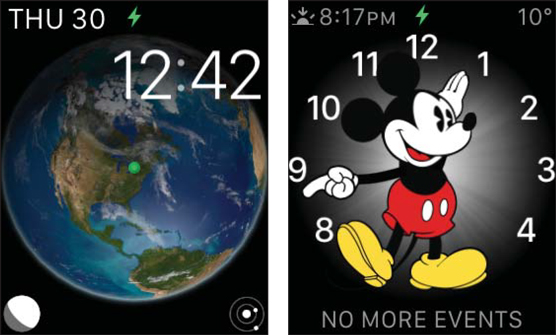 Choose from Astronomy, Mickey Mouse, or several other watch faces to personalize your Apple Watch.
Gaming
It's a huge understatement to say Apple Watch is an unproven video game platform. But given Apple's track record with iOS devices — not to mention a passionate app development community eager to take advantage of this new real estate on the wrist — gaming might be the secret "killer app" of Apple Watch.

You're in line at the supermarket and you want to kill some time by dunking a few virtual baskets by tapping your watch screen. Or you're on the train to work and you want to use your fingertip to slide letter tiles on a board to create a word. Or perhaps you're walking down the street and you feel a tap on your wrist — an alert that someone is invading your virtual village and you've got to decide what to do.

Just as the smartphone and tablet have become viable gaming platforms in a very short period of time — even pumping out such iconic games as Angry Birds and Flappy Bird — Apple Watch could introduce fresh gaming experiences on a device we always have strapped to our wrists.

The App Store — accessible on the companion Apple Watch app on iPhone — has thousands of apps to choose from. This figure shows what Rules! — a popular iOS game — looks like on the Apple Watch (and, yes, it's available for both platforms).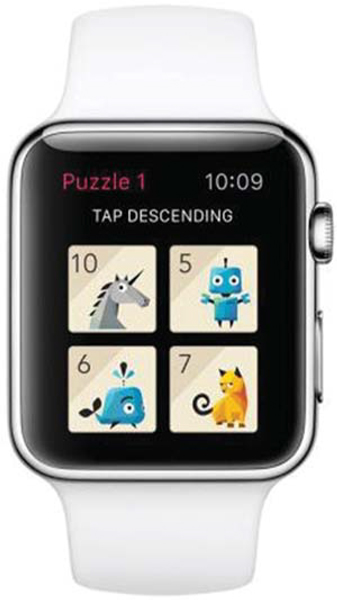 A look at Rules! for Apple Watch — based on the popular iOS version.
About This Article
This article can be found in the category: