This list looks at all the default apps preinstalled on Apple Watch — you know, the ones Apple put there and you can't remove (which understandably frustrates a number of people) — but a number of optional but recommended and free third-party apps can be downloaded from the Apple Watch App Store.

All of them take advantage of Apple Watch's features. These 20 apps are tied more to information, travel, automotive, productivity, social media, fitness, shopping, and some entertainment.
Mint
The Apple Watch app for this popular finance tool lets you view your monthly spending goals at a glance as well as track your progress toward meeting them. And for those trying to stick to a budget, you can choose to receive weekly alerts with insight on how well you're doing (or not).
ESPN
One of the most popular sports apps for iPhone is now available for Apple Watch. Select which sports matter to you — such as baseball, football, basketball, hockey, golf, or tennis (or all the above) — and stay up to date with breaking sports news, real-time scores, and more, as shown.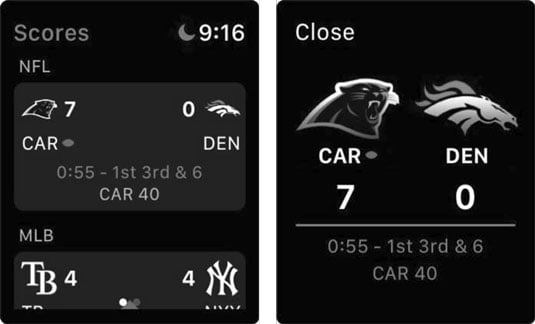 The ESPN app should be a good fit for Apple Watch–wearing sports fans.
Target
As one of the first retailers to support Apple Watch, Target has an app that lets you build and view a shopping list on your watch so you can glance down to see what items you need — even if your phone is tucked away in your purse or pocket. When you enter a store, the Target app also tells you where to find the items you're looking for.
OneDrive
Although once bitter rivals, Microsoft has embraced Apple's iOS platform — and now the watchOS too. Based on Microsoft's OneDrive cloud service, this Apple Watch app lets users see their stored photos on their wrist — even when an iPhone isn't nearby.
SPG
As shown, one of the cooler apps is from Starwood Hotels & Resorts, which lets you unlock your hotel door by waving your Apple Watch at the sensor. A room key isn't required. The official SPG (Starwood Preferred Guest) app can also provide directions to your hotel, check you in, show your Starpoints balance, and more.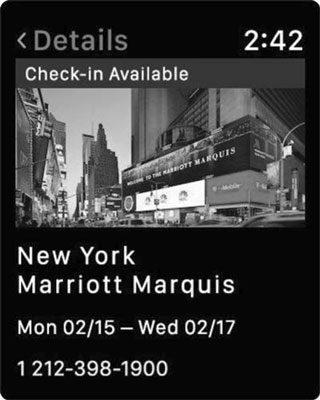 The SPG app lets you open up hotel doors in select Starwood hotels, and much more.
Twitter
See your Twitter feeds right on your wrist. And because they're only a couple of hundred characters, Tweets fit perfectly on Apple Watch's small screen. Feel a gentle tap whenever new Tweets are posted; plus you can Retweet and favorite Tweets from your Apple Watch. If you want to say something to the Twitterverse, compose it via dictation. Just tap the square compose icon — in the center of the screen — and say what you'd like to Tweet.
OpenTable
Hungry? The OpenTable app now supports Apple Watch, which lets you see information about your upcoming dinner reservations by simply looking down at your wrist. The app can also help guide you to the restaurant with turn-by-turn directions.
Evernote
A popular productivity tool, Evernote for Apple Watch lets you view your stored notes, dictate a new one, set reminders, and search by keyword if you're looking for something in particular. Because Evernote stores your notes in the cloud, you can view your dictated notes in other Evernote apps — perhaps on a smartphone, tablet, or laptop.
American Airlines
How do you know when it's time to leave for the airport? Or if your flight has been delayed, cancelled, or changed gates? American Airlines (AA) has an Apple Watch app that can alert you to any and all of these things. The AA app also lets you check in for your flight, view a map with your estimated time of arrival, view baggage claim and connection details, and more, as shown.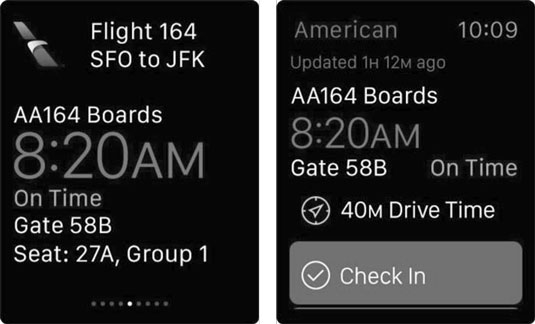 The American Airlines app notifies you of changes to your flight and more.
BMW i Remote
Own an electric BMW i vehicle? The official Apple Watch app lets you remotely check on the charge status or notifies you when your car has been fully charged and is ready to go. This smartwatch app also lets you check your miles (to prevent "range anxiety"), see door-lock status, get service reminders, and view your cabin temperature.
CNN
News junkies, rejoice! The official CNN app for Apple Watch gives you the information you need wherever life takes you. Select to receive breaking news and developing stories based on 12 categories of interest — such as Top Stories, U.S., World, Politics, Health, Entertainment, Sports, and Technology — plus your watch can even launch CNN TV live on your iPhone.
eBay
The world's largest marketplace is now a tap away. eBay on Apple Watch helps you keep up with the auctions you're watching — whether you're bidding on something or selling merchandise. The app conveniently lets you send and receive alerts without having to fumble through your phone, tablet, or personal computer.
Citymapper
If you rely on public transit, the Citymapper app for Apple Watch always shows you the best bus and train routes based on your location and where you want to go. You should see step-by-step instructions, including a list of the next three arrival times for your mode of transportation so you can decide when to leave, and you should feel a vibration on your wrist when it's time to get off at your stop. See the figure for a look at the Citymapper app.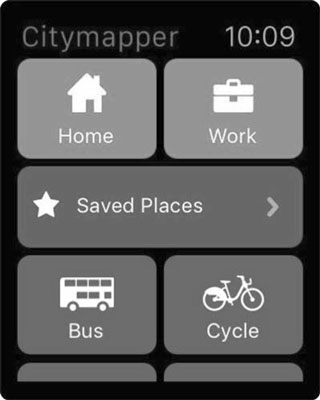 Ideal for those who take public transit, the Citymapper app for Apple Watch shows you relevant information.
TripAdvisor
Find that hidden gem of a restaurant on your next trip. Unearth dozens of things to do while discovering a new town. Everything that makes TripAdvisor the perfect travel companion is now on your Apple Watch. Get instant information on hundreds of nearby restaurants, sights, and tourist destinations.
NPR One
Fans of NPR can make their favorite station even more personal. The NPR One app shows you relevant news and curated stories based on your interests, along with access to your playlist (on your iPhone), and you can search for specific shows by using dictation and control basic playback functions with your fingertip.
Fandango
The popular movie ticketing app is now on your wrist. After you've purchased tickets to a flick, the Apple Watch app can display the movie time and theater location, phone number, and other information you might need.
Things
If you wear a watch — and a smartwatch, no less — it might not be a stretch to assume you like to be organized. But that doesn't mean you're good at it! If you need a little help, an app called Things is an excellent to-do manager for iPhone, and it supports Apple Watch too. Organize your life with daily tasks, which you can easily sort into sections like Today, Upcoming, and Anytime. Specifically, the Apple Watch app focuses on your current tasks, which can be displayed as a watch face complication or in the app itself, and lets you tick off items when completed.
PayByPhone Parking
You can use the PayByPhone Parking app on Apple Watch to pay the meter, check on the time remaining, and deliver an alert ten minutes before the meter expires. If you're not done with your errands, your watch lets you add more time to the meter without your having to go back to your car.
Sky Guide
Watch the skies! And your wrist. As shown, the Sky Guide app for Apple Watch is great for armchair astronomers. Receive alerts about upcoming celestial events — such as meteor shows and eclipses — and it even alerts you when the International Space Station is about to fly over your location.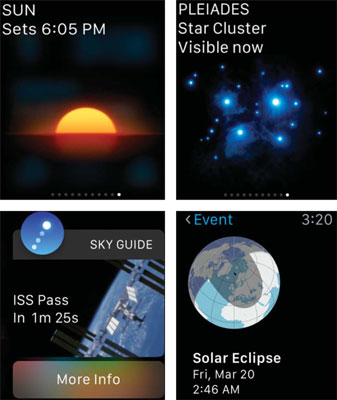 The Sky Guide app is out of this world (badum bum!). Read about astronomical events and receive alerts about them too.
Lutron Caséta
Your smartwatch can control your smart home. The Lutron Caséta app for Apple Watch lets you control the lights in your home even when you're not there so you can make it look like you're home when you're on vacation. Or on the flipside, if you accidentally leave the lights on when you leave, you can get an alert on your wrist to turn them off.
About This Article
This article can be found in the category: