How to Use the Camera Remote App on Your Apple Watch
How to Use the Camera Remote App on Your Apple Watch
Did you know you can use Apple Watch as a viewfinder for your iPhone's iSight (rear-facing) camera? You can see a preview of your photo before you take it, set the camera timer on your watch, or just take the photo.
The Camera Remote app might be ideal for those who want to get in the picture but don't want to press the iPhone's shutter button (on the screen or a button along the side of the phone). It can be awkward to hold the camera and take a selfie at the same time or worse — risk dropping your iPhone and breaking the glass. Or you can use one of those selfie sticks too.
To use the Camera Remote app on your Apple Watch, follow these steps:
1

Tap the Digital Crown button.

This will take you to the Home screen.
2

Tap the Camera Remote app.

Alternatively, you can lift your wrist and say "Hey, Siri, Camera Remote." Either action launches the Camera Remote app. You should then see a preview of your iPhone's iSight camera.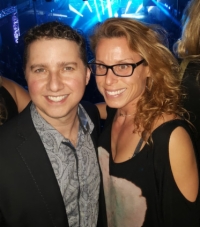 3

Frame up your shot by getting your subjects huddled together or centering a landscape photo or whatever.

Consider Apple Watch your live viewfinder for the iPhone you're holding (or one you've placed on a tripod).
4

If you want to take a photo, press the white shutter button in the center of the watch — just below the preview window.

This instantly snaps the picture and adds a thumbnail to the bottom left of your Apple Watch's screen. You can tap this thumbnail if you'd like to see the photo full screen.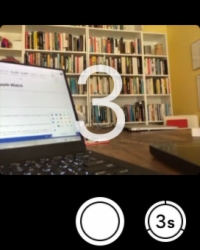 5

If you want to use the timer, tap where it says 3s (3 seconds). Tap the white shutter button and you should see a countdown on the screen before the photo is taken.

Review what you took, and if you like it, press the Digital Crown button to return to your Home screen. Don't bother pressing the white shutter button if you don't like what you see. Frame up a different shot and then press the white button.