How to Preview Your E-Book in iBooks Author
How to Preview Your E-Book in iBooks Author
While you work on your layout and/or your book's pages, you can preview the book simply by looking at your screen: iBooks Author displays a good facsimile of your book while you work on it, whether in landscape or portrait orientation. But to see how the dynamic capabilities function, you need to preview it on an iPad.
iBooks Author makes that easy:
1

Connect your iPad to your Mac via a USB-to-30-pin cable.

This cable comes with your iPad.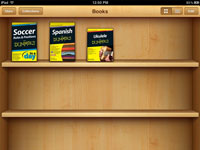 2

Open iBooks on the iPad.

If you've worked only on the e-book's layout, you need to add at least one chapter to be able to preview it. That chapter need not contain real text and objects, but if it doesn't, you see only placeholder text and objects. If you've worked on the book's pages, you see whatever work you've done.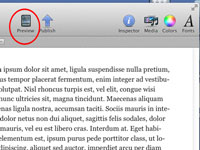 3

In iBooks Author on your Mac, click the Preview icon button in the toolbar.

Alternatively, you can choose File→Preview or press Option+Command+P. The first time you do this, you may see a settings sheet that lists your iPad.
4

If the settings sheet appears, select the iPad (even if its name is grayed out) and click Preview.

It can take up to a minute for the e-book to transfer from your Mac to the iPad and then open in iBooks. You can now read the book on the iPad just as a reader would.