Can't wait to use your new iPad? The Apple iPad neatly combines an audio and video iPod, an e-book reader, a powerful internet communications device, a handheld gaming device, and a platform for millions of apps.

After you open the box and see what's inside, you need to know about its buttons and controls and how to use the multitouch display. And if you ever catch your iPad behaving badly, check out the five tips for setting your iPad back on track.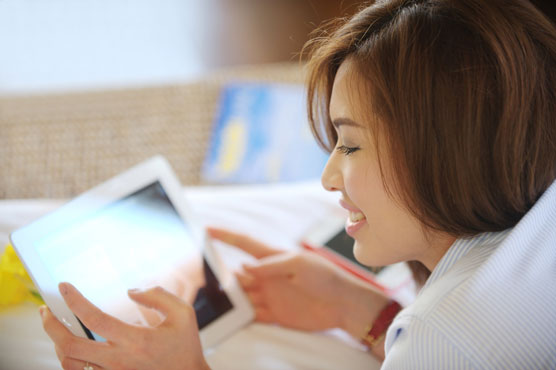 ©rangtheclick/Shutterstock.com
What's in the iPad box
You most likely already opened the handsome box that your new Apple iPad came in. But if you didn't, here's what you can expect to find inside:
Lightning connector–to–USB cable or USB-C charging cable: Use this handy cable to sync or charge your iPad. You can plug the USB connector into your Mac or PC to sync or plug it into the USB power adapter. If you bought an iPad Pro with a USB-C charging cable, you will need to plug it into a USB-C port on your Mac or PC, or into the included-USB-C power adapter mentioned shortly.z
If you connect the USB cable to USB ports on your keyboard, USB hub, display, or other external device, or even the USB ports on an older Mac or PC, you may be able to sync but more than likely can't charge the battery.
For the most part, only your computer's built-in USB ports (and only recent-vintage computers at that) have enough juice to recharge the battery. If you use an external USB port, you'll probably see a Not Charging message next to the battery icon at the top of the screen.
A powered USB hub, one that plugs into an AC outlet, will probably recharge your iPad. Some USB hubs don't provide enough juice to recharge an iPad, but others do. If you have a powered hub, try it. If you see the Not Charging message, your hub's not juicy enough.
USB power adapter or USB-C power adapter: Use this adapter to recharge your iPad from a standard AC power outlet. Since this doohickey is made to charge iPads, you'll never see a Not Charging message when you use it.
Some Apple logo decals: Of course.
iPad instruction sheet: Unfortunately, this little one-page, two-sided, so-called manual offers precious little useful information beyond referring you to the Apple website.
Important Product Information Guide pamphlet: Well, it must be important because it says so right on the cover. You can find basic safety warnings, a bunch of legalese, warranty information, and info on how to dispose of or recycle the iPad. (What! You're getting rid of it already?) A few other pieces of advice: Don't drop the iPad if you can help it, keep the thing dry, and — as with all handheld electronic devices — give full attention to the road while you're driving (or walking, for that matter).
iPad: You were starting to worry. Yes, the iPad itself is also in the box.
What's not in the box are earbuds. If you want to use earbuds (or a headset) for music, video, games, or anything else, you have to find a pair elsewhere. Consider finding one that includes a built-in microphone.
If you have an iPad with a Lightning connector, the EarPods that came with your iPhone or iPod touch will do just fine. And, of course, Bluetooth wireless earbuds, headphones, and Apple's own AirPods and AirPods Pro will work with any iPad.
How to work the iPad
Using the Apple iPad is fairly intuitive, but if you want to save time, have a look at the following iPad features you'll use frequently:
The top button: This button is on the top of your iPad, and you use it to put your iPad's screen to sleep or wake it up.
Home button (if your iPad comes with one): No matter what you're doing, you can press the Home button at any time to display the Home screen on your iPad. The Home button doubles as a Touch ID sensor, and you can use your fingerprint (or a passcode) to unlock your tablet and authenticate purchases.
App icons: Most of the icons shown on the Home screen launch an iPad app. Nearly 40 apps come with your iPad, and you can add more (many are free) by downloading them from the App Store.
Front camera: The front camera comes in handy when you're FaceTime chatting, but it's not the best choice for shooting still photos or videos.
Rear camera: iPads have a better camera on the backside than the one in front, just below the top button. Most current iPads have rear cameras that shoot superb HD video at 4K and take very nice stills.
Volume up and volume down buttons: The upper button increases the volume; the lower button decreases it.
How to master the iPad multitouch screen
To move around on your iPad, use the multitouch screen. The iPad has no mouse and no physical keyboard or keypad buttons; the multitouch screen displays virtual versions of buttons and controls as required for the tasks at hand. Prep your fingers for the following:
Tap the iPad screen to open applications, play songs, choose photos, and so on.
Swipe — that is, flick a finger up, down, left, or right on the iPad screen — to scroll through music, pictures, emails, contacts, and more.
Though it may not look like it, your iPad is a multitasking marvel. Swipe left or right with four or five fingers to switch between recently used apps. If your iPad doesn't have a Home button, you can also swipe left or right across the bottom of the screen to navigate among your running apps.
Double-press the Home button (if your iPad has one) or swipe up from the bottom of your screen to display App Switcher, which offers thumbnail views for any open apps; swipe to the right to see more apps.
Swipe down from the top-right corner of your screen to open Control Center, where you can enable and disable Wi-Fi, enable and disable Bluetooth, and much more.
Swipe down from the middle top edge of your screen to access Notification Center.
Pinch two fingers to shrink and spread two fingers to enlarge web pages and pictures. To pinch or spread using multitouch, place your thumb and index finger against the iPad screen. Then keeping the thumb in place, drag your index finger toward your thumb to pinch or away from your thumb to spread. And double-tapping usually enlarges text, so give it a try.
Trust the iPad virtual keyboard. It makes suggestions and corrects mistakes on the fly.
Long-press (press and hold down for a few seconds) anywhere in text to select one or more words.
Correct errors in a note or an email by long-pressing the text to magnify the text, and then drag left or right to position the cursor (a vertical line) in the precise spot that needs to be edited. You can also long-press the spacebar and then use the entire keyboard as a kind of trackpad to position the cursor.
To move an item within an app, long-press the item until it lifts up. If the item is text, select it before you long-press it. Now, drag the item up or down to move it to a different part of the document. Drag to the very bottom or top of a long document, and it'll scroll automatically. Lift your finger to drop the item.
To copy an item between two open apps, open two apps in split view or slide over mode (in the first app, tap the multitasking icon (…), tap Split View or Slide Over, and then tap the second app), then press and hold down on the item until it lifts up. (If it's text, select it before you tap and hold down.) Drag it to the other app. As you drag, a little green +-in-a-circle appears wherever you can drop the item.
To copy an item to an app on the Home screen or the dock, long-press the item until it lifts up (select it first if it's text). While you continue to press on the item, use another finger to click the Home button, or swipe up from the bottom of the screen to display the dock. Finally, drag the item onto an app icon to open the app.
5 things to try when your iPad acts up
Most of the time, your iPad behaves itself, but every so often it doesn't. Here's a quick review of things you can try if your iPad isn't working the way you expect:
Restart your iPad. Press and hold down the top button, and then slide the slider button to the right to turn it off. Wait a few seconds. Press the top button to turn on the iPad again.
For iPad models without a Home button, press and hold down both the top button and the volume up button for a few seconds, and then slide the slider button to the right to turn it off. Wait a few seconds. Press the top button to turn on the iPad again.
Reboot your iPad. Press and hold down both the top button and the Home button (or the volume up button for iPad Pro models without a Home button). Ignore the Slide to Power Off slider when it appears; continue to hold down both buttons until your iPad restarts and you see the Apple logo in the middle of the screen.
Reset your network connection. If you can't connect to websites or Apple's App or other stores, tap the Settings icon on your Home screen and then tap General–>Transfer or Reset iPad–>Reset–>Reset Network Settings, which often cures network connectivity issues.
Reset iPad settings. Tap the Settings icon on your Home screen, and then tap General–> Transfer or Reset iPad–>Reset–>Reset All Settings. Resetting iPad settings won't erase your data, but you'll have to redo some settings afterwards.
Restore your iPad. Connect your iPad to your computer as though you were about to sync. Then select the iPad in the iTunes sidebar (Windows and macOS Mojave and earlier) or the Finder sidebar (macOS Catalina or later), and click the Restore button on the Summary tab.
If you back up to iCloud instead of your Mac or PC, start by tapping Settings–>General–>Transfer or Reset iPad–>Erase All Content and Settings. Once your iPad restarts, tap Restore from iCloud Backup option on the Apps & Data screen, sign in with your Apple ID, and choose the iCloud backup you wish to use.
About This Article
This article is from the book:
This article can be found in the category: