The most obvious differences among iPad models (several models are shown below) are their size and weight, with the Pro being biggest, followed by iPad Air, then iPad, and finally the smallest, iPad mini. All models come in a variety of colors to suit everyone's taste.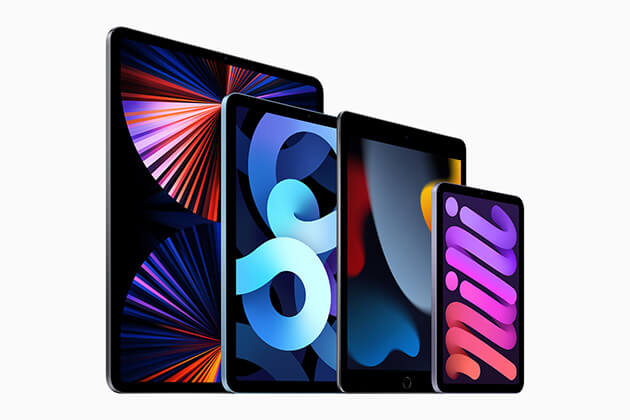 ©Apple, Inc.
All models come either with Wi-Fi only (so you access a Wi-Fi network for Internet access) or with Wi-Fi + Cellular for connecting to the Internet through Wi-Fi or a cellular network (as your cellphone does).
The iPad models also differ in available memory and price based on that memory (prices are accurate as of this writing and are subject to change):
iPad Pro 11-inch: Wi-Fi models come in 128GB for $799, 256GB for $899, 512GB for $1,099, 1TB for $1,499, and 2TB for $1,899; Wi-Fi + Cellular models of each memory configuration cost $200 more than their Wi-Fi–only counterparts.
iPad Pro 12.9-inch: Wi-Fi models come in 128GB for $1,099, 256GB for $1,199, 512GB for $1,399, 1TB for $1,799, and 2TB for $2,199; Wi-Fi + Cellular models of each memory configuration cost $200 more than their Wi-Fi–only counterparts.
iPad Air: Wi-Fi models come in 64GB for $599 and 256GB for $749; Wi-Fi + Cellular models come in 64GB for $749 and 256GB for $899.
iPad (ninth generation): Wi-Fi models come in 64GB for $329 and 256GB for $479; Wi-Fi + Cellular models come in 64GB for $459 and 256GB for $609.
iPad (tenth generation): Wi-Fi models come in 64GB for $449 and 256GB for $599; Wi-Fi + Cellular models come in 64GB for $599 and 256GB for $749.
iPad mini: The Wi-Fi model comes in 64GB for $499 and 256GB for $649, and the Wi-Fi + Cellular model comes in 64GB for $649 and 256GB for $799.
Finally, the iPad models vary in screen quality and resolution, camera quality, and so on. Logically, the bigger the iPad, the bigger the price and (usually) the higher the quality.
How much storage do you want?
Storage is a measure of how much information — for example, movies, photos, and software applications (apps) — you can store on a computing device. Storage can also affect your iPad's performance when handling such tasks as streaming favorite TV shows from the web or downloading music.

Streaming refers to playing video or music content from the web (or from other devices) rather than playing a file stored on your iPad. You can enjoy a lot of material online without ever storing its full content on your iPad.

Your storage options with the various iPad models range from 64 gigabytes (GB) to 2 terabytes (TB), which is equivalent to 2,000GB. You must choose the right amount of storage because you can't open up the device and add more components as you typically can with a desktop computer. However, Apple has thoughtfully provided iCloud, a service you can use to store content on the Internet.

How much storage is enough for your iPad? Here's a guideline:
If you regularly work with large media files, such as movies or TV shows, you might need 512GB or higher. For example, if you shoot 4K video at 60 frames per second, that will take roughly 1GB of storage space for every two-and-a-half minutes of footage. In light of this fact, at least 1TB of storage may be more appealing if you shoot a lot of video.
If you like lots of media, such as movies or TV shows, you may need at least 256GB.
For most people who manage a reasonable number of photos, download some music, and watch heavy-duty media, such as movies online, 128GB is probably sufficient.
If you simply want to check email, browse the web, and write short notes to yourself, 64GB is likely plenty.
Do you know how big a gigabyte (GB) is? Consider this: Just about any computer you buy today comes with a minimum of 256GB of storage. Computers have to tackle larger tasks than iPads, so that number makes sense.

The iPad, which uses a technology called flash storage for storing data, is meant (to a great extent) to help you experience online media and email; it doesn't have to store much because it pulls lots of content from the Internet. In the world of storage, 64GB for any kind of storage is puny if you keep lots of content (such as audio, video, and photos) on the device.
Using the iPad with a computer and Internet
Although you can use your iPad on its own without any Internet or Wi-Fi access and without a computer to pair it with, it's easier if you have Internet access and a computer that you can (occasionally) use with your iPad.
Basic Internet access for your iPad
You need to be able to connect to the Internet to take advantage of most iPad features. If you have an Apple ID, you can have an iCloud account, Apple's online storage service, to store and share content online, and you can use a computer to download photos, music, or applications from non-Apple online sources (such as stores, sharing sites, or your local library) and transfer them to your iPad through a process called syncing.

You can also use a computer or iCloud to register your iPad the first time you start it, although you can have the folks at the Apple Store handle registration for you if you have an Apple Store nearby. If you don't have a store nearby, visit this Apple Help page for assistance.

You can set up your iPad without an Internet connection and without going to an Apple Store: The best way to find out more information is to contact Apple Support through an Internet connection on another device, or at a public library or Internet cafe.

You can use your iPad without owning a computer and just use public Wi-Fi hotspots to go online (or a cellular connection, if you have such a model). To go online using a Wi-Fi–only iPad and to use many of its built-in features at home, however, you need to have a home Wi-Fi network available.
Pair your iPad with a computer
For syncing with a computer, Apple's iPad User Guide recommends that you have:
A Mac or PC with a USB 2.0 or 3.0 port and one of these operating systems:
macOS version 10.11.6 (El Capitan) or newer
Windows 10 or newer
iTunes 12.8 or newer on a Mac running macOS El Capitan (10.11.6) through macOS Mojave (10.14.6), Finder on Mac's running macOS Catalina (10.15) and newer, and iTunes 12.12 or newer on a PC, available at the iTunes Store or via the Microsoft Store
An Apple ID
Internet access
An iCloud account
Apple has set up its iTunes software and the iCloud service to give you two ways to manage content for your iPad — including movies, music, or photos you've downloaded — and to specify how to sync your calendar and contact information.

There are a lot of tech terms to absorb here (iCloud, iTunes, syncing, and so on). My book iPad For Seniors For Dummies, 2023-2024 Edition covers all of these things.
Wi-Fi Only or Wi-Fi + Cellular?
You use Wi-Fi to connect to a wireless network at home or at other places, such as an Internet cafe, a library, a grocery store, or any public transportation that offers Wi-Fi. This type of network uses short-range radio to connect to the Internet; its range is reasonably limited, so if you leave home or walk out of the coffee shop, you can't use it anymore. (These limitations may change, however, as towns install community-wide Wi-Fi networks.)

Cellular technologies allow an iPad to connect to the Internet via a widespread cellular network. You use it in much the same way that you make calls from just about anywhere with your cellphone.

A Wi-Fi + Cellular iPad costs more than the basic Wi-Fi–only model, but it also includes GPS (Global Positioning System) service, which pinpoints your location so that you can get more accurate location information and driving directions.

Also, to use your cellular network in the United States, you must pay a monthly fee. The good news is that no carrier requires a long-term contract, which you probably had to have when you bought your cellphone and its service plan.

You can pay for a connection during the month you visit your grandkids or friends, for example, and get rid of it when you arrive home. Features, data allowance (which relates to accessing email or downloading items from the Internet, for example), and prices vary by carrier and could change at any time, so visit each carrier's website to see what it offers.

Note that if you intend to stream videos (watch them on your iPad from the Internet), you can eat through your data plan allowance quickly.

How do you choose? If you want to wander around the woods or town — or take long drives with your iPad continually connected to the Internet to get step-by-step navigation info from the Maps app — get Wi-Fi + Cellular and pay the additional costs.

Don't bother with cellular if you'll use your iPad mainly at home or via a Wi-Fi hotspot (a location where Wi-Fi access to the Internet is available, such as a local coffee shop or bookstore). You can find lots of hotspots at libraries, restaurants, hotels, airports, and other locations.

If you have a Wi-Fi–only iPad, you can use the hotspot feature on a smartphone, which allows the iPad to use your phone's cellular connection to go online if you have a data-use plan that supports hotspot use with your phone service carrier. Check out the features of your phone to turn on the hotspot feature.
About This Article
This article is from the book:
This article can be found in the category: