Apple TV+ is Apple's new original content subscription service. Apple TV+ offers subscribers TV shows and movies developed for and available exclusively though Apple TV+. Currently, Apple TV+ is just $4.99 per month, with a one-week free trial when you first subscribe. For a limited time —Apple hasn't said when it will end — people who buy a new iPhone, iPad, iPod touch, Apple TV, or Mac get an entire year for free.

It's not expected that Apple will offer that free year forever, but it makes sense to do it now, while the service is new. That's because Apple is rolling out new shows as they go, and while many of those shows are great, there's not yet a deep catalog to justify the price. This is especially true when you consider Apple TV+'s competition is Disney+, Amazon Prime, Hulu, Netflix, and other services with more extensive catalogs of original and sometimes third-party legacy content.

Apple TV+ has launched shows such as See, The Morning Show, For All Mankind, Servant, Truth Be Told, and Little America, as well as documentary movies such as The Elephant Queen and kids shows such as Ghost Writer and Helpsters. Dozens of other shows have been signed by Apple and are in development, and Apple adds new shows every few weeks.

To watch Apple TV+ shows, tap the Apple TV app on your Home screen, and then tap the Watch Now icon at the bottom of the screen. Scroll down and tap one of the Apple TV+ buttons. You see a landing page dedicated to Apple TV+ content.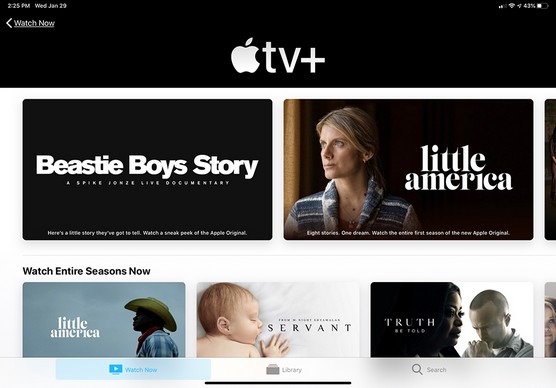 Apple Originals on Apple TV+ in the TV app.

If you haven't already subscribed to Apple TV+, you'll be able to browse the content with frequent opportunities to start a 7-day free trial. During that trial, you can watch as many shows or movies as you want. If you don't cancel your subscription before the 7 days is up, you'll be automatically billed $4.99 per month. If you have a free year because you purchased an Apple device, you won't start paying until that year is up.

To view a movie or episodes of a show, tap the cover art for that movie or show. Then tap the Play First Episode button to start a new show, or play Next Episode for a show you've already started. Scroll down on the show's information page to see a list of seasons and episodes. You can download any show to your iPad by tapping the iCloud download icon below the episode.

By downloading, you can watch shows offline, say on an airplane, a long car ride, or anywhere else you may not have Internet access. You will, of course, need a Wi-Fi or cellular data connection to stream shows.

Streaming video can use a lot of bandwidth, so be mindful of your cellular data caps if you're watching a show over your cellular connection.

To leave the Apple TV+ section of the TV app, tap the Watch Now button in the upper-left corner, or tap one of the icons at the bottom of the TV app screen.

This service is a great experience on the iPad. When added to all the awesome apps you'll have on your iPad, you can do so many great things!
About This Article
This article is from the book:
This article can be found in the category: