Killer app is familiar jargon to anyone who has spent any time around computers. The term refers to an application so sweet or so useful that just about everybody wants or must have it for their iPad.

You could make the argument that the most compelling killer app on the iPad is the very App Store itself. This online emporium has an abundance of splendid programs, many of which are free. These cover everything from food (hey, you gotta eat) to showbiz. Check out the App Store and discover your favorite killer iPad apps.
TripCase
Frequent travelers can benefit from an intelligent repository for travel-related information, one that is smart enough to alert them of gate changes, weather delays, flight cancellations, and the like, and one that was easy to configure, convenient to use, and free.

TripCase is all that and more. It's a free app (and website) that organizes details of each trip in one place, with reminders and flight alerts delivered directly to your iPad.

TripCase has a lot to like, but one of the best things is that it's drop-dead simple to add your travel events — without copying and pasting or even typing. You simply forward your confirmation emails — for flights, hotels, rental cars, and other travel-related services — to [email protected].

TripCase parses the details, creates an itinerary, and sends you an email to confirm that our trip is ready to view in TripCase. You can forward confirmations from at least a half dozen travel providers, and TripCase has never failed to interpret them correctly. (And you can always enter details the old-fashioned way — by copying and pasting or typing.)

After TripCase has your info, you can view it in the TripCase iPad app or in any web browser. The app is well-organized, with a timeline view of the itinerary.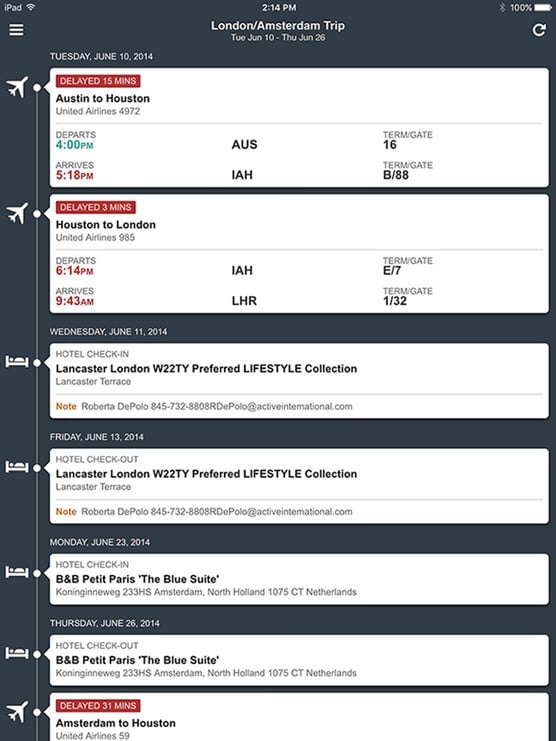 The TripCase timeline view shows you everything you need in the order you're likely to need it.
Other details are but a tap away. TripCase also includes an action view with flight alerts, reminders, and other messages. Any way you look at it, TripCase does most of the work for you.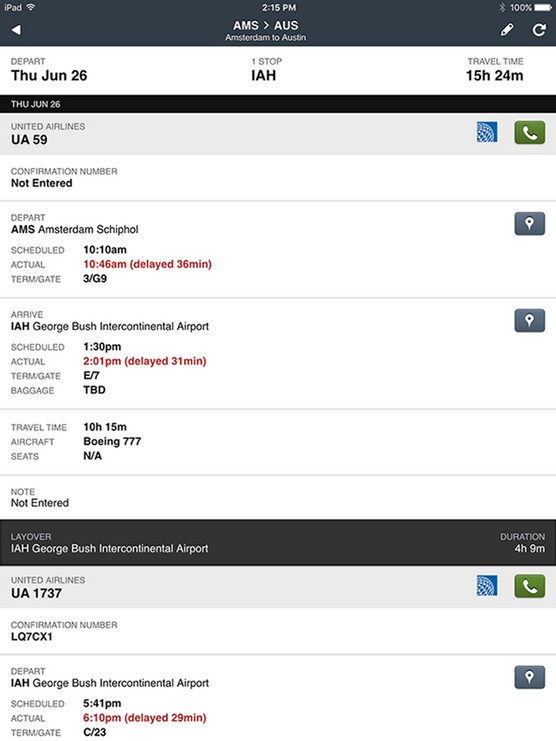 Tap any item in the TripCase timeline to see its details.
TripCase can even help you locate an alternate flight based on your original reservation should your flight be cancelled or delayed. And it reminds you to check in and print boarding passes 24 hours before each flight. Sweet!
TripCase's motto is "stress-free travel." Although it may not make travel stress free — or increase the legroom in and around a cramped airline seat — it definitely makes travel less stressful.
And one more note about TripCase. If you purchase their Receipts feature ($5.99), you can take pictures of your receipts, and TripCase will collect them for you until you're ready to download them as a PDF. Handy!
Shazam
Ever heard a song on the radio or television, in a store, or at a club and wondered what it was called or who was singing it? With the Shazam app, you may never wonder again. Just launch Shazam and point your iPad's microphone at the source of the music. In a few seconds, the song title and artist's name magically appear on your iPad screen.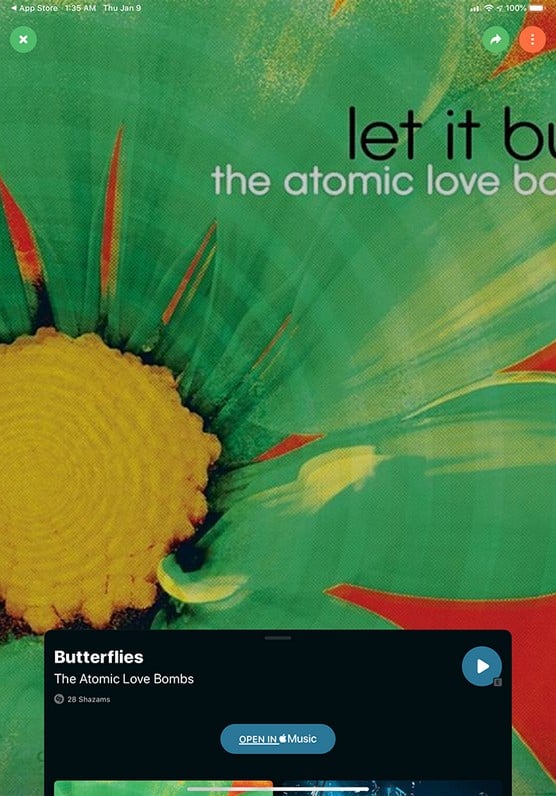 Shazam can even identify indie songs like this one by The Atomic Love Bombs.
In Shazam parlance, that song has been tagged. Now, if tagging were all Shazam could do, that would surely be enough. But wait, there's more. After Shazam tags a song, you can
Buy the song at the iTunes Store
Watch related videos on YouTube
Tweet the song on Twitter if you set up Twitter in Settings
Read a biography, a discography, or lyrics
Take a photo and attach it to the tagged item in Shazam
Email a tag to a friend
Shazam isn't great at identifying classical music, jazz, show tunes, or opera. But if you use it primarily to identify popular music, it rocks (pun intended). It has worked in noisy airport terminals, crowded shopping malls, and even once at a wedding ceremony.

Oh, and one more thing: You can have Siri (with Shazam's assistance) identify a song for you even if you don't have the Shazam app installed.
Flipboard
Flipboard is a socially oriented personal magazine app for the iPad that is great for news and information junkies.

To get started with Flipboard, tap the topics you're interested in: business, technology, sports, arts & culture, wine tasting, music, cute animals, and a lot more — over 30,000 topics, in fact.

Flipboard then delivers articles based on your selections, all presented in a handsome, intuitive interface. Swipe left and right to move from page to page. Tap on the articles you want to read. Fine-tune the articles that Flipboard delivers by tapping a thumbs-up (more like this) or a thumbs-down (less like this) icon.

You'll find articles in Flipboard that are a lot more appetizing than that one. As a bonus, you can link Flipboard to various social media accounts.
Movies by Flixster
If you like movies, try the Flixster iPad app. Feed it your zip code and then browse local theaters by movie, showtimes, rating, or distance from your current location. Or browse to find a movie you like and then tap to find theaters, showtimes, and other info. Another nice feature is the capability to buy tickets to most movies from your iPad with just a few additional taps.
Find out showtimes, watch trailers, get more info on the director or cast, and more with Flixster.
You can read reviews, play movie trailers, and email movie listings to others with a single tap. You will also enjoy the movie trailers for soon-to-be-released films and DVDs. Other free movie showtime apps are out there, but Flixster is one of the best.
IMDb Movies & TV
While you're on the subject of the silver screen, try opening IMDb, shorthand for Internet Movie Database (owned by Amazon). And what a database it is, especially for the avid filmgoer. This vast and delightful repository of all things cinema is the place to go for complete cast/crew listings, actor/filmmaker bios, plot summaries, movie trailers, critics' reviews, user ratings, parental guidance, famous quotations, and all kinds of trivia.

You can always search for movies, TV shows, actors, directors, and so on by typing a name in the search field at the top of the iPad screen. You can also browse various menu choices to find current movies by showtimes, what's coming soon, or what's popular. You can browse TV recaps, too, or find people born on the day you happen to be looking and poking around the app.

It's also fun to check out Trending Celebrities on IMDb. The recent roster included Jaimie Alexander, Tom Hardy, Alexandra Daddario, Priyanka Chopra, Emilia Clarke, Johnny Depp, Leonardo DiCaprio, Marion Cotillard, Natalie Dormer, Michael Fassbender, Rooney Mara, among many others.

One piece of advice to movie buffs: Avoid IMDb if you have a lot of work to do. You'll have a hard time closing the curtain on this marvelous iPad app.
Netflix
Flixster, IMDb, and now Netflix. You've no doubt detected a real trend by now, and that trend is indeed our affection for movies and TV shows. If you love TV and movies, too, you're sure to be a fan of the Netflix app.

From the iPad, you have more or less instant access to thousands of movies and TV shows on demand as well as Netflix's original content. You can search by genre (classics, comedy, drama, and so on) and subgenre (courtroom dramas, political dramas, romantic dramas, and so on).

Netflix Originals include popular shows such as Orange Is The New Black, the huge hit Stranger Things, Jessica Jones, The Irishman, the Lost in Space reboot, The Witcher, Mindhunter, and The Crown.

Although the app is free, you have to pay Netflix streaming subscription fees that start at $8.99 a month. You also need an Internet connection, preferably through Wi-Fi, though it will stream over cellular networks, too.

Streaming movies over 3G or 4G can quickly eat up your data, so be mindful of your data plan.
Comixology
The Comixology app is a fantastic way to read comic books on a touchscreen. Its online store features thousands of comics and comic series from dozens of publishers, including Arcana, Archie, Marvel, Devil's Due, Digital webbing, Red 5, DC Comics, and Zenescope, as well as hundreds of free comics.

Furthermore, many titles are classics, like issue #1 of The Amazing Spider-Man. Released in 1963 for $0.12, a copy in excellent condition goes for at least $25,000 today!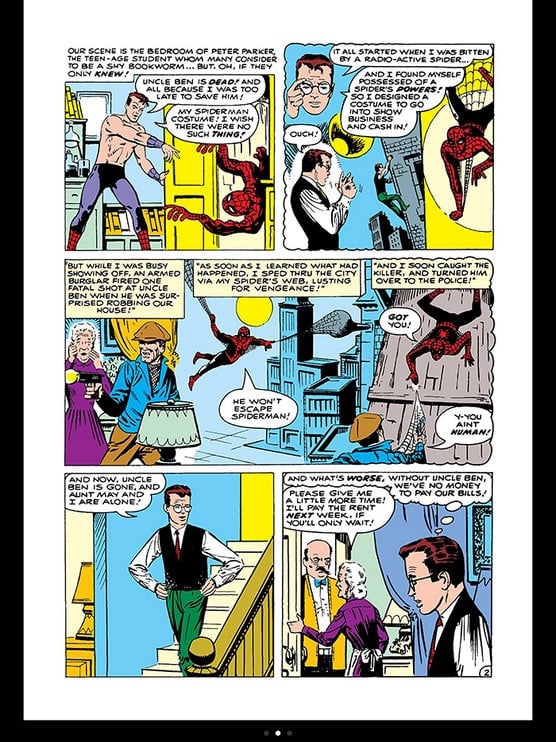 Comixology is the best way to read comics on your iPad.
Other comics are priced from $0.99 per issue, though many issues of many series are available for free as a teaser.
Finally, this app provides a great way to organize the comics you own on your iPad so that you can find the one you want quickly and easily.
New releases are available every Wednesday, so visit the web store often to check out the latest and greatest offerings. Both the store and your personal comic collection are well organized and easy to use. And reading comics in Comixology is a pleasure you won't want to miss if you're a fan of comics or graphic novels.
Epicurious Recipes & Shopping List
Do you love to eat, but now your gourmet chef skills could use a boost? You can get a lot of that culinary assistance from Epicurious, which easily lives up to its billing as the "Cook's Companion." This tasty recipe app comes courtesy of Condé Nast Digital.

With more than 33,000 recipes to choose from, we're confident you'll find a yummy one in no time. From the Home screen, you can browse categories, often timed to the season. Recipe collection categories include Halloween Treats, Vegetarian Thanksgiving, Lunches Kids Love, and Chocolate Desserts. Some recipes carry reviews.

If you tap Search instead, you can fine-tune your search for a recipe by food or drink, by main ingredient (for example, banana, chicken, pasta), by cuisine type, and by dietary consideration (low-carb, vegan, kosher, and so on), among other parameters.

When you discover a recipe you like, you can add it to a collection of favorites, email it to a friend, pass along the ingredients to your shopping list, summon nutritional information, or share it on Facebook and Twitter.

If you want to sync favorite recipes on your iPhone and iPad through a personal recipe box on Epicurious.com, you can now do so for free.

Bon appétit.
Evernote
Let's take a quick look at the problem Evernote resolves for most iPad users: storing our little bits of digital information — text, pictures, screen shots, scanned images, receipts, bills, email messages, web pages, and other info you might want to recall someday — and synchronizing all the data among all our devices and the cloud.

Evernote is all that and more, with excellent free apps for iOS, macOS, Android, and Windows, plus a killer web interface that works in most browsers.

You can create notes of any length on your iPad by typing, dictating, or photographing. You can add unlimited tags to a note, and create unlimited notebooks to organize your rapidly growing collection of notes.

Getting words and images into Evernote couldn't be much easier, but the info will be useless if you can't find it when you need it. Evernote won't let you down, with myriad options for finding and working with your stored data. In addition to the aforementioned tags and notebooks, Evernote offers searching and filtering (Tags and Notebooks) to help you find the note you need.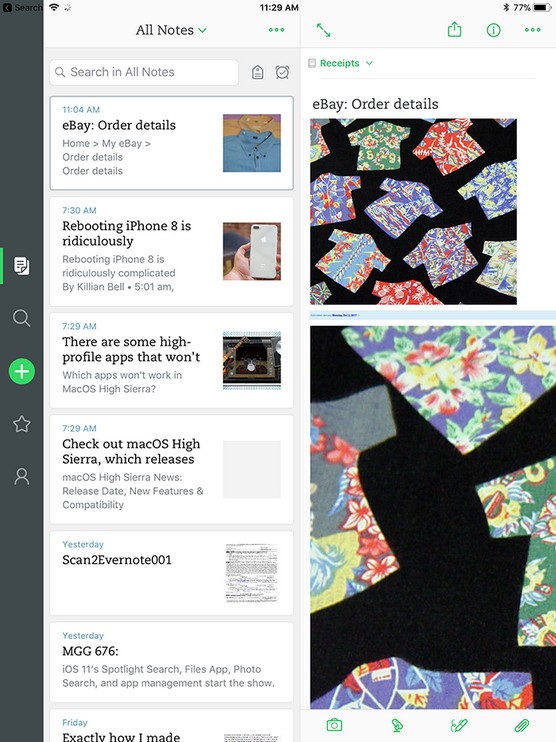 Evernote's main screen only hints at how easy it is to create and find notes.
Two other nice touches are worth noting about Evernote:
Notes are automatically tagged with your current location (as long as you create them on your iPad or other location-enabled device), so you can filter by Places.
You can attach reminders to notes and receive notifications on the date and time you chose. Best of all, you'll be notified on your iPad as well as on your other iDevices, Macs, PCs, and on the Evernote website!
Our two favorite Evernote features are syncing notes with all your devices and the cloud automatically and that everything — creating, organizing, and syncing notes — is free.
Pandora Radio
This custom Internet radio service is available gratis on the iPad. And you can play Pandora music in the background while doing other stuff.

Pandora works on the iPad in much the same way that it does on a Mac or PC. In the box at the upper left, tap + Create Station and type the name of a favorite artist, song title, or composer via the iPad keyboard, and Pandora creates an instant personalized radio station with selections that exemplify the style you chose. Pandora will also suggest some stations you might like based on the stations you've already established, and you can browse genre stations.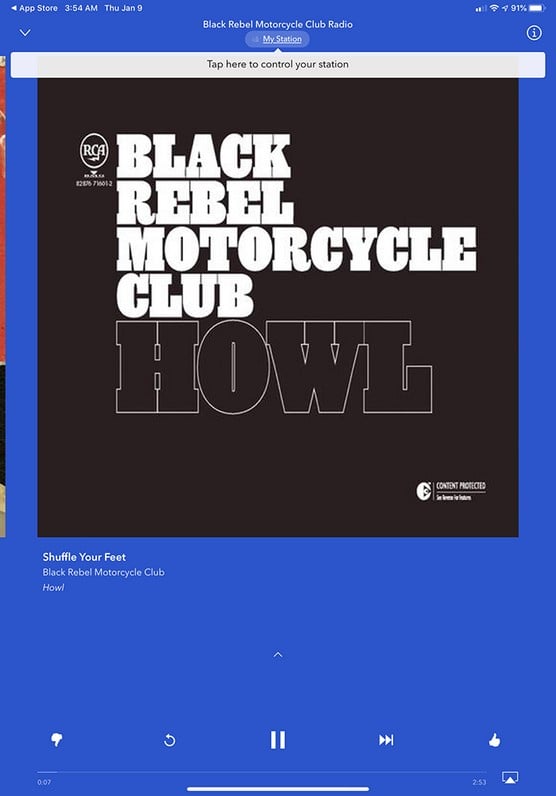 Have you tried the beauty of Pandora?
Suppose you type Beatles. Pandora's instant Beatles station includes performances from John, Paul, George, and Ringo, as well as tunes from other acts.
And say you type a song title, such as Have I Told You Lately. Pandora constructs a station with similar music after you tell it whether to base tunes on the Van Morrison, Rod Stewart, or another rendition.
You can help fine-tune the music Pandora plays by tapping the thumbs-up or thumbs-down icon at the bottom of the screen associated with the music you've been listening to during the current session.
Pandora also takes advantage of the generous screen real estate of the iPad to deliver artist profiles, lyrics, and more. You may see ads, too, unless you opt for Pandora Plus ($4.99 a month) or Pandora Premium ($9.99 a month), premium upgrades that eliminate them. Both plans add other benefits as well, such as permitting you to more often skip music you don't like, on-demand listening, and more.
If you tap the share icon below an album cover of the currently playing song, you can write a message about the song, and then share it on Facebook or Twitter or email it. Other options in Pandora let you bookmark the song or artist that's playing or head to iTunes to purchase the song or other material from the artist directly on the iPad (if available). You can instantly create stations from artists or tracks or also indicate when you're tired of a track.
Want to learn more? Check out these ten iPad hints, tips, and shortcuts.
About This Article
This article is from the book:
This article can be found in the category: