How to Set Up a Custom YouTube Channel URL
How to Set Up a Custom YouTube Channel URL
By default, YouTube assigns your channel an ugly, random, and completely unmemorable URL. (URL, short for Uniform Resource Locator, is a fancy name for a web address.) You'd do well to replace this ugly URL with one that supports your branding and helps viewers remember your channel.
Just note that, to update the URL, your channel must be in good standing. In some cases, YouTube may make you wait for 30 days to create a new channel name. Anyway, here's how you get the customizing process started:
1

Log in to YouTube and click your channel icon in the top right.

This brings up the Creator Studio and YouTube Settings pulldown menu.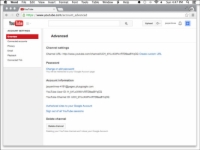 3

Click the Advanced link located right below your new channel name.

You progress to the advanced channel settings, which you can see here. In the Channel Settings section, you see the randomly generated URL.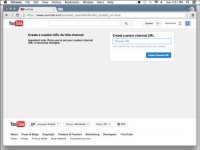 4

Under the Channel Settings heading, click the Create Custom URL link.

Doing so takes you to a page that prompts you to choose a new, custom channel URL.
5

Choose a custom channel URL.

You get only one chance at this, so get it right. If you screw it up and choose a channel URL you hate, you need to delete your channel and start over.

Since you already checked to make sure your URL was available before you chose your channel name (right? right?), you can just enter the name of your channel and you'll be all set up with a nice, clean URL that matches your channel name.