When first getting the hang of using LinkedIn Sales Navigator, most people stick with general database searches and filter the results as they get them. But as you get to know the program more, you'll learn just how robust Sales Navigator's search functions are, and how much time you're actually wasting by not narrowing down your searches as much as possible right off the bat.

Luckily, LinkedIn makes this easy to do. Simply by setting a few key preferences, you can automatically filter out certain search results, making it much easier to hone in on the leads that are most likely to pan out.

Setting your Sales Navigator preferences is easy. Simply follow these instructions:
From your Sales Navigator home page, hover your mouse pointer over your profile picture in the main navigation menu bar at the top of your screen and select Settings from the drop-down menu.

You're taken to the Settings page.

This is where you set your sales preferences.

Under the Sales Preferences heading, select the appropriate options by clicking your mouse pointer in the empty text box and typing in your preferences.

Sales Navigator auto-suggests matches based on what you type.

Select your preference(s) from the drop-down menu of suggestions.

You can select as many as you want without needing to retype your search term.

When you're finished with that section, click Done at the bottom of that section and move to the next.

If you change your mind about a preference you added, just click the check mark that appears next to the option in the list to deselect it.
Set your Sales Navigator sales preferences as soon as you can in order to save time with your searches.

At the bottom of the Settings page under Sales Preferences are the Email Preferences. Here you can see what Sales Navigator information is available via email and set whether or not you want to receive any. This is important. If you don't manage your Sales Navigator email correctly, you may get, too many messages — leading to the possibility of important ones getting lost in the shuffle. Or you may not enough messages, which may mean you're missing out on some great opportunities.

The default email address where Sales Navigator will send this information is the one associated with your Sales Navigator account. To change that, you have to change the email address Sales Navigator has on file for you.

The image below shows the email options available, which include the following: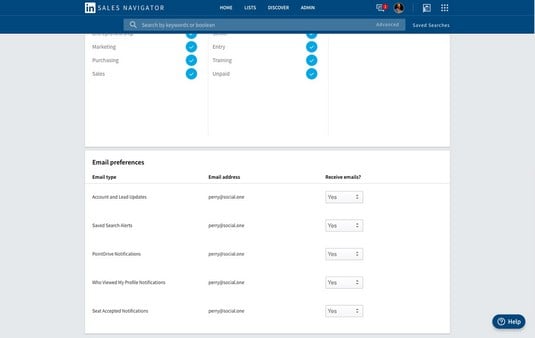 Control what email messages you get from Sales Navigator here.
Account and Lead Updates: Whenever one of your saved leads or accounts does something such as posts an article or makes a job change, you will receive an email notice about it.
Saved Search Alerts: If you create and save any personalized searches, whenever something happens that meets the criteria of that search, you will be notified.
PointDrive Notifications: If you use PointDrive (a presentation management feature included with Team-level and Enterprise-level plans) to disseminate content to your prospects, you will receive an email when there is activity on that content.
Who Viewed My Profile Notifications: When someone views your Sales Navigator or general LinkedIn profile, you will be notified.
Seat Accepted Notifications: When a team member accepts a seat on your Sales Navigator team, you will receive an email with those details.
About This Article
This article is from the book:
This article can be found in the category: