In contrast to football esports, several games have the full license of the National Basketball Association (NBA) and NBPA to produce video games. Amid the sea of titles that include EA's NBA Live and an arcade-style two-versus-two-game called NBA Playgrounds, no basketball game has found the following and competitive dedication of the NBA 2K series by 2K. Currently on NBA 2K20, with new Los Angeles Laker Anthony Davis on the cover (see the following figure), NBA 2K20 has sold between seven and ten million copies each in the last five years.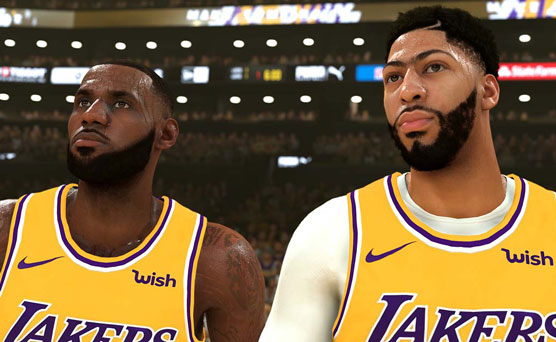 Anthony Davis and LeBron James in NBA 2K20.
The 2K series gained popularity after 2K made a profound effort to make the game feel like a simulation. In contrast to more arcade-style basketball games, in which almost every basket is a slam dunk and players fly back and forth at seemingly unrealistic speeds, passing and setting up an offense matter in 2K, as do blocking out and getting back on defense.
Letting you be you—as a player
Many people play NBA 2K the same way they play Madden. That is, they pick a team and play that team to get better, look for local competitions, and try to win as LeBron or Giannis. Unlike Madden, however, the most powerful built-in competition mode in NBA 2K asks you to create your own player. Although that player doesn't need to be you, most people replicate themselves in the game because of the robust editing mode and a companion app, My NBA2K20, that lets you to take a photo of your face and upload it. (You can see mine in Figure 6-3.) It's not perfect, though, so in some cases getting a likeness is difficult to impossible, depending on a person's features. Also, you can't create a female player even though the NBA 2K League now has a professional female player.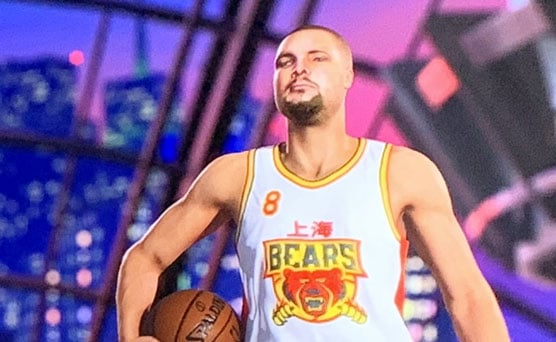 Your pal Phill in NBA 2K thanks to the My NBA2K20 app.
After you create your own player, you may select from a set of player archetypes that map to the five key positions in basketball: center, power forward, small forward, shooting guard, and point guard. In a number of play modes, you can use your created player to earn experience and climb the ladder. The two most important ones are Playground, in which you can find three-versus-three online games that work like a real-life pick-up game on a huge virtual playground; and Pro-Am, in which you can take your created player online and join a five-on-five team to compete against other players.
These modes are of particular importance because the route to elite competition in NBA 2K runs through them. In concert with the NBA itself, NBA 2K runs an NBA 2K League, which is a professional NBA 2K esports league with 23 teams owned and operated by 22 of the NBA's teams (and one team managed by a professional esports organization).
Playing in the NBA 2K League
Founded in 2017, the NBA 2K League is owned by the National Basketball Association and Take-Two Interactive, the producers of the NBA 2K video game. In league play, two teams play each other in the 2K Pro-Am mode, with each player choosing an in-game archetype. The league started with 17 teams in 2018 but expanded to 21 for 2019. Two more teams have been approved to join in 2020. You can see the list of teams and their affiliations in the following table.
NBA 2K League Teams, Cities, and Affiliations

| | | |
| --- | --- | --- |
| Team | City | NBA Affiliation |
| 76ers Gaming Club (GC) | Philadelphia, PA | Philadelphia 76ers |
| Blazers Gaming | Portland, OR | Portland Trailblazers |
| Bucks Gaming | Milwaukee, WI | Milwaukee Bucks |
| Cavs Legion GC | Cleveland, OH | Cleveland Cavaliers |
| Celtics Crossover Gaming | Boston, MA | Boston Celtics |
| Gen. G Tigers | Shanghai, China | Non-NBA owners, Generation Gaming (Gen. G) |
| Grizz Gaming | Memphis, TN | Memphis Grizzlies |
| Hawks Talon GC | Atlanta, GA | Atlanta Hawks |
| Heat Check Gaming | Miami, FL | Miami Heat |
| Hornets Venom GT | Charlotte, NC | Charlotte Hornets |
| Jazz Gaming | Salt Lake City, UT | Utah Jazz |
| Kings Guard Gaming | Sacremento, CA | Sacramento Kings |
| Knicks Gaming | New York, NY | New York Knicks |
| Lakers Gaming | Los Angeles, CA | Los Angeles Lakers |
| Magic Gaming | Orlando, FL | Orlando Magic |
| Mavs Gaming | Dallas, TX | Dallas Mavericks |
| NETSGC | Brooklyn, NY | Brooklyn Nets |
| Pacers Gaming | Indianapolis, IN | Indiana Pacers |
| Pistons GT | Detroit, MI | Detroit Pistons |
| Raptors Uprising GC | Toronto, Ontario, CA | Toronto Raptors |
| T-Wolves Gaming | Minneapolis, MN | Minnesota Timberwolves |
| Warriors Gaming Squad | San Francisco, CA | Golden State Warriors |
| Wizards District Gaming | Washington, D.C. | Washington Wizards |
Why the NBA 2K League matters
The NBA 2K League is of particular importance to the esports landscape for three key reasons:
Alongside the Overwatch League and Call of Duty League, the NBA 2K League is one of the few esports leagues that attempts to mirror traditional sports in that it has franchises based in cities. Those teams are also directly connected to professional NBA teams. The major significance of this method of organizing franchises is that it allows for local teams and an entryway for new fans to get involved.
The NBA 2K League is the first esports league to be directly connected to professional sports. Although many professional sports teams have started to enter the esports space, the NBA 2K League is partly owned by a professional sports league, and the teams are connected to the owners of the NBA franchises they represent.
The NBA 2K League was the first esports league that contained the ability of a player to try out entirely within the game.
How to Join the NBA 2K League
You obviously need to be quite good at NBA 2K to make it into the NBA 2K League. But to take your chance, all you need is a copy of the most recent NBA 2K title and an Xbox One or PlayStation 4 console. Each year, the NBA 2K League sets a period during which you can qualify for the 2K League Combine. To do that, you send in an application and then win 100 Pro-Am or Playground mode games within the qualifier period, as well as at least 50 percent of your matches. In other words, if you play 190 games and win 100 of them, you qualify.

After the qualifiers, all players who fulfill the requirements are invited to the online combine. In the combine round, a player must compete in five-versus-five games with other people in the combine pool. While watching and analyzing the play in this round, the NBA 2K League selects 150 players to take part in the 2K League draft. Those players move on to the live draft and have a chance to be picked up by one of the 23 2K League teams to start their careers as professional players.

You can find all the details on the qualifying process on the 2K League website, under Qualifier Information.
Chiquita Evans: The first woman in NBA 2K League
During its first draft, the NBA 2K League was surprised to find that only a single woman made it into its combine pool and did not make it in to the draft. The league wouldn't have to wait long for that problem to resolve itself, however, because in the second combine and draft, a star emerged in Chiquitae126.

A 30-year-old who worked at Foot Locker while grinding her way into the qualifier pool, Chiquita Evans became the first woman to be drafted into the NBA 2K League. She was picked as 56th overall by Warriors Gaming, the Golden State Warriors–owned 2K League team. Evans made it in to the draft pool in spite of facing moments in the process in which other players wouldn't pass her the ball, forcing her to prove her skills through defensive moves and rebounding.

In her first season, Evans was a star on and off the virtual court. Because of her high visibility and sincere candor about the lack of women in esports, many believe that Chiquita will encourage other women to aspire to the highest levels of professional esports. In addition to being the only female player in the NBA 2K League, Evans is 30, which is also inspiring. Although 30 is far from old, in professional esports years, being in your 30s usually signals the end, not the start, of a career.
About This Article
This article is from the book:
This article can be found in the category: