Barbecue can mean very different things in different regions of the United States. Before you head out on your next road trip, check out what to expect in the region you're visiting and how barbecue competitions have evolved over the past 20 years.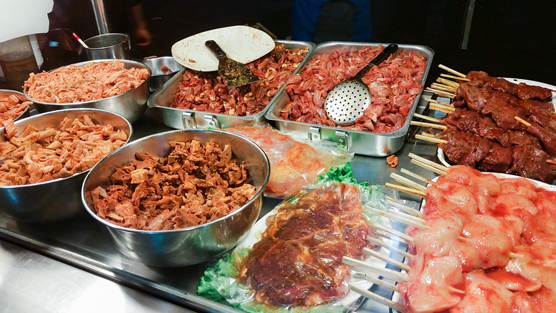 © Peruphotart / Shutterstock.com
BBQ styles in America
Barbecue has many different definitions, but in the United States, it means cooking low and slow over or with wood. What type of meat you cook and what type of sauce you put on that meat after it's cooked — or just before it finishes cooking — varies depending on the region. Each region is known for its own style:
Alabama: Pork and chicken with Alabama white sauce
Eastern Carolina: Chopped whole hog with vinegar sauce
Western Carolina: Chopped, sliced, or pulled pork shoulder with vinegar sauce
South Carolina: Whole hog with mustard sauce
Georgia: Chopped pork and chicken usually with a sweet sauce
Kansas City: All meats with a thick, tangy sauce
St. Louis: Pork and chicken with a sweet, thick sauce
West Tennessee: Pulled pork and chicken and dry ribs with a tomato-based sauce
East Texas: Chopped beef or pork simmered in sauce
Central Texas: Brisket and beef ribs, usually seasoned with just salt and pepper, no sauce
BBQ competitions then and now
Barbecue competitions are much different now than they were, say, 20 years ago. Back then it was all about everyday barbecue — what you would feed your family. You cooked the way you normally cook — you threw a large party and put aside a box for the judge.
Back in the day, onsite judging was big, so you had a chance to woo the judge with your stories and personality. That still happens at the Memphis in May BBQ Competition, but things elsewhere in the competition world have changed dramatically.
The late 1990s and early 2000s saw a dramatic rise in barbecue competitions. The rise of the Kansas City BBQ Society exploded the number of competitions across the country and made competing more affordable than ever. Competitions became more formalized, with big organizations and circuits around the country. As a result, the landscape changed as far as what cooks turned in.
Competition barbecue now is all about the judge tasting just one or a very few bites. Competitors use every tip and trick in the book to make sure that the one bite is the best in the field. Some cooks use injections; others use phosphates or pink salt to get the desired smoke ring on their meat.
Judges today want the meat to look a standard way and have a standard flavor profile. Some sauces are known as winners, so multiple teams may use the same sauce.
Competitions aren't about individual taste anymore but about what the judge is looking for in a flavor profile. If your barbecue is outside that norm, in some circuits, you're out before you even get started.
So, is competition barbecue good today? The answer is that it may be good for one or two bites, but you may not want to eat a full plate of it.
About This Article
This article is from the book:
This article can be found in the category: