In this recipe, apricot jam is the base for a sweet and spicy glaze with which you cover the pork chops. These apricot-glazed pork chops are a wonderfully flavorful grilled main dish.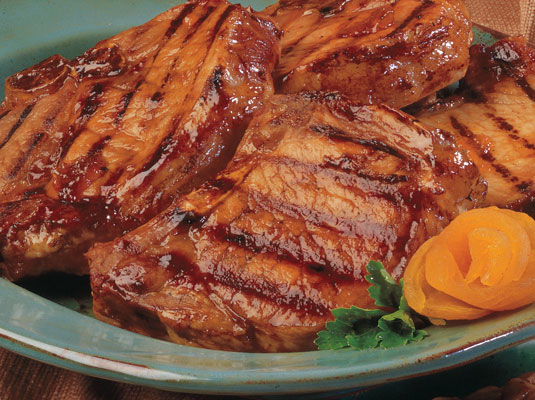 Preparation time: 15 minutes
Grilling time: 10 minutes
Yield: 4 servings
1 piece fresh ginger
2 cloves garlic
1 cup apricot jam
3 tablespoons cider vinegar
1 tablespoon plus 1 teaspoon soy sauce
1/4 teaspoon cayenne pepper, or to taste
4 loin pork chops, cut 1-inch thick (about 2 pounds total)
Oil for brushing chops
Salt and pepper to taste
Prepare a medium-hot fire in a charcoal or gas grill.

Grate the ginger.

Peel and mince the garlic.

In a small saucepan, combine the jam and vinegar.

Cook, stirring over low heat, until the jam melts.

Stir in 2 teaspoons ginger, the garlic, soy sauce, and cayenne pepper.

Remove from the heat and set the glaze aside.

Trim all but 1/4 inch of fat from each pork chop.

Brush the chops lightly with oil; sprinkle with salt and pepper.

Place the chops on a well-oiled grill grid.

Grill the chops for 3 minutes on each side.

Brush both sides generously with the glaze and grill for another 4 to 5 minutes or until done, turning once.

Cut to determine doneness.

The chops are cooked when the meat has a light pink blush and there's no sign of pink near the bone.

Simmer the remaining glaze for 2 to 3 minutes.

Drizzle over the grilled chops before serving (if desired).
About This Article
This article is from the book:
This article can be found in the category: