LinkedIn's status update feature allows you to post a short message to share with your network during your job search (first- and second-degree contacts only — in other words, the people you're directly connected to and the people they're directly connected to). The functionality of status updates on LinkedIn is very similar to that of Facebook and Twitter.
In fact, when you link your Twitter account to your LinkedIn profile, your LinkedIn updates can be sent to your Twitter feed as well.
Think of the status update as a quick way of telling people in your network what you're up to. You can find status updates just below your professional headline at the very top of your profile. Other people see your update on their home page and may even have it included in a weekly e-mail from LinkedIn.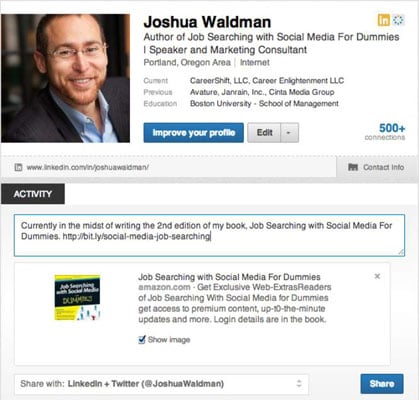 One of the most common objections about using status updates in LinkedIn is that people feel doing so has no immediate benefit and is a real waste of time. However, using status updates can really accelerate your job search. Here's why:
Due to the location of status updates on a profile, a hiring manager may read your update even before reading your summary.

Updating your network with status updates keeps your name at the top of people's minds. Your connections are more likely to think about you as an active member of their community when they see your frequent status updates.

Appropriate status updates can demonstrate your personality and show a hiring manager that you're motivated and engaged. Status updates add further personalization to your otherwise uniform profile.
Be sure you post status updates the right way. Following are ways to maximize this activity for the biggest impact on your job search without wasting time:
Update your status at least once a week. This frequency should appeal to you if you're more reluctant to use status updates. Try it for a couple of weeks and see what happens.

Don't update your status more than three times a day. It just turns into noise at that point. (This advice is for you if you're a Twitter zealot who loves to share. LinkedIn is not Twitter. Don't pretend it is.)

Don't post casual content. Keep your focus on your industry or professional interests. One way to achieve this is to share a link to an article you've read, along with your opinion of it.

Share links, observations, and activities that you feel may draw someone closer to you. Before sharing, ask yourself, "If a hiring manager saw this, would he feel like he knows me better?"
Status updates aren't one-way messages. You can comment and share your thoughts on someone else's post and vice versa. Status updates are a good tool for starting discussions and staying relevant to people. Using status updates to communicate with others is also a nice way of deepening a relationship with someone in your network who you may not know very well and may turn out to be a valuable contact.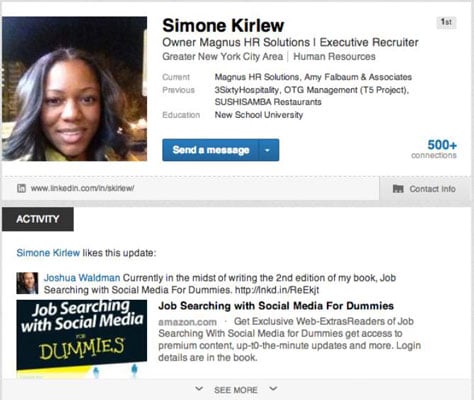 About This Article
This article is from the book:
This article can be found in the category: