Only the luckiest job seekers have a straight-line career path upward. The rest of us have steps back (whether by choice or by force), and some of us change jobs like the British royals change hats.

Employers can detect demotions or backward job steps with just a glance, and they often frown on them — or at the very least, wonder what happened. You know you're going to be asked about it, so there's no better time than when you're putting together your resume to decide how to put a positive face on the situation.

As for job hopping these days, the notion is as far out of a reality circle as the concepts of job security, company loyalty, and a guaranteed company pension.

Adding insult to injury, some employers cling to a double standard — hiring and firing employees like commodities, then looking with disfavor on applicants who have had a glut of jobs by circumstance, not by choice.
Demotion at work on your resume
You've been demoted. There are myriad reasons that could range from the employer no longer thinks you are a fit and wants you out to the employer wants to keep you but budgets are an issue. But in either case, if you have to show a progression that shows a chronology with the company of a lower-level position, it can raise red flags with the prospective employer.

The basic way to handle demotions throughout the job-hunting process is akin to how you handle being fired: by accentuating the positive contributions and results for which you are responsible. But being demoted is trickier to handle than being fired. Being let go no longer automatically suggests personal failure — but being demoted does.

Unless you are still with the company or left on bad terms, now is the time to speak with your former employer about your resume and her reference. If the situation wasn't your fault, your employer may work with you to develop what she will say and what title you can put on the resume. Your employer may agree that you can list the higher-level title for the full-time frame or agree to let you group your roles under a broader title. You won't know if you don't ask.

But what if you can't do that? Don't worry because you still have options.
Option one: Use the big umbrella
Group all jobs under one big time umbrella and don't include dates on any of them. This approach lets you sell what you've done but takes the emphasis off exactly when you did it. Of course, you still need to be prepared to present it in a positive light when they ask you about it in the interview. Check out the following figure for how this looks.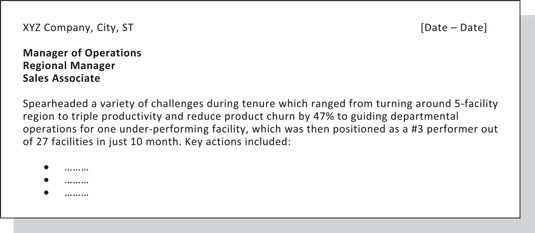 This snapshot shows the umbrella concept at work.
Option two: Group like with like
While not all that different from option one, grouping like with like means that you put the two management jobs together with one set of dates to cover the entire time, and then you list the prior positions with that company by their correct dates. It has a similar effect, but now with some dates connecting it, it makes it feel more factual. The following is an example of grouping like with like.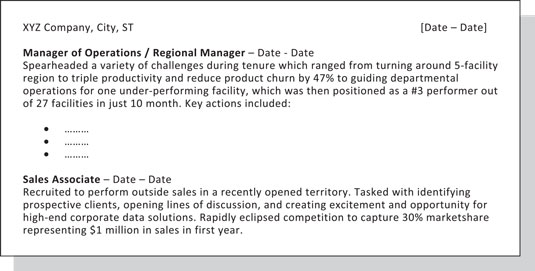 This snapshot shows grouping like with like.
Option three: Explain it away
Proceed with caution here! Perhaps you have this demotion as a favor to you (yes, it happens) or a major change happened internally in the company that had nothing to do with your performance. You went back to school to get your MBA and needed less responsibility, you had an aging parent in hospice three hours from home, or you landed a book contract and needed breathing room but not so much you would leave your job. On the other end, your company was bought out or taken over, and it didn't need you in that role but saw the value of keeping you.

When the demotion lets you function and perform, go ahead and play it up carefully. This can be as simple as adding the statement, "Assumed role with lesser accountability in order to complete company-required MBA." See the following figure to get an idea of how you can explain away a demotion.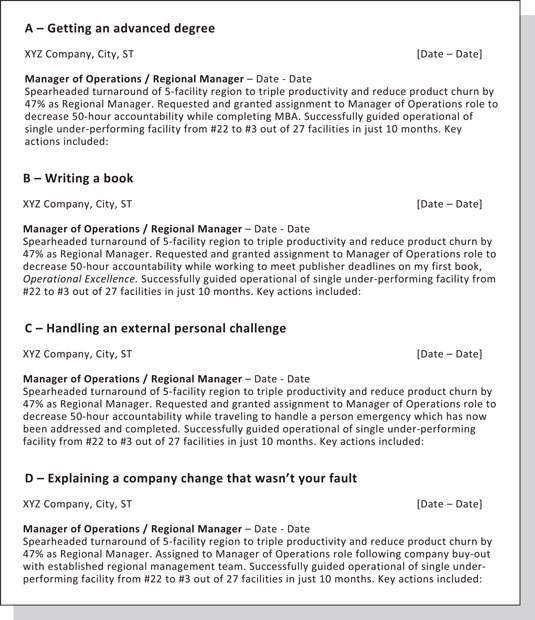 These four options show you exactly how to account for different demotion challenges.
No matter how well you handle your resume entry, the reference of the demoting employer may ultimately end your chances of landing a new job that you want. In trying to mend fences, you may appeal to the demoting employer's fairness or go for guilt. Point out how hard you worked and how loyal you've been. Find reasons why your performance record was flawed. Ask for the commitment of a favorable reference and a downplaying of the demotion. If fairness or guilt appeals are denied, see an employment lawyer about sending the demoting employer, on law-firm letterhead, a warning against libel or slander.
Job-hopping on your resume
Even when it wasn't at your initiative, holding five or more jobs in ten years can brand you as a job hopper. The fact that you're out of work now underscores that impression. Even employers who are guilty of round after round of employee dismissals instinctively flinch at candidates they perceive to be hopping around.

Take pains to reverse that disapproval. When you draft your resume, post a list of negative perceptions on your desk; when you're finished writing, compare your resume with the list. Offer information that changes negative perceptions of you as a job hopper. The following list identifies perceptions employers often have of a job hopper and ways to counter them.
| | |
| --- | --- |
| Perception | Counter |
| Is disloyal and self-focused | Perfect attendance, volunteer office gift collector |
| Will split in a blink for a better offer and take company secrets along | Competition of projects |
| Doesn't know what he/she wants and is never satisfied | Diverse background that promoted impressive results |
After checking for damage control, go back and review your resume for accomplishments that enhance your image, such as the following:
A fast learner: Give examples of how your skills aren't company-specific and you rapidly adjust to new environments.
A high achiever: Show favored skills much courted by headhunters. When true, emphasize, "Recruited for advanced position."
A quick adapter: Mention examples of agreeable flexibility in adjusting to new ideas, technology, and position requirements.
A relationship builder: List praise from coworkers or bosses for commitment to team success. Quotes are a great way to do this.
A determined worker: Use examples of accomplishments and contributions that show your commitment to meeting standards of superior workplace performance despite the tough job market of recent years.
When your current joblessness comes after a background that a quick-change artist would admire, use your resume to prepare the way to acceptance. Emphasize project completion and career progression, using years not months. If you still have trouble landing interviews, include more positive statements in your cover letter to tackle your history. For ideas, read Joyce Lain Kennedy's book, Job Search Letters For Dummies (Wiley).
Concurrent positions on your resume
Sometimes you find that you're doing work for a specific company (or companies — such as with temporary work) but are being paid through a staffing firm or other intermediary. Putting this on your resume can feel sticky and overwhelming. Do you list all companies and months you worked for them individually? No! That can make you look like an inconsistent, noncommittal job hopper.

Luckily, reporting this information on your resume is easy. You can group them all together under one date umbrella with the agency and then separate out each company below it with descriptions and accomplishments. For example:
XYZ Agency [date] to present

Marketing Representative

Stepped into challenging marketing assignments with Company A, Company B, and Company C with the goal of raising consumer awareness and profits.

For Company A, Name of Department/Division

As job title, performed:

accomplishment
accomplishment
accomplishment
In the same format as I show for Company A, offer the company, department/division, job title, and accomplishment information for Companies B and C.

If your job assignments were virtually the same, you can just list the bullets about the assignments together. Just be sure to clarify the particular company where any results took place.
Self-employed or family-employed positions on your resume
You likely didn't even realize a potential time bomb in this one, but there is! When your resume shares that you worked for a family business, it can send up red flags to prospective employers that you had it easy. While the reality is that you probably put in long hours, you need to make sure this negative perception doesn't get in the way of your chances at the interview.

Conversely, if you were self-employed, chances are you wore many hats and gave yourself the title of director, president, or even CEO. Unless you have a professional track record in those roles and the responsibilities they encompass, using them to land your next job as technical writer, marketing manager, or production manager won't work. You'll be labeled overqualified and ignored.

Luckily, it only takes little wording tweaks to overcome these challenges.
Worked for the family: Abolish any mention of family-owned, inherited, next-generation, parents, or siblings. Instead talk about it like any company you joined (or built) and the challenges, action, and results that it took to do so. If you are concerned you are assuming too much about the position, get on the Internet and look at job descriptions for similar jobs (such as chef, operations manager, bookkeeper, general manager, front-of-house manager, and so on).
Had your own business and it was a multi-million dollar success: Yes, you can call yourself CEO and go on to manage another multi-million dollar operation for another company.
Had your own business and now it's time for a 9-to-5 position: Whether you were successful or not, you realize you need to go back to your profession. If that isn't as an executive, then don't label yourself as one with your job title. Aim for something as parallel to your target as possible by looking at your areas of accountability. For instance, if you are trying to go back to Marketing Manager, your title may be Marketing Manager, and those skills are what you play up first and foremost in having run your own business.
About This Article
This article is from the book:
This article can be found in the category: