LinkedIn makes it easy for you to ask for recommendations. When someone recommends you, her endorsement appears as part of your profile. Recruiters who look at your profile will usually look to see if you have any recommendations. Not having them doesn't hurt you, but having them definitely adds to the appeal of your profile and makes you stand out.

To get recommended on LinkedIn, follow these steps:
Go to LinkedIn.
In the upper-left search bar of the screen, enter the name of the person whom you would like to ask for a recommendation.
Click the three dots toward the top of the person's profile and select Request a Recommendation from the drop-down menu.
Select the relationship you have with the recommender and the role you had, as shown.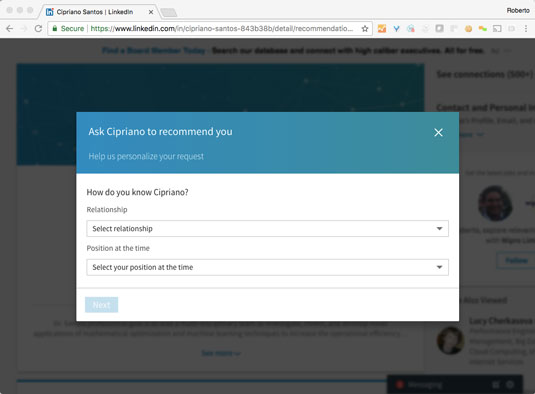 Asking for a recommendation on LinkedIn.
On the next screen, you'll be able to enter a message for the person. Make sure you personalize this message and include detail about yourself, your interactions with the person, and any specific aspects that you would like the recommender to mention.
When you receive a recommendation on LinkedIn, you can decide if you want to accept it. You can also keep it private for now and make it public at a later point.
Recommenders on LinkedIn need to be LinkedIn members, and you need to be connected to them. Many people in academia are on LinkedIn, but not all.
About This Article
This article is from the book:
This article can be found in the category: