The formatting, content, and presentation of a creative resume can give you an edge during a job search. Desktop publishing and design software, first made widespread in the 1980s, has enabled some people to elevate the marketing and advertising strategy in their resumes.

Anyone can use some creativity in a resume to help it stand out in a stack of plain resumes. Here, you'll see examples of when to go all-out with design and when to be more restrained.

It's important to recognize that the fancier your resume, the less chance it has of being scannable. If resume content appears on a colored background or pertinent data is in a chart or box, computers can't read it. But don't discount these creative resumes — they don't replace your regular OnTarget resume. Instead, use your creative resume for targeted mailings, networking, job fairs, and any time you can put a resume directly into the hands of a decision maker.

Submit both formats and include the following in your cover letter: "For your convenience, I have also included a plain, scannable copy of my resume." This approach solves the problem and gets your resume seen.
What is a creative resume?
A creative resume can be as simple as a resume with a logo of your initials at the top or pops of color. It can also be a full-out design project. Here are some more extreme examples of creative resumes:
A chef looking to land a position on a private yacht used a resume set up to look like an elegant, full-color, folding menu. He used fancy script fonts for headers and creative titles for sections, such as The Experience instead of Professional Experience. The chef currently sails the Mediterranean on a gorgeous sailing yacht.
A fine artist looking to break into advertising painted an original work, scanned it into the computer, overlaid it with sections of her resume, and then cut them into puzzle pieces. Those were placed in a paint can with a custom marketing wrap branded to advertise her. The cans were delivered to agencies following a four-week postcard teaser campaign about solving your company's advertising puzzle. After interviews with many companies, she became a creative director with the then WB television network.
A tugboat captain wanted to land a position as a captain of a casino cruise ship. His resume used a line drawing of a cruise ship down one side of the page. He also positioned his qualifications for the change. Despite his lack of direct experience, he applied for one job and landed it.
The yes and no of creative resumes
It's critical to match your creative resume to the situation and make sure it is appropriate for the industry. Don't be creative just to be creative. Give the creativity a purpose. Think about the example resumes described previously.

Lower-level, blue collar, or technical jobs can be appropriate for a creative resume. For example, gear-shaped text boxes can run across the top of an engineer's resume to highlight his strengths. Not a lot of design, but a thoughtful, applicable design.

There really are no absolutes regarding the use of creative resume techniques as long as you pause and make sure that they won't oversell you for the position or industry or be seen as inappropriate. However, do consider the following few no-no's:
Neon or bright colors that burn the corneas: Instead, opt for soothing, professional shades or ones specific to the industry.
Company logos: You must have permission before using a former employer's company or product logo.
Irrelevant, tasteless, or vulgar graphics or images: Your graphics should be relevant, such as a custom logo of your name or initials, representative design elements (images, icons, or text boxes) for the industry, or charts and tables.
Fancy, illegible fonts: Creative resumes don't provide an excuse for using unreadable fonts. Choose an appropriate shape for non-relevant content such as headers; be elegant, bold, edgy, or fun. But make sure the font is readable and use a recommended font for the body text of your experience, skills, and accomplishments.
Busy layout: It's fun to add creative elements to your resume, but don't make it crowded and overwhelming. Less is more, so plan carefully.
Don't be afraid to experiment and play. Remember, blank page syndrome is the biggest enemy in creating your resume. Just jump in and get started with ideas.

Professional resume writer Cheryl Lynch Simpson of Executive Resume Rescue is a pioneer of creative resumes. She advises that you look at print marketing for ideas. Keep your eye out for mailers you receive, brochures at companies, and magazine ads. Keep the ones that appeal to you and use them to drive your ideas when creating your resume.
Creative resume designs strategies that pop
When approaching your creative resume, don't be afraid to play with layout, colors, and MS Office tools. With an open mind, and the Insert and Design menus, just about anything is possible when creating a visually distinctive resume. The process requires thought, practice, and play.

Special thanks to resume writers Posey Salem of Radiant Resume Career Services and Marie Plett of Aspirations Career Services, Inc., for their ideas, strategies, and contributions, which are highlighted in the following examples and ideas.

When you want to perform a task, such as insert text shading or insert page border, perform an online search, and include your version of MS Word. You'll find step-by-step instructions with screen shots and even videos.
Lines and shading on a resume
One of the easiest design techniques is to apply lines and shading to offset content in your resume. You can use lines and shading around or over section headings, your name, or other body text to make it stand out. Or do something as simple as changing your bullets from black to a color.

For an elegant look, use the page border function in MS Word to create a border around the entire resume. Experiment with single and double lines of different weights (widths) to create a custom look.

Check out the following figure for some examples of lines and shading.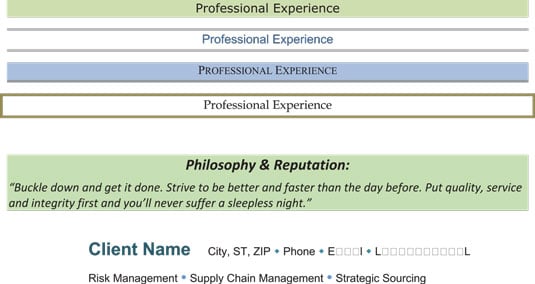 Courtesy of resume writer Posey Salem.
Examples of lines and shading.
Text boxes draw the eye on your resume
Text boxes are an easy way to draw the eye to content and make it stand out. You can add a text box in several ways. A favorite method is to choose the Insert menu, click Shapes, select the one shape you like, and insert it into the document. Hover your cursor over the shape and then right-click to display a menu with the option of adding text.

After you add text, experiment with adding color, shadows, and shading and changing the color of your font, as shown in the following figure. A black font on a light background or a white font on a dark background can make a nice contrast and increase legibility.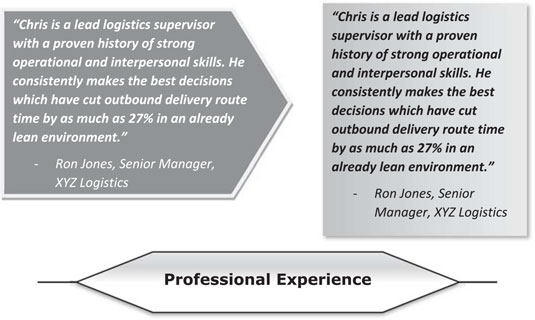 Examples of text boxes.
Be careful when selecting the content you include in a text box or other closed image, such as charts and graphs. This data can be rendered invisible by computer resume-scanning systems. Always choose data that would help the reader but would not count specifically toward meeting the requirements of the position. A great choice for a text box is a testimonial from a former employer. Also, you can highlight top content in a text box as long as it is repeated in text elsewhere in the resume.
You can add charts and graphs to your resume
Charts and graphs make great additions to your resume when you have numerical data to display. By including the data visually, you draw the eye to the return on investment you can offer by demonstrating your ability to make money, save money, maximize resources, or maintain satisfied customers. Graphs and charts are a power-packed way to demonstrate this growth or savings over time, as shown here.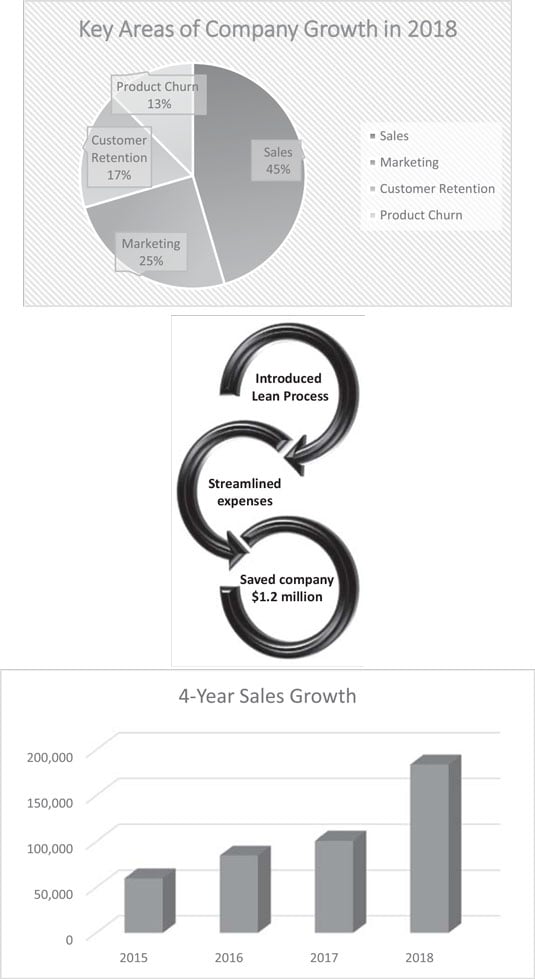 Examples of various charts and graphs.
The most commonly used charts and graphs are pie charts, column charts and graphs, and bar graphs and charts. But as you can see, many others are available. Which one you use in your resume depends on the type of data you want to convey. Experiment with MS Word's offerings by choosing the Insert menu and looking at the SmartArt and Chart options.
If you don't have concrete numbers, you may still be able to use a chart or graph in your resume. Explore the SmartArt and Charts options and you will uncover a variety of formats that can lead to unique data visuals.
Monograms and logos on your resume
If you want to spiff up your resume without worrying about content scanability, consider creating a monogram or logo for your resume. The easiest way to do this is in a header at the top of your resume.

Every logo example in the following figure was created in MS Word using the Insert Shape menu along with some tweaking. Creating your own logo for your resume can be a fun way to get creative without detracting from your content.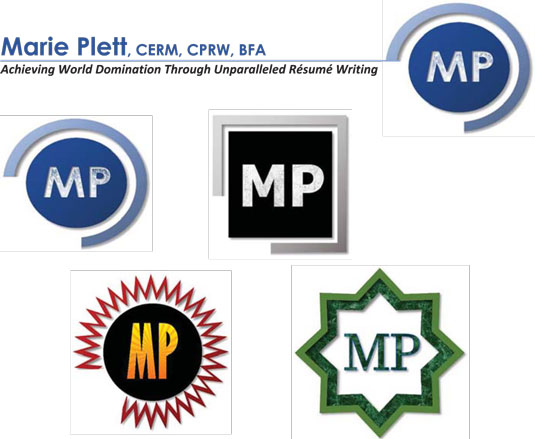 Courtesy of resume writer Marie Plett.
Examples of monograms and logos.
Resume writer Marie Plett designed the header (at the top of the figure) by using multiple overlapping shapes, shading, and background art. You're unlikely to create something like this on your first try, but with some patience and willingness to play with MS Word tools, you too can create dynamic monograms and logos.
Graphics and icons can make a resume pop
Have you earned an industry certification and been given permission by the granting organization to use the logo in your self-marketing? If so, including that logo would make a great addition to the header of your resume, as shown.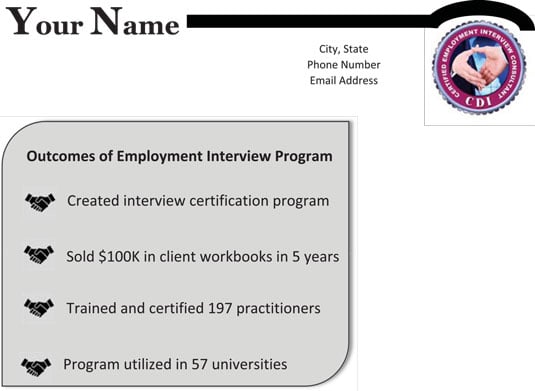 Examples of graphics and icons.
Likewise, you might use icons in place of your bullets to represent an industry profession or a functional responsibility. These would be great in a key word list or the summary section at the top of a resume.
Although you can insert images in MS Word, you probably won't have to take that step. When you go to insert a new bullet into your resume, select Define New Bullet. Then look at the Symbols menu for various webdings and wingdings. Yes, those are funny names, but that's how MS Word refers to its symbol bullets. You have many choices that may be an appropriate match for your profession. For instance, pilots might select an airplane to represent bullets in the summary section of their resume. Or customer service representatives might select a phone for the bullets in their summary section.
Whatever you do with graphics and icons in your resume, keep it simple and choose to include strategies only if they further your positioning for the target job.
About This Article
This article is from the book:
This article can be found in the category: