As your Etsy shop thrives, you may find yourself wanting to expand beyond the Etsy Marketplace. Enter Pattern. Pattern is a new service by Etsy that enables you to set up your own custom e-commerce website to reflect your shop's brand — right down to its URL.

This isn't just any custom e-commerce website, though — it's one that integrates with your Etsy shop. In fact, you stock the website with listings from your Etsy shop (although you can create Pattern-only or Etsy-only listings), and you manage the site using Etsy's Shop Manager. Etsy puts it this way: "Pattern uses all of your existing Etsy inventory, payments and order management tools" —Etsy Payments, Etsy Shipping Labels, and so on — "so all of the work you've put into your Etsy shop will be applied directly to your new standalone website."

At the time of this writing, Etsy allows shop owners to test out Pattern for 30 days free o' charge. After that, it's $15 a month. To get started using Pattern, follow these steps:
Click the Shop Manager link that appears along the top of every Etsy Marketplace page.
On the left side of the Shop Manager page, under Sales Channels, click Add Channels. The Add Channels page appears.
Under Pattern, click the Get Started link. The Pattern website opens and prompts you to select from several shop-layout themes.
Select a theme and click the Start with This Theme button. The Pattern dashboard opens. Here you'll find links to tools to customize your theme (for example, change colors, fonts, and so on), buy a domain name (or connect to one you already own), write your first blog post for the site (did we mention you can include a blog on your site?), and explore marketing tools.
Click the Start Free Trial button.

Pattern launches your site.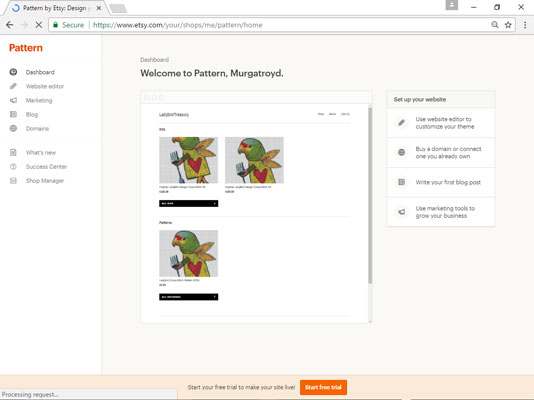 Source: Etsy.com
The Pattern dashboard.
To use Pattern, you must enable Etsy Payments.
About This Article
This article is from the book:
This article can be found in the category: