People love seeing what Etsy sellers are up to. That's why Etsy created Shop Updates. With Shop Updates, you can show every Etsy user who has purchased from you or favorited your shop (or an item you listed in it) what's happening with your Etsy biz.

You may use Shop Updates to offer a sneak peek at a new item. Maybe you'll use it to announce an upcoming sale. Or maybe you just want to share a cute picture of your dog in your studio. Whatever's afoot, Shop Updates are a great way to share it — and potentially drive prospective buyers to your shop to boot.

Posting Shop Updates is easy. You can do so by using the Sell on Etsy app on your mobile phone. (Note that only Apple iOS and Android phones offer this app.) Here's how:
Open the Sell on Etsy app, tap the More button in the bottom-right corner, and tap Shop Updates. The Shop Updates page opens.

Source: Etsy.com

Choose Shop Updates from the More menu.

Tap the camera button at the bottom of the page.
Tap Take Photo or Choose Existing Photo.

If you choose Take Photo, the app will access your phone's camera and allow you to take a photo. Do so, and then choose Use Photo.
If you select Choose Existing Photo, the app will display photos already on your camera to choose from. Tap the photo you want to use.

If you want, adjust the photo by zooming in on the subject. Then tap Next.
Tap the photo. Etsy shows your active listings; tap one to tag it to your Shop Update, and tap Next. If you're sharing a photo of a work in progress, you probably don't have any listings that relate to that item yet. The point is just to drive potential buyers to an item — any item — in your shop.
Type a caption for your photo, tap Done, and tap Share on Etsy. Etsy shares your Shop Update.

Source: Etsy.com

Caption and share your Shop Update.

Click Continue to complete the Shop Update.
You aren't limited to sharing Shop Updates on Etsy. You can also share them on social media, including Facebook, Twitter, and Instagram, as well as send it out via email or text. To do so, tap the appropriate button on the screen that appears when Etsy shares your Shop Update and follow the prompts.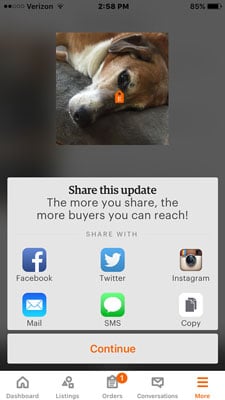 Source: Etsy.com
Share your Shop Update on social media.
About This Article
This article is from the book:
This article can be found in the category: