You manage your Etsy shop from . . . well, Shop Manager, which enables you to manage your listings, convos, and orders as well as your promotional activities. Here, you find out how to use it to manage your shop finances, track stats, and more.

As you've no doubt noticed, when you open Shop Manager (by clicking the Shop Manager link that appears along the top of any Etsy Marketplace page), the Shop Manager dashboard appears. This dashboard provides several key pieces of information, all accessible at a glance:
An overview of orders received and active listings
A list of unread convos
A stats overview (including views, favorites, orders, and revenue)
Updates from the Shop Advisor (these may flag a listing that's about to expire, alert you to a new case, or just share useful info to help you run your shop more efficiently)
Recent shop activity, including people favoriting a listing in your shop (or the shop itself) as well as purchases made in your shop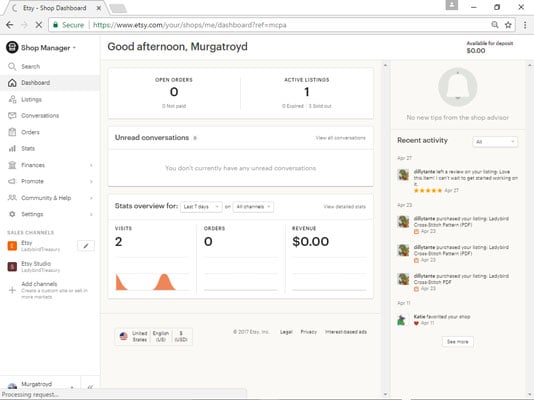 Source: Etsy.com
View the Shop Manager dashboard.
About This Article
This article is from the book:
This article can be found in the category: