If you're contemplating growing marijuana, you might be wondering where to start. You can grow plants from seeds or create a clone of a plant from a cutting. To decide, consider the pros and cons of seeds versus cuttings:
Growing from a cutting of an existing plant essentially clones the plant, so you know what you're getting. If you clone a female plant, you get a female plant.
Although technically you can clone an auto-flowering strain, it's usually not worth the trouble because the clone doesn't produce nearly the same yield. If you want to grow auto-flowering strains, buy seeds.
Unless you buy feminized seeds, which have a very high likelihood of growing into feminine plants, you can't tell just by looking at a seed whether it's a seed for a male or female plant. You have to plant a bunch of seeds, wait until you can determine whether the plant is male or female, and then dispose of the male plants.
You also can't tell the strain of a plant by looking at a seed, so unless you know which strain of plant the seed came from, you have no idea what strain the seed will produce.
Plants from seeds generally are more vigorous. In fact, sometimes growers grow cuttings and allow them to go to seed to revitalize the plant's genetics.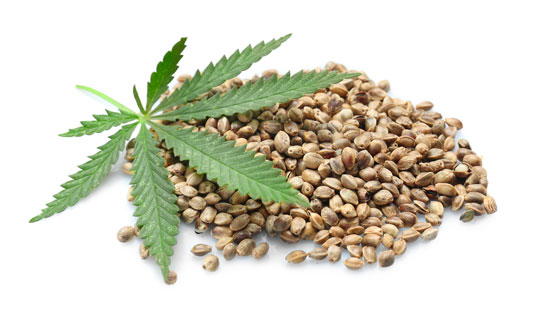 ©By Africa Studio/Shutterstock.com
If you're in a location where cannabis (another term for marijuana; short for the plant cannabis sativa) is illegal, growing it is probably illegal too. Bringing in seeds or cuttings to your location can very well be a felony, and reputable sellers won't ship to you.
You can probably purchase and grow hemp seeds and plants, which have a negligible amount of THC, but these plants won't produce the psychoactive effects of plants that contain higher levels of THC. Check with your seller to be certain you're getting what you think you're purchasing. If you buy seeds for CBD-only hemp plants by mistake, you can end up being very disappointed post-harvest.
How to acquire seeds or cuttings
You can usually find cannabis seeds for sale at most dispensaries in areas where growing cannabis for personal use is legal. You may also find growers who sell cuttings/clones. You can expect to pay $50 to $100 for a pack of ten seeds. When shopping for seeds or cuttings, read the labels and any other information the manufacturer provides on its website or in its catalog to make sure you're getting the right seeds or cuttings (the strain) for the plants you want to grow.

One way to get your mitts on some seeds is to collect seeds when you find them in flowers you purchased, or get some from friends if they're collecting.

When buying seeds or cuttings, here are some key characteristics to consider:
Feminized seeds: Nearly all seeds sold by reputable companies are feminized, but make sure they are. These seeds are specially treated to grow into female plants.
Auto-flowering or photoperiod: Auto-flowering plants are easier, because they enter the flower stage after a certain number of weeks regardless of the light/dark cycle. If you're a beginner, seriously consider going with auto-flowering plants.
Genetic background: If seeds are from a well-established strain, such as O.G. Kush, Bubble Gum, or a cross-breed, the genetic background should be stated.
Blend: The blend represents the percentage of the three species — sativa, indica, and ruderalis. All auto-flower strains contain some percentage of ruderalis, which is responsible for the auto-flowering nature of the plant.
Yield indoors: The number of grams of bud per square meter of plant when grown indoors.
Yield outdoors: The number of grams of bud per plant (after drying) when grown outdoors.
Plant height indoors: Shorter than when grown outdoors.
Plant height outdoors: Taller than when grown indoors.
Time to harvest: Approximate number of weeks after germination the flower should be ready to harvest.
Potency: Percentages of CBD and THC.
Effect: The type of experience you can expect when consuming product from the plant.
Know the laws about buying cannabis
Before buying cannabis seeds or cuttings, research the country, state, province, and local laws regarding buying, selling, possessing, and transporting seeds or cuttings across borders. Rules and regulations vary considerably:
In some European countries, laws prohibit growing cannabis, but seed is legal, which is quite confusing. You're allowed to buy and eat cannabis seeds because they're non-psychotropic, but you can't buy them to grow cannabis. Other countries in Europe, such as Germany, have their own seed laws.
In Canada, where cannabis is federally legal, seeds can be shipped across provincial lines.
In the U.S., in some states in which cannabis is legal, you can purchase seeds from some dispensaries or other locations to grow plants as long as you keep them in the state. Other states may bar selling to non-licensed growers. Shipping or transporting seeds across state or international borders is illegal, although a few reputable online seed stores ship to individuals with success.
If you choose to buy seeds online and have them shipped to you, research the store carefully and check reviews to make certain it has a solid track record.

Cuttings are typically treated in a similar manner as seeds in legalized locations. They may be available from some dispensaries or outlets for pick up or delivery with a fee. They're prohibited from crossing U.S. state lines or international borders. You can buy individual plants and mix and match strains. Prices vary and are often determined by plant size.

Buy cuttings (clones) only from a reputable source who understands proper back-crossing of strains for stability. Back-crossing involves pollinating a plant with one of its parent plants to promote sexual stability, so that when you have a female it won't hermaphrodite into a male during flowering.

Both seeds and clones are often able to be purchased from commercial locations already in your state.

In the U.S., transporting any part of the cannabis plant over state lines is illegal. This applies to seeds and clones and, technically, even to tissue samples.
How to germinate cannabis seeds
Germinating seeds requires a dark environment that is around 70 degrees. There are many ways to germinate seeds (in soil, in a wet paper towel, in starter plugs) You can also sow them directly into soil in a garden or container, as long as the soil is light and fluffy, so the roots can easily grow down and the stalk can break through the soil. Plant the seeds about 1/4- to 1/2-inch deep and cover them loosely with soil.

Most importantly, seeds need a moist environment; they won't germinate if they get too dry. You can use a heat mat to increase the success of germination in colder climates.
How to transplant marijuana plants
When transplanting any plant, whether it started from seed or a clone, handle it gently, being very careful not to damage the roots. Center the plant in the pot, and plant it deep enough to cover the root ball completely in soil. If the plant is root bound, you can gently tease the roots apart to encourage outward growth.

Pack your soil or other grow medium down around the roots well enough to support the plant while new roots grow, but not so tight that the soil restricts outward root growth. Water the soil around the roots.
About This Article
This article is from the book:
This article can be found in the category: