You can incorporate medical cannabis in a variety of edibles, although you see them more often in the form of desserts or sweets. Here is a sampling of entrees and side dishes that you can cook with cannabis. Keep in mind, however, that all you need to do is follow your favorite recipes and substitute Buddha Budda wherever the recipe calls for butter or oil!
Caramelized Brussels Sprouts
Source: Janielle Hultberg, Private Chef
4 to 5 servings of approximately 4 Brussels sprouts
Ingredients
2 slices uncured bacon (cut into pieces)
2 tbsp infused olive oil
1 lb fresh Brussels sprouts cleaned and cut in halves
1 small onion (halved and thinly sliced)
3 cloves garlic (minced)
1/4 cup balsamic vinegar (or apple cider vinegar)
2 Tbsp light agave or maple syrup
Salt and pepper to taste
You can substitute mushrooms, kale, green beans, or spinach for Brussels sprouts or use a combination of them!
Directions
In saute pan, on medium heat, cook bacon until starts to crisp, remove from pan & set aside drain off fat and add infused olive oil.
Add onions and cook until they start to caramelize.
Add garlic and Brussels sprouts and cook until both sides of sprouts start to brown.
Add vinegar, syrup, salt, and pepper, stirring occasionally until most of liquid is evaporated and sprouts are tender but not completely soft.
Serve hot.
Michelle's Medicated This Ain't Your Mama's Wack and Cheese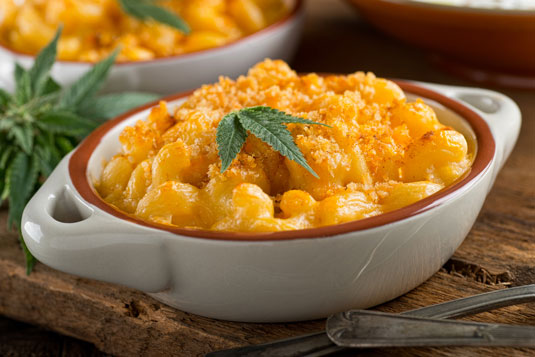 © By Foodio/Shutterstock.com
Source: Michelle Karlebach, Nectar Cannabis
There are so many sweets on the edible market that it's nice to have a savory recipe as well. This is my all-time favorite comfort food recipe, with a kick, and a punch! P.S. Cheddar cheese is white.
Approximately 4 servings of one cup of pasta each
Ingredients
4 cups cooked macaroni (about 2 cups uncooked)
8 oz shredded cheddar (I use 4 oz Cabot extra sharp and 4 oz Cabot habanero cheddar, hence the kick)
1 cup sour cream
3/4 cup cottage cheese
1/2 cup skim milk
2 Tbsp grated onion
1 1/2 Tbsp melted medicated butter
1 egg slightly beaten
1/4 tsp pepper
3/4 cup corn, frozen or fresh
1/3 cup dry bread crumbs
1 Tbsp melted butter
Directions
Preheat oven to 350°F.
In a large bowl mix together macaroni, cheddar cheese, cottage cheese, sour cream, skim milk, grated onion, medicated butter, corn, pepper, and egg.
Coat a 2 quart casserole dish with cooking spray and fill with mixture from bowl.
In a small bowl, mix together bread crumbs and 1 Tbsp melted butter and sprinkle over macaroni.
Cover and bake at 350©F for a half hour, then uncover and bake an additional 5 minutes or until it's set.
Spinach (or Baby Kale) and Chevre Goat Cheese Frittata
Source: Janielle Hultberg, Private Chef
Number of servings depends on diameter of pan and number of slices cut
Ingredients
8 eggs
1/2 cup almond milk(regular or unsweetened not vanilla)
3 Tbsp extra virgin cannabis-infused olive oil or butter
6 sliced mushrooms (baby portabella, cremini, or button
1 large shallot, quartered and sliced
3 small clove garlic, minced
1/2 cup chopped spinach (or baby kale)
1/3 cup soft goat cheese
3 Tbsp chopped red onions
Sea salt and pepper
Directions
Preheat oven to 350°F.
Heat a skillet to medium-high. Add 1 Tbsp olive oil to the hot skillet, then add shallot. Sauté for a minute or so. Then add the garlic.
Add the sliced mushrooms and sauté for 5–10 minutes, until deep brown, to render out the moisture. Finally, add the spinach or kale to the skillet and sauté another 2–3 minutes.
Transfer the veggies to a plate and wipe the skillet with a paper towel.
Put the skillet back over high heat with 2 Tbsp olive oil. Mix eggs and milk with 1/2 tsp salt and fresh pepper to taste. Whisk until frothy.
Briskly swirl the skillet around as you pour in the egg mixture — this creates a crust on the outer edge. Then add the mushroom and spinach mixture back to the skillet and crumble the goat cheese over the top.
Remove from heat and place in the oven for 15–20 minutes until cooked through.
Slide out of pan onto a cutting board and cut into wedges.
About This Article
This article is from the book:
This article can be found in the category: