How to Split a Word 2013 Document
How to Split a Word 2013 Document
Splitting a document in Word 2013 isn't a part of creating a master document, but it might be, if you mistakenly start out with a humongous document. To split any document into smaller documents, you basically have to cut and paste; no specific Word command splits a document.
Here's how to split a document: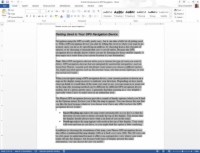 1

Select half the document — the portion you want to split into a new document.

Or if you're splitting a document into several pieces, select the first chunk that you want to plop into a new document.

Split a document at a natural break within the document, such as at a new main header (Heading 1 style).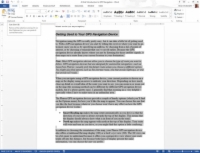 2

Cut the selected block.

You can press Ctrl+X to cut the block or click on the Cut button in the ribbon.
4

Paste in the portion of the first document you cut in Step 2.

Press Ctrl+V to paste. If the text doesn't paste in with the proper formatting, click the Paste Options button and then choose Keep Source Formatting (shown in the margin).
5

Save both documents.

You now have two documents where you started with one.