Spotify Premium
There's a whole lot more to Spotify Premium than exclusive releases, although Premium subscribers do get the chance to listen to releases before other subscribers. You get all the benefits of an Unlimited subscription — no ads, no time restrictions, and international access — plus lots of special features.
When Lady Gaga released her blockbuster new album Born This Way, it was available to users in selected Spotify countries five days ahead of its official release. Although Amazon.com was selling the album online for a mere $.99 in the U.S., Premium subscribers in Sweden, Norway, the Netherlands, Finland, and Spain could to listen to it online at no additional cost.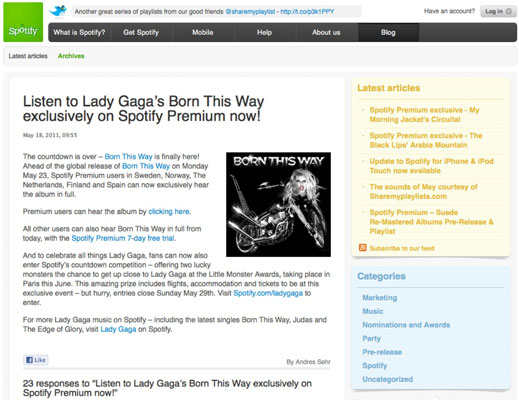 And thanks to Spotify's state-of-the-art file-sharing technology, no one's servers crashed in the process.
The Lady Gaga prerelease is just one example of many exclusive offers available to Spotify Premium customers. About once or twice a week, the official Spotify blog gets updated with the latest information about what Premium customers can listen to ahead of anyone else. It isn't all about Lady Gaga and mainstream acts, either — plenty of indie bands are promoted this way, too.
Stream music on your phone with Spotify Premium
Spotify now allows everyone to download its app to a compatible mobile device (such as iPhone, Android, iPad, or iPod touch), but unless you're a Premium user, you can only sync music files you already own to the app. Premium users get to search and stream music from Spotify's catalogue on a mobile device.
Listen offline on your computer with Spotify Premium
Only those users who have a Premium account are privileged enough to sync music from Spotify to their computers for offline listening. Say that you create a playlist featuring songs from your favorite movies. Just click the Offline switch next to the playlist to turn it on, and Spotify starts downloading these tracks to your cache.
Next time you're working in a cafe on your laptop and the cafe's Wi-Fi access is on the blink, you can still listen to these tracks because they're synced to your computer. (When Spotify can't find an Internet connection, you see a broken blue bar with the word Offline at the bottom of your Spotify screen.) The same goes for when you're abroad, working or playing.
Sure, you could always log into your Premium account and listen to Spotify beaming to you over the Internet, but you may have to pay for access — so Offline mode is perfect for this kind of situation.
Listen offline on your cellphone with Spotify Premium
Did you download the Spotify app to your mobile phone, iPad, or iPod touch? You can also sync playlists (containing any songs from Spotify's catalogue) to your device and listen to them when you don't have any Internet access. Instead of worrying about your phone eating up the monthly allowance on your 3G mobile data plan, you can be in Offline mode, listening to "Singin' in the Rain" while you dance around in the street.
Alternatively, you can be flying over the Pacific Ocean with your phone in Airport mode or sunbathing on the Riviera, well away from any kind of Internet hotspot, and your tracks will still be playable as if you actually owned them and put them on an MP3 player.
All offline playlists are downloaded in an encrypted form and are playable only through Spotify, but these tracks can be synced on up to three different devices — so if you're using Spotify on an additional computer or cellphone, any tracks marked for offline listening sync to that device, too. You can download up to 3,333 tracks from Spotify's streaming catalogue for offline listening.
(There's no limit to the number of local files that can be transferred.)
High bitrates available through Spotify Premium
Those on a Premium plan get to listen to a large proportion of tracks at higher fidelity (320 Kbps, rather than 160 Kbps) meaning you can experience brilliant-quality sound, exactly the way the music was meant to be heard. For those using top-quality speakers to listen to music, this feature could seal the deal.
Multiroom listening through Spotify Premium
Spotify has struck deals with three of the world's best sound-system experts to let you listen to your Spotify music from different rooms around the house.
Logitech, Onkyo, and Sonos all let you stream music by entering your Spotify Premium credentials. You can have people listening to different songs in different rooms at the same time!
The deals aren't necessarily exclusive — Sonos, for example, already has an agreement to let people stream songs via Napster at a similar price — but this is just one of many features that you get as a Premium customer. (More importantly, Spotify also streams a large selection of songs at a higher bitrate than Napster.)